Quality counts when it comes to choosing the most in-demand fitting in the kitchen. For durability, look for faucets that are made of brass, and don't ignore what's under the hood. It's important that the innards have ceramic parts for long-lasting, dripless functioning.
Some tips to keep cost in check: Select a chrome finish (it's the most affordable), skip the sprayer option (you can live without it), and consider two-handled faucets—they're often less expensive than single-handled designs. Also pay attention to warranties both for your own protection and as an indicator of manufacturer quality.
Here, our pick of 10 faucets that combine affordability with quality.
Above: Artist Alyson Fox used a Chicago Wall-Mounted Sink Faucet in her new kitchen. Photograph by Michael A. Muller, courtesy of Freunde von Freunden. See more at Steal This Look: Alyson Fox's New Kitchen.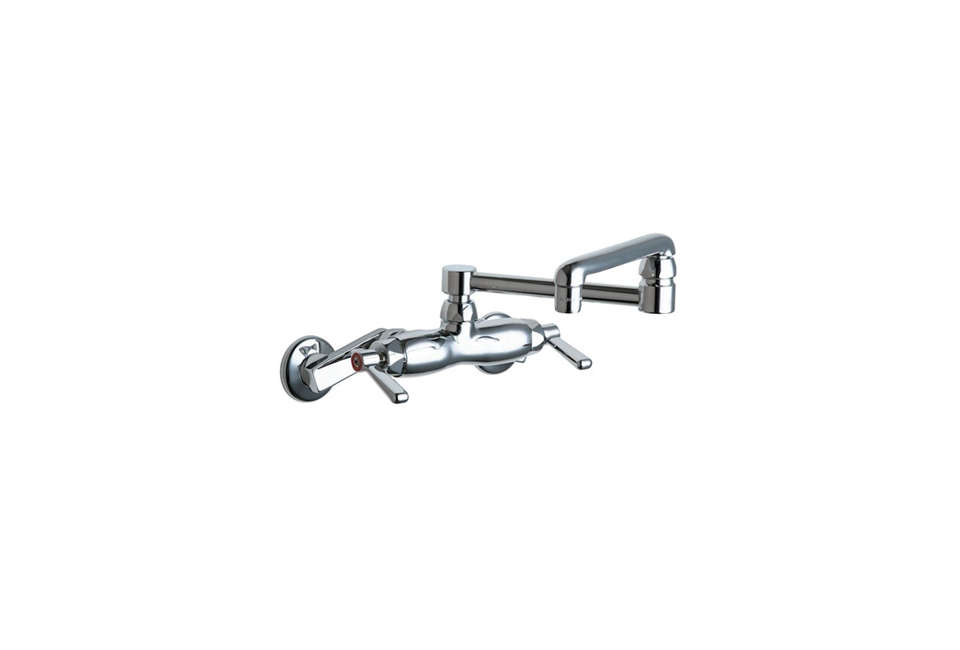 Above: Julie is also a fan of the Chicago Wall-Mount Kitchen Faucet. With a double-jointed spout, it's well-priced, well-engineered, and offers a classic lab aesthetic; $261.99 at Consumer's Plumbing.
Above: At the high end of our selections, the Kohler Purist Single-Hole Kitchen Faucet is the simplest version of Kohler's top-rated Purist line. It has an eight-inch spout that rotates 360 degrees with a 9.7-inch clearance; $339 in a polished chrome finish at Amazon.
Above: Another affordable, single-lever faucet is the Ringskar Kitchen Faucet shown in chrome-plated brass. Also available in stainless steel and white finishes, it comes with a 10-year warranty; $129 at Ikea. And the Ringskar Kitchen Faucet with Pull-Down Spout in a stainless finish is $99.
Above: The Paini Cox Single-Handle Pull-Down Faucet (Paini is also known as La Toscana in the US) starts at $231 at Quality Bath.
Above: The Elements of Design Concord Two-Handle Faucet is made of solid brass with a ceramic cartridge. It has a 360-degree swivel spout and fits 8-to-16-inch-wide mounting holes; $215 at Wayfair.
Above: Ikea's Yttran Kitchen Faucet with Pull-Out Spout is chrome-plated brass; $79.99.
Above: The American Standard Two-Handled Wall-Mount Faucet has all-brass construction, porcelain handles, and a gooseneck swivel spout; $252 at eFaucets.
Above: The budget wall-mounted choice: Elements of Design Two-Handled Wall Mount Faucet with brass construction, ceramic cartridges, metal lever handles, and a seven-inch spout reach; $68.97 at eFaucets.
Above: An affordable and practical commercial-style faucet, the Danze Parma Single-Handle Pre-Rinse Faucet has a 22.75-inch-tall, 10-inch-long spout with a spring-action wand that returns it to its place. Made of brass with a stainless steel finish, it operates on spray and regular stream mode; $297.27 at Amazon. Actress turned designer Amanda Pays and the owners of the Ultimate Ikea Kitchen both selected this faucet: See pages 202 and 230 of Remodelista: A Manual for the Considered Home.
Above: In her newly remodeled kitchen, Izabella went for the Grohe Concetto Faucet, which has a dual-spray, pull-down faucet, solid brass body with ceramic cartridges, a single-lever handle, and a swivel spout; $246.95 in polished chrome and $312.95 in super steel, shown here, from eFaucets.
More ideas? See our posts:
Finally, get more ideas on how to evaluate and choose your kitchen sink and faucet in our Remodeling 101 Guide: Kitchen Sinks & Faucets.
N.B.: This post is an update; the original story ran on October 30, 2013.
(Visited 91 times, 1 visits today)