Innsbruck, Austria architect and designer Nina Mair had in mind "an exceptionally aesthetic experience" when she came up with her new Shell collection. Using high-tech machinery, she carves walnut bathtubs and basins for spa baths that gracefully dip into the old world and new. "A wood bathtub cannot be made any more delicate," she says.
Photography by Markus Bstieler via Nina Mair.
Above: Mair's Shell Bathtub is sculpted from a solid block of walnut using a CNC (computer numerical control) milling machine. "The exacting production process includes precise positioning of every corner and curve, and the ergonomic optimization of every radius and incline," she says. The Shell collection extends to the brass-and-leather stool, which is also available in black steel and leather.
Above: Mair suggests pairing the tub with a copper-piping spout. For freestanding tub filler ideas, go to 10 Easy Pieces.
Above: The bathtub is polished and oiled by hand "many times."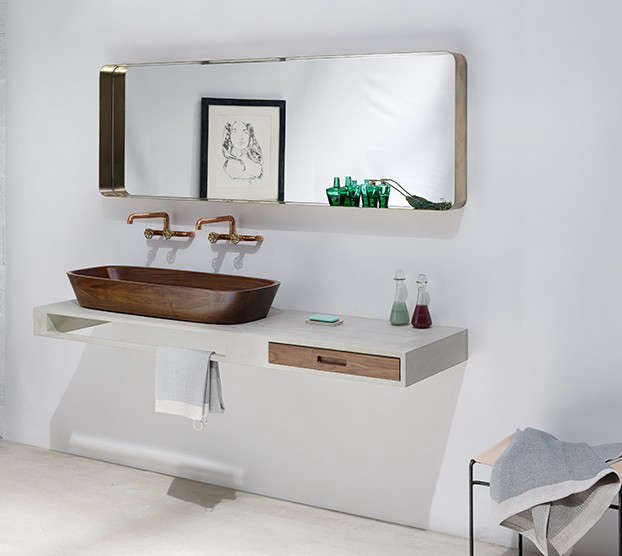 Above: Like the bathtub, the Shell Double Basin is carved from a block of walnut using a CNC milling machine. It's then meticulously finished and integrated into a minimalist concrete wash table with a towel rail and drawer. The Adorer Mirror can be hung horizontally or vertically and its deep brass frame serves as a ledge for accessories.
Above: The basin is also available in a single size. "The sophisticated drain and overflow are integrated and lie flush with the surface," Mair notes. Her collection–which even includes concrete soap dishes in two shapes–is available to order directly from Nina Mair. Prices available on request; the firm ships worldwide and delivery takes six to eight weeks.
More tub inspiration? See 10 Easy Pieces: Modern Freestanding Bathtubs and 10 Easy Pieces: Classic Freestanding Bathtubs. And have a look at the World's Tiniest Spa Bath. On Gardenista, Michelle has an Easy Tip for Adding a Spa Element to your bathroom (hint: aromatic plants are involved).
Finally, get more ideas on how to evaluate and choose a bathtub or shower in our Remodeling 101 Guide: Bathroom Tubs & Showers.
(Visited 589 times, 2 visits today)