I first got to know Heidi Swanson of 101 Cookbooks and culinary shop Quitokeeto on a flight to Portland, Oregon, where she was heading to a book signing. She was decked out in a navy pea coat and riding boots; her hair was tied back and her luggage consisted of a single black valise on wheels. It was immediately apparent that she'd worked out the art of traveling. Here she shares with us her essential travel kit.
Photography by Heidi Swanson.
Above: Swanson strolls through the Place des Vosges in Paris. She's currently putting the finishing touches on her next book, Near & Far, a travel-related cookbook due out this summer. Photograph by Wayne Bremser.
Remodelista: How do you wrangle your luggage?
Heidi Swanson: I use a compact black Samsonite carry-on with wheels.
Above: Swanson's go-to uniform is built around a Sofie d'Hoore dress from MAC (Modern Appeal Clothing) in San Francisco. N.B.: We, too, are obsessed with d'Hoore's designs. See Fashion's Accidental Designer and There's Something About Sofie.
Above: Instant evening outfit: a Sofie d'Hoore dress with gold sandals from the Gap and an Erica Tanov gold wallet.
RM: What's your approach to packing?
HS: I'm a big believer in the Russian doll system–lots of bags within bags. I lay everything out on the bed and put together an outfit for each day. I'll make a sketch of what I'm going to wear beforehand; I flat-pack my outfits in compact Travel Space Bags from the Container Store with all the air squished out. It makes dressing on the road super easy.
RM: Wardrobe basics?
HS: I have a few key pieces, such as a pair of riding boots from Corso Como (this is my fifth pair, I've worn them forever and they've become my uniform). I always pack some fingerless gloves as well so I can shoot a camera, work an iPhone, and stay warm.
Above: I like to sketch out the outfits I'll be wearing each day; it takes away the guesswork.
RM: What's in your travel make-up bag?
HS: Frazer Parfums Rose and Tuberose Solid Perfume in a compact, which we sell at Quitokeeto, MultiplEYE Mascara from Tarte, a Taupe Lipstick from MAC, a Nars lipstick in Jungle Red, a Nars lipstick in Schiap, and clear Butter Nail Polish. (Read about Quitokeeto here.)
RM: Beauty essentials?
HS: I bring two small Malin + Goetz bottles of shampoo and carry a comb instead of a brush. I'm addicted to Korres Pomegranate Wipes; I use them to cleanse at the end of the day and to freshen up after a flight. Other essentials: Boots' Organic Day Cream from the Botanics line, Aesop Lip Balm, and Weleda Wild Rose Deodorant.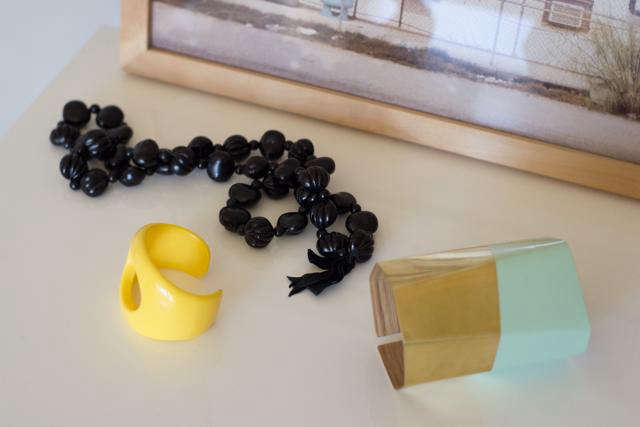 Above: I pack a vintage Bakelite bracelet and other simple pieces when I travel since I like to get through airport security quickly.
RM: Analog or digital?
HS: I bring a Kindle Fire in a felt pouch for reading and movies; I don't take my laptop unless I really have to. I love Moleskin notebooks for travel notes and recipes worth remembering. The pink diary is from J Crew–I still like to write down appointments. The Micron Pens are Japanese and have an extra-fine tip, which I use for book signings, and the pink MT tape is my way of making sure they don't disappear.
Above: Heidi's pinboard displays story ideas for her next book and photos from her travels.
RM: Favorite places to stay when you travel?
HS: Hotels are not so important to my partner, Wayne, and I; we'd rather spend the money on other things. We've have good experiences with Airbnb stays. Last time we were in Paris, we did a house swap with Clotilde from Chocolate & Zucchini, which was great. We'll also rent if we are in a place for a while. We're pretty casual travelers.
RM: Airline food?
HS: Never. I always bring my own food in a DCI Collapsible Lunch Box. These Golden Pot Stickers are a favorite for long-haul journeys because they're full of protein. I also drink plenty of water on a flight, nothing else.
RM: Travel tip?
HS: My friend turned me on to a small Tumi Just In Case Tote that slides on the top of the suitcase handles and stays fixed in place. I'll wrap my cameras in a cloth and keep them there. It's fudging the carry-on, but I've never been called on it yet.
RM: Next destination?
HS: I'm going to Hong Kong in June. I want to go back to Tokyo soon, and India is on the list. I would love to cook there.
For more advice, go to Bon Voyage: 10 Prep Tips for the Intelligent Traveler, and consult our guides: 
This post is an update; it originally ran on January 27, 2012, as part of our Rustic Life issue.
(Visited 1,165 times, 1 visits today)
Frequently asked questions
What is the travel kit?
The travel kit is a curated selection of items that author and photographer Heidi Swanson takes with her on her travels.
What items are included in the travel kit?
The travel kit includes a notebook, a pen, a collection of tea bags, a portable tea kettle, a sleep mask, earplugs, a water bottle, a toiletry bag, and a cashmere wrap.
Why did Heidi Swanson create the travel kit?
Heidi Swanson created the travel kit as a way to stay comfortable and organized while traveling.
Where can I purchase the travel kit?
Unfortunately, the travel kit is not available for purchase as it is a personal collection of Heidi Swanson.
Can I create my own travel kit using Heidi Swanson's as inspiration?
Absolutely! Heidi Swanson's travel kit serves as great inspiration for creating your own personalized travel kit.