Graphic designer David Rager lived in Paris for several years with his wife, Cherie Messerli (together they designed several up-to-the-minute Parisian restaurants like Candeliaria, Glass, and Le Mary Celeste, to name a few), before moving back to LA recently. We asked him for a "stream of consciousness" tour of his favorite Parisian haunts. Here's his list of 11 don't-miss cafes, restaurants, and wine bars.
Above: "When we lived in the 9th arrondissement, Vivant (and later Vivant Cave) brightened the neighborhood. Vivant is housed in a former bird shop with the original beautiful walls still in place." Photograph via David Lebovitz.
Above: "Heimat is a new restaurant from Pierre Jancou (former owner of Vivant). It's located near the Palais Royale in the same building where Moliére lived and died." Photograph via Simon Says.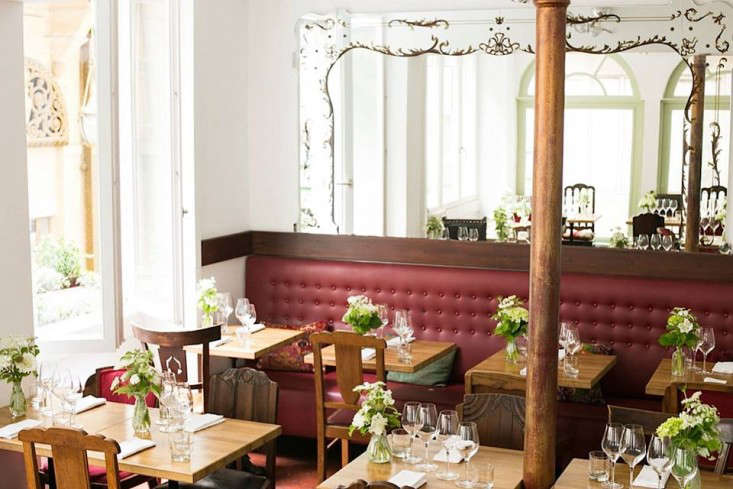 Above: "Down the block is Verjus, which is always great. The wine bar on the ground floor is a good spot to pop in for a drink and a snack, and it's the only place in Paris where you'll find amazing fried chicken." Photograph via Verjus.
Above: "Also in the 9th is Autour d'un Verre, which was our favorite local hangout (solid home-cooked French food and an incredible natural wine list) and La Pointe du Grouin, which uses its own currency (we call it Grouin coins) and serves very reasonably priced meals and magnums of wine. It's amazingly insane." Photograph by Vin & Chere.
Above: "When we moved to the Place des Vosges, our go-to spot was Chez Janou, which is a good mix of tourists and locals. It's the kind of spot every neighborhood needs, open seven days a week (a rarity in Paris). The atmosphere is lively, the ratatouille is great, and the pastis menu is huge." Photograph via Monsieur Marcel.
Above: "James Henry's restaurant Bones is another spot we'd find ourselves at quite often. You can sit at the bar and order from the bar menu, which includes great wine and beer. Or you can plan in advance for one of the two seatings they do every night; the food can get quite adventurous." Photographh via the NY Times.
Above: "When we wanted something easy, we'd go to Grazie for a pizza and an Aperol spritz, or to Breizh Cafe for a crepe and cider." Photographs of Grazie, shown here, via Garance Dore.
Above: "Prior to Bones, James was at Au Passage, which is still great and is around the corner from Le Repaire de Cartouche (shown above), which recently converted their downstairs into a wine bar with a nice little menu."
Above: "Camille Fourmont's La Buvette on Rue Saint Maur is also a really cute/fun place to stop by for an apero, natural wines, and great small plates." Photographs via La Buvette.
Above: "Nearby, at Le Servan, a former tabac/PMU turned into a restaurant, I had one of my favorite meals of 2014."
Above: "And finally, Yard Restaurant, located in a former construction yard, is always a great time." Photograph via Yard. Alexa dropped in on David and his wife, Cheri at their Paris apartment a couple of years ago; see her post Californians in Paris: David Rager and Cheri Messerli.
Travel with us: Go to our City Guides for our favorite hotels, shops, and restaurants worldwide.
(Visited 236 times, 2 visits today)