Brooklyn-based clothing designer Monica Patel-Cohn of Two New York is making a name for herself with her modern take on the traditional sari (have a look at her caftans and tunics here). Monica, who grew up in California with an Indian father and an Italian mother (both heritages serve her well on the textile front), has been visiting India since she was a child. "When I go there, I am in awe; I feel so connected to the culture. Ever since I was little, I've always loved the textiles and seeing all the saris going by." Most of her father's family is from Gujarat, including her uncle and aunt, architects Nimish Patel and Parul Zaveri, whose firm Abhikram is an award-winning architectural practice noted for its approach to sustainability. As an adult, Monica has become very familiar with Delhi, where she travels frequently to shop for fabrics and supplies for her line. We recently asked her to share some of her favorite places in India's capital city. 
Remodelista: How do you prep before you go?
Monica Patel-Cohn: My beloved Love Delhi guide book by Fiona Caulfield. Her guides are an amazing launch pad for a trip to India. The books focus on individual areas–Delhi, Goa, Mumbai, and Jaipur, Rajasthan–they're packed with information it would take months or years to acquire. I pick four new things to check out every visit. It's the number one thing I read.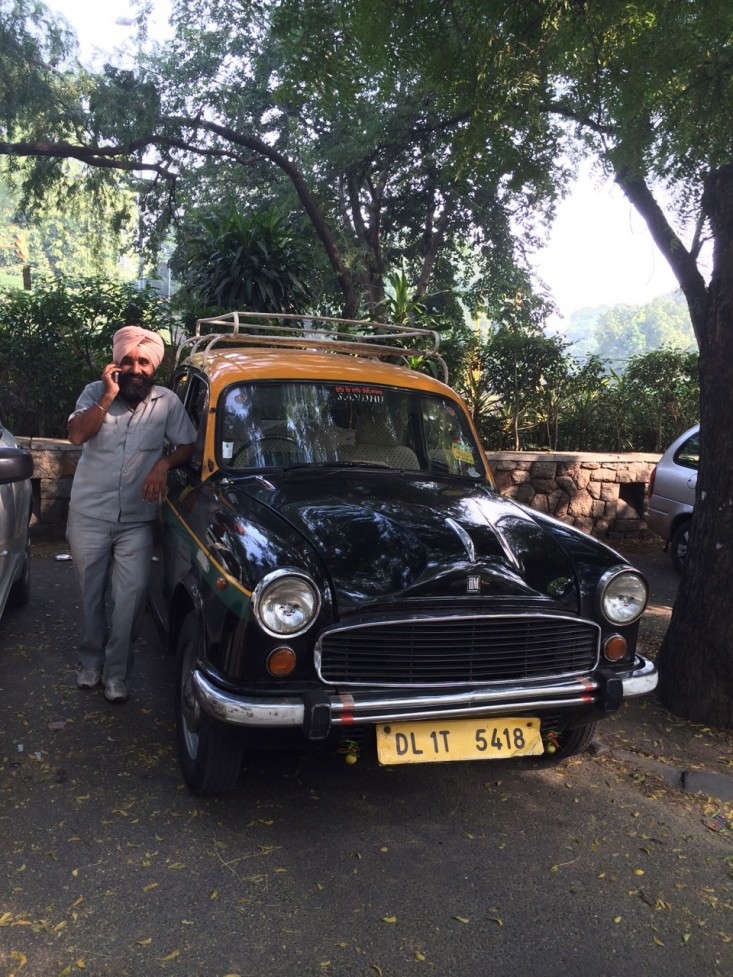 Above: Mr. Manjeet and his Ambassador taxi. Photograph by Monica Patel Cohn.
RM: How do you navigate India's biggest city? 
MPC: I managed to find the best driver through a friend; his name is Mr. Manjeet, and he drives an Ambassador taxi, one of the classic cars made near Calcutta and unchanged since the 1950s. He works out all my stops over four or five days. Delhi is huge and it can be intense getting from one place to another. 
Above L: The latest Eka collection at En Inde. Above R: Jewelry and antlers on display at En Inde.
RM: Shopping?
MPC: En Inde is the hippest store I've come across and I love the space. It's owned by Sonal Sood and Anupama Lalvani, Anupama worked at ABC Carpet & Home in NYC, and also had an architecture firm. Along with a mix of clothing and jewelry, they sell their own Naga pottery, dish ware made from Indian black clay and stone. They have done an amazing job. Another good clothing stop is Moonriver; it has all of India's latest fashions.
Above: Moonriver, a design concept store. Photograph via Vogue India. 
Above: A shot of a pin board at the studio of Raw Mango. Photograph by Monica Patel-Cohn.
RM: Any other must sees?
MPC: One of my most favorite stops is the studio of Raw Mango. Sanjay is a hot, up-andcoming sari designer with a great following. His work is beautiful and elegant, and I love how his studio is decorated and filled with art–everything is edited so well. His saris can be found at Good Earth in Khan Market, which has a great selection of work by Indian designers. It's a must for home decor lovers, and there's a cafe in the market. 
Above: Cotton bedding at Shades of India.
RM: Where do you go for fabric?
MPC: For vintage textiles, I go to Kamayani. Kamayani, the owner is famous for her selection of textiles. If I stop by to see her, I always try to get a peek into the art gallery Nature Mort nearby. I go to Shades of India for bedding and for their great art mobiles.
Above L: Kinari Market in Chandri Chowk. Above R: A three-wheel bike used for navigating the markets. Photograph by Monica Patel-Cohn.
RM: Any markets to recommend?
MPC: Yes, markets are a great way to see what's going on. The prices are affordable and you can buy directly from the person who makes the product. I like the Kinari Bazaar in Chandni Chowk for all that glitters and shines (as my  Love Delhi guidebook describes it). You can pick up sequins, tassels, lace–anything for an Indian wedding. No cars are allowed so we use little three-seater bikes.
RM: Other markets?
MPC: Dilli Haat is another year-round market; it's government-sponsored and includes textiles and crafts from various regions of the country. 
Above: Chez Nini. 
RM: Food?
MPC: I'm only in Delhi for a few days at a time for work, and being on a tight schedule I am just cautious not to get sick so I don't eat in the the markets in old Delhi since the water isn't purified, and for drinks I stick to bottled water and beer. That said, I have a few spots on my list to try from the girls at En Inde, including Chez Nini in the Meher Chand Market. 
Above: The Lutyens-inspired arches in the lobby at the Leela Palace. Edwin Lutyens was the British architect who, in the early 1920s, was responsible for creating New Delhi, a municipality within Delhi and the capital of India.
RM: Where do you like to stay?
MPC: I stay at the Leela Palace. It's over the top; there's always a lot going on there. Some people like to stay at The Imperial; it's more classic and has a long history–Ghandi stayed there. I've also wanted to check out The Manor. It's a little hard to access, but more modern.
RM: How do you escape the crowds?
MPC: Lodhi Garden, near Khan Market, is the most relaxing spot in Delhi. A real getaway. It has mind-blowing architecture and is so tranquil. I love to start out my morning with a walk through Lodhi. 
Above L: Lodhi Garden. Above R: Monica dressed for business. Photograph by Monica Patel-Cohn.
RM: Any other tips?
MPC:  I don't get dressed up or get fancy. I only really wear pants and a shirt when I'm in Delhi. 
RM: Aside from the Love Guides can you recommend any other inside sources?
MPC: I love these two great blogs: Border and Fall and Wear About.
We've been celebrating design in India all week; peruse our finds here. And visit Gardenista to see Indian Gardens. Ready for another insider city tour? Allow cool girl Natasha Figueroa to give you her Guide to Copenhagen.

You need to login or register to view and manage your bookmarks.