When avid equestrian Dione Carston is not advising clients on interior design or overseeing her St. Helena store, Steed Fine Hoarding & Tack, she's typically tending to her horses, mucking out stables or riding them in the nearby vineyards. She has four horses in total (although only two in the stable at home) and confesses, "It's a sickness, but I really love everything about taking care of them." Her husband, Ham, has a different take– "All they're really missing are velvet slippers," he says.
We photographed Dione's house a couple of months ago (see Tough Glamor, Napa Valley Edition), and during the shoot, we spotted the nearby stables and asked for a tour. They did not disappoint.
Photographs by Laure Joliet for Remodelista.
Above: When Dione and her husband, Ham, bought their house on a woodsy seven-acre lot,  they built a stable for Bob, Dione's horse. A couple of billy goats were brought in to keep him company, but when it was obvious that wasn't working, Charlie joined the fold. Since there was no flat ground on the site, they had to excavate into the hillside. (The three-day job turned into three months when they ran into rock plates that they had to crush out.)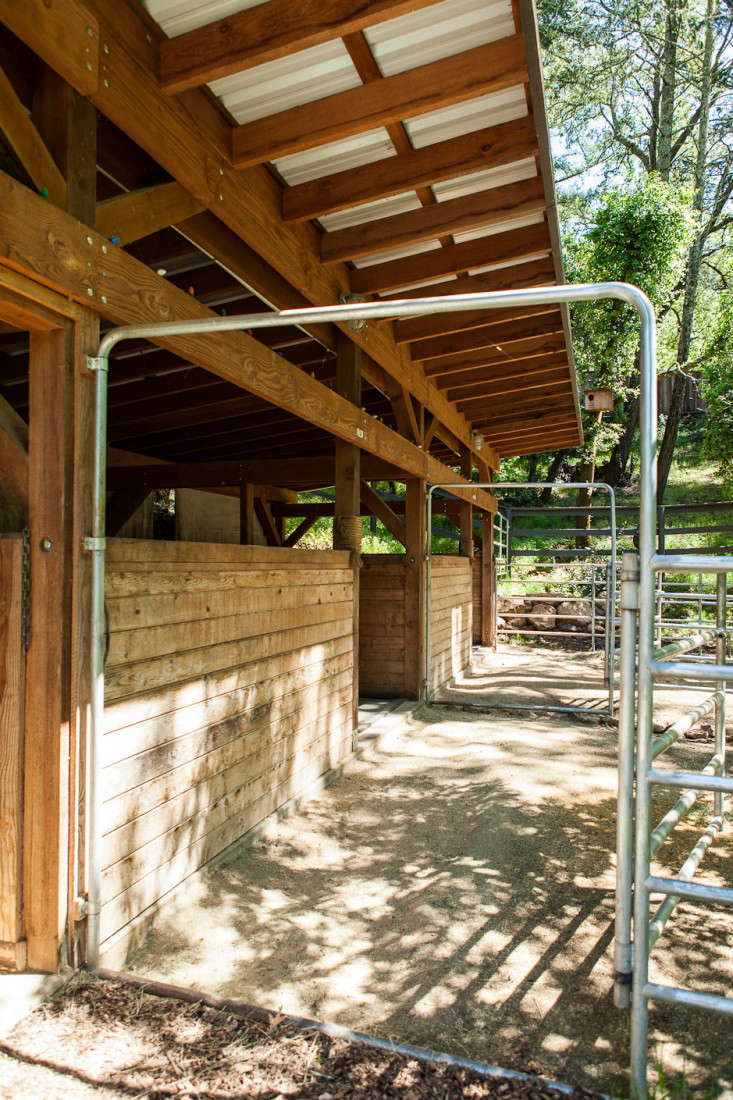 Above: Ham and Dione designed the stables, with Dione's only rule being, "I didn't want 'ghetto' stalls." They used eight-by-eight load bearing beams from Dione's friend Evan Shively, who sourced the reclaimed Douglas fir from an old sawmill in Mendocino.
Above: Packed crushed gravel covers the ground (it's good for drainage). Rubber mats are placed on top to ease the pressure on the horses' joints. Dione found the porcelain lettering for the horse's stalls at the Alameda Flea Market, they're from 1940s apartment housing signage. The rope wrapped around the post is for scratching. Dione uses drop cloths to enclose the stable walls in the winter and rolls them up in the summer to allow for a cross breeze.
Above: The metal corral panels came from Martin Ranch Supply in Rohnert Park. The hanging swing is an Ikea find from several years ago.
Above: A vintage masonite chalkboard salvaged from a dumpster at a local school hangs on the wall with a horse bridle from Manila hanging at the side. Wood chips on the ground keep the dust and mud at bay.
Above: Horse shoes and a bridle hang on the cinder block wall of the small feed room in the stables. The cinder block is painted in Benjamin Moore's Dragon's Breath, the same color as Dione and Ham's nearby house.
Above: Bob, a Tennessee Walker, stands in the backyard under a 50-year-old avocado tree. Bob and Charlie (a Dutch Warmblood) stay in the stables at night, then are turned out into pasture in the day.
Above: Dione's Tretorn rubber boots with vintage brushes for grooming.
 Above: The entrance to a 70-foot pen for the horses.
To see our post on Dione's House, go to Tough Glamor, Napa Valley Edition. See her store at Steed Fine Hoarding and Tack. 
(Visited 6 times, 1 visits today)