Lauren Snyder started her career as a fashion stylist in New York before shifting her focus to decor and the everyday objects we surround ourselves with. The result? Her recently opened shop, The Primary Essentials, in Brooklyn's Boerum Hill.
An extension of Snyder's own apartment in adjacent Fort Greene, the shop brings together her border-crossing interests in design, fashion, food, and culture. And, yes, this being Brooklyn, local artists are celebrated–including Snyder's architect (and boyfriend) Keith Burns, who helped her transform what had been a dark photo studio into a gallery-like display space with windows at either end. Burns kitted out the shop with custom storage built from waxed maple ply and butternut hardwood, and a countertop in a cloudy shade of blue marble. It opened in time for the holiday season; have a look.
Photography by Jonathan Hökklo courtesy of The Primary Essentials.
Above: The shop window presents a far-ranging selection of Primary Essentials' essentials, including Ben Medansky's ceramic Coffee Dripper and an Arrow by Fredericks & Mae.
Above: Tie-dyed indigo textiles hang next to Edward Wohl's Cutting Boards, priced from $88 to $225 each. The Primary Essentials presents objects in small batches and the offerings are continually shifting.
Above: Made for the shop, a long table of butternut hardwood with angled steel supports serves as the main diplsay for tabletop goods. Along the wall are a trio of quilts with Rothko-like color blocks by Hopewell Workshop; contact The Primary Essentials directly for ordering information.
Above: An array of ceramics by Ben Medansky, Hasami Porcelain, and Humble Ceramics.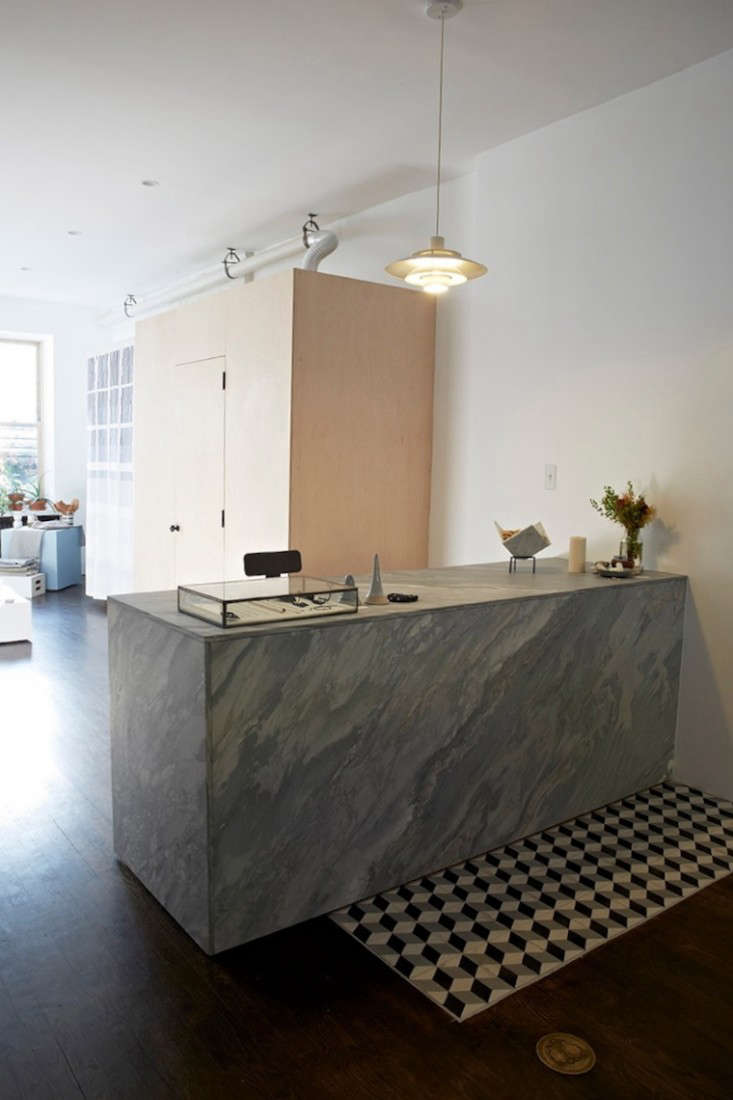 Above: The sales counter is made from large slabs of Palissandro blue marble; its tile carpet was created from concrete tile squares in a black-and-white cube pattern.
Above: Among the offerings, handmade cherry wood utensils by Jonathan's Spoons and body oils from Jiva Apoha.
On the prowl in New York? Check out all of our Metro Area finds. You might run into Julie at Brooklyn's Best Breakfast.
Location of The Primary Essentials in Brooklyn:
You need to login or register to view and manage your bookmarks.