Sixteen years ago, French artist Eric Bonnin made the leap from Paris to New York City and has since worn many different hats, including working as a potter for Jonathan Adler. Bonnin currently turns his own wheel in his Tribeca studio, turning out functional and elegant heirloom pieces. Kam, his latest collection, is a complete table service, from plates, cereal bowls, and cups to pitchers and trays. 
It can be ordered directly from Eric Bonnin Ceramics. Select pieces are also available from retailers Mociun, March, and Spartan. All pieces are made to order and take 2-3 weeks to deliver. 
Above: Scenes from Bonnin's studio photographed by Nicole Franzen; see her interview with the artist on her site, La Buena Vida.
Above: The Kam Dinner Plate in Black, 10.75 inches in diameter, is $44 for Mociun. There is also a Kam Salad Plate, 8.25 inches in diameter, available for $36. The Kam collection is made of brown or white stoneware in a variety of glazes. Contact Bonnin for more color options. 
Above: The Dinner Plate in White, $44, from Mociun. The collection is signed and each piece might vary slightly in size since each is handmade. 
Above: The Dinner Plate in Oatmeal has a lyrical white band across the center, $42 from Mociun.
Above: A vignette in Bonnin's studio, courtesy of photographer Nicole Franzen.
Above: The Sylvia Bowl 1/2 In Black (also available in white and oatmeal) measures approximately 5.5 inches in diameter and 2.5 inches in height. The bowls are hand thrown and then formed into an oval shape and made to stack; $18 from Mociun. The Kam collection also includes Stacking Mixing Bowls with spouts.

Above: The Oatmeal Kam Cups, also in black and white, are $28 each from Mociun.
Above: The Kam Tumbler in White is $24 and currently out of stock. Contact Mociun or Bonnin directly to inquire about ordering.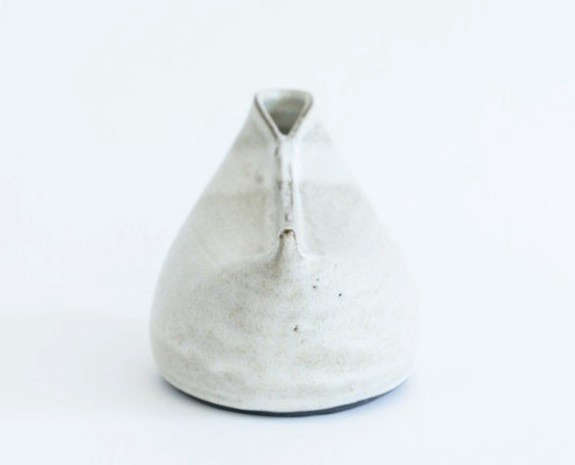 Above: The Medium Bird Vase in Oatmeal is 6 inches tall and 5 inches wide; $80 from Mociun. 
How about a ceramic light fixture? This one by Natalie Page is impressive. Curious about Mociun? See our post, A Nomad Sets Up Shop in Williamsburg.
(Visited 128 times, 1 visits today)