Whenever I'm in Brooklyn Heights, I head straight to the Iris Café for a bit of back-to-the-earth sustenance. New York called it the Best Cafe of 2010 and Francesca is a devotee; endorsement enough for me.
Proprietor Rachel Graville is a fresh-faced foodie from Washington State who opened the cafe after plans for a similar project in Montreal fell through (she came to NYC in 2007 for an internship with the Slow Food organization and later worked for Edible Brooklyn and Edible Manhattan). "I realized I should stay in NYC and open a cafe based on the idea of simple organic cafe fare," she says. The premises formerly housed a flower shop and features a tiled space in the back and a pressed-tin ceiling. "I did very little in the way of design; the history and the charm of the space were enough," Graville says. For more information, go to Iris Cafe.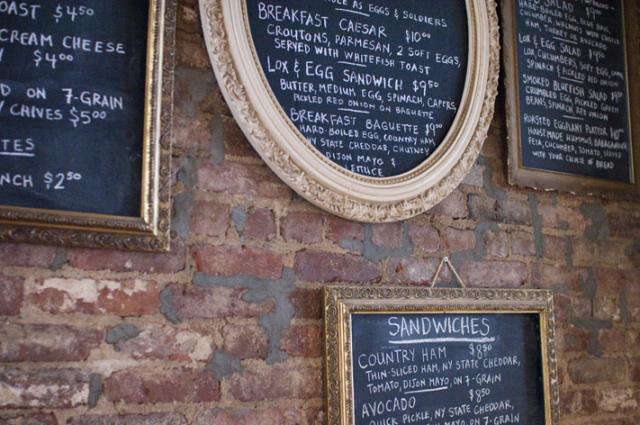 Above: "The framed chalkboards were inspired by Finch's in Vancouver, BC, a lovely cafe where I worked after college," Graville says.
Above: A vintage rattan table.
Above: Our friends over at Food 52 share our enthusiasm; for the recipe to Amanda and Merrill's favorite lunch from the Iris Cafe, go to Food 52.
Above: "The pressed-tin ceiling is original to the space," Graville says. "It was one of many things that made the location too good to pass up." Photograph by Michael A. Muller.
Above: A selection of chocolates from Mast Brothers and coffee from Stumptown.
Above: The cafe is known for its Stumptown coffee and pastries made on-premises; a ham-and-cheddar biscuit topped with a soft-boiled egg is a standard bearer.
Above: The Iris Cafe is located on a quite side street in Brooklyn Heights. Photo via by OK Mitch.
Above: A detail of the oil-paint-on-glass window detail by OK Mitch.
(Visited 4 times, 1 visits today)