There are no junk drawers here. No closets waiting to be edited either. That's because this Greenwood Heights, Brooklyn, townhouse is one of a cluster of four 1920s structures that a group of developer friends hired Fabr Studio to redesign. It was a wise choice: Fabr is in our own Julie Carlson's words "Brooklyn's most inventive, economy-minded, under-the-radar architecture firm": see their headquarters in A Tree Grows in East Williamsburg.
Each of the unassuming two-story houses was given an additional two floors and an entirely new look, no two exactly alike. (Scroll to the end to see the new mansard-roofed exteriors plus a Before photo.) To keep costs down, the designers worked within a defined materials palette of original brick set off by concrete and pale pine."The finances dictated that we needed to have a certain amount of repeated elements throughout, and we couldn't be too precious about flooring or windows or finishes," they explain.
Once renovated, one of the units was furnished by Hollister and Porter Hovey, sisters who happen to be the most talented real estate stagers we know. We got our first glimpse of the project, known as Fifth & Green, while it was still in progress when the Hoveys shared their Insider Tips for Residential Staging with Style and Affordability. The resulting model house has an enchanting, world's apart, modern-rustic look: the Three Bears' 21st century urban digs. It's exactly where we'd like to be holed up right now, and happens to have several thoughtfully designed work-from-home spaces. Others noticed, too—all four houses have sold—but these images are filled with design ideas for the taking.
Photography by Jen Trausch, unless noted, courtesy of FABR Studio + Workshop.
Ground Floor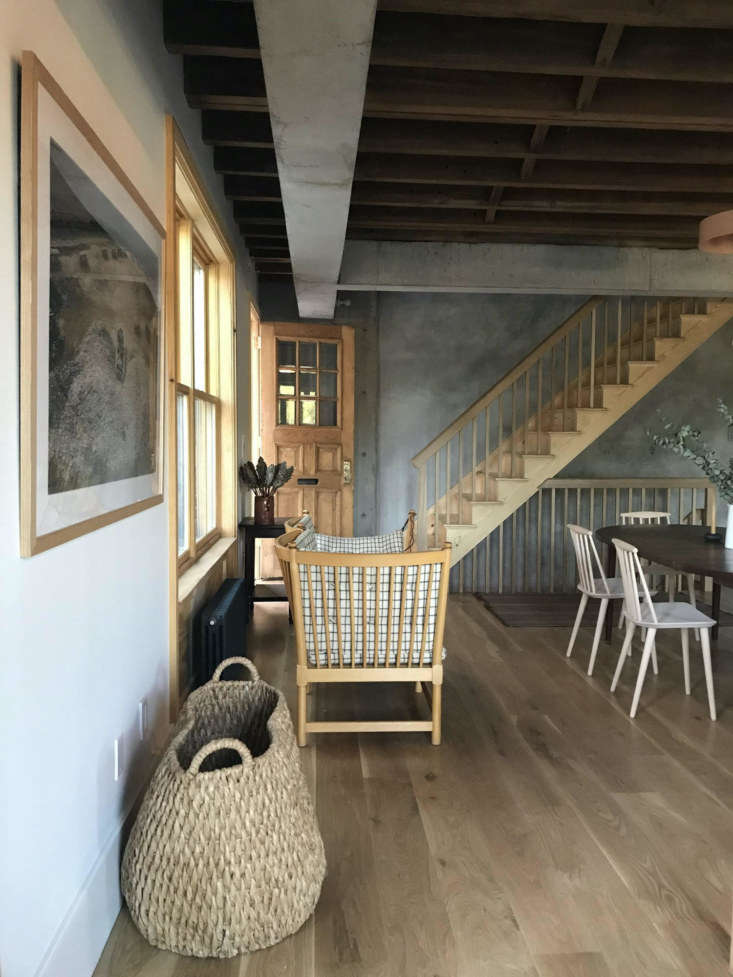 The front door opens to a combination dining/living room and kitchen. The houses are situated in twin pairings, two in front, two behind, and share a 10-foot wide alleyway, which is where the entries are located. Photograph by Hovey Design.
This floor and the next are approximately 500 square feet. The exposed ceiling rafters here are original. Photograph by Hovey Design.
Note the new windows with frosted lower halfs. "The original windows on the front of the building were standard 3-by-5-foot openings," says Bret. "One of the first design responses we made was to play with the original front openings in response to the new interior layouts. So instead of every room having identical-sized, double-hung windows, we made some openings larger for full-height windows, we turned some into open-air balconies, and we frosted some windows to create privacy from busy Fifth Avenue."
The faucet is the Kohler Purist (find more options in 10 Easy Pieces: Modern Deick-Mount Kitchen Faucets Under $500).
"The doors are partial-inset on a face frame, and the drawers and doors have a gently radiused edge," says Bret. "They have a 1920's feel that we felt was in keeping with the spirit of the original houses. Also, like many kitchens of the era, the components ramble a bit and the stove floats freely."
The sections of white painted walls are in Benjamin Moore White Dove, one of our Architects' Favorite White Paint Picks. "We try to limit the amount of paint in our projects, and instead to rely on masonry or wood and natural pigments, which give a more dimensional texture," Bret tells us. "We love using earthen or lime plasters and cement mixes; they catch the light and bounce it around. The colored concrete walls are custom mixed in a smooth cement stucco."
Second Floor
The textured walls are Diamond Finishing Plaster on gypsum wallboard. Photograph by Hovey Design.
The floors here and on the ground floor are quarter-sawn white oak finished in Bona matte clear coat. The beech armchair is a Hay design.
Third Floor
Attic
Intrigued by the cutout door pulls? See Remodeling 101.
Exterior, After and Before
Follow the team @fabr.studio and @hoveydesign.
More modern-rustic style:
(Visited 2,118 times, 4 visits today)