Remodelista regulars no doubt have admired the work of George & Willy. They're the charming, young New Zealander duo who made their design debut with the Studio Roller, a hanging roll of kraft paper for keeping To Do lists and making sketches. Since then, George Wilkins and Will McCallum have gone on to offer a suspended clothes drying rack, a fire starter inspired by Alaskan whalers, and a collection of signs including a Scrabble-like letter board.
Their creations are all about modern utility paired with a delightful Down Under playfulness. They sum up their M.O. as "making your space exciting"—which led us to be curious about their own quarters. For the last 18 months, we've been told they'd soon be ready to unveil the first George & Willy remodel: the two have been working with friends on a house for George and his wife, Hannah. Built in 1991, the structure—"tiny, nondescript, and uninspired," says George—was priced right and had potential: to them it was begging to be transformed into an urban cabin. That required these first-timers to panel just about every surface inside and out. Come see.
Photography courtesy of George & Willy.
They say the overall layout of the house "was actually not bad and didn't require too much changing," but the plasterboard exterior and landscaping called for a total overhaul. In addition to cladding the structure in macrocarpa, an evergreen that's a less-pricey alternative to cedar, they built a picket fence (to keep in George and Hannah's dog, Frida) and a wooden walkway that, George says, "gives the feeling of being on a bushwalk every time you enter the house."
George tells us they finished the exterior paneling with tung oil, "a natural product that unfortunately hasn't worked as well as we would have liked because it doesn't have mold inhibitors in it, so the timber has developed a slight mold. We got a cleaning product from the company that sold us the cladding oil that we're going to use and then recoat; over time the wood will gray off nicely."
Here's George's story of how they stumbled on a big cost break: "I called the sawmill ten days before we were starting work to order the timber and was told there was an eight-week lead time, which left us with quite a problem. While I was pondering what to do, I got a call back saying that the mill had a pile of seconds timber that we could have for a quarter the price. We ended up using that which was great."
The indoor swing is a quintessential George and Willy touch. "We design in tandem," George tells us, "but Will is more on the ideas side of things and I'm the practical one, so, for example, Will designs the swing and I design how it's going to be fixed so it's strong enough."
Above L: The washer/dryer in the back of the space is topped with a steel counter—and has steel doors that George says got removed out of convenience. Above R: They found the Warmington stove on classifieds site Trademe.co.nz, and were later thrilled to discover it had come out of Pipi's Pizza, a North Island institution.
Above L: The house has three bedrooms, including the primary, shown here, which occupies what had been the garage: "it was a small garage but made a big bedroom." The photos hanging throughout are by George ("Will and his fiancé got them framed for us as a wedding present"). Above R: Overhead space in the room is used as "in-ceiling cubbies for things that aren't used too often, like snow skis over summer. The house doesn't have a heap of storage so we had to get creative."
Before and In Progress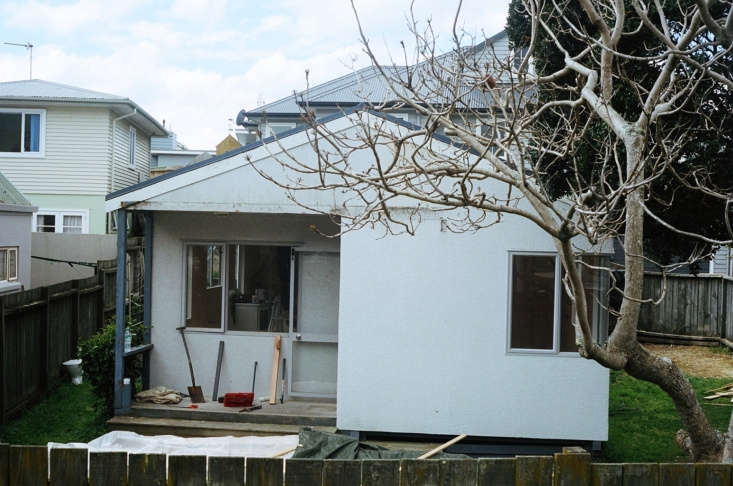 Browse our archives for more favorite Cottage & Cabins, including:
(Visited 86 times, 5 visits today)