Over the past eight years, Londoners have watched Fernandez & Wells grow from a small, heroic coffee shop with quality simple fare to an established family of eateries across the city. Throughout their expansion, Jorge Fernandez and Rick Wells have stayed true to their original intention: "To serve simple food of the best possible quality in spaces that are uncluttered and maintain the integrity of the buildings they occupy."
With the recent launch of Rustic: Simple Food and Drink, from Morning to Night, the pair illuminate the converted–as well as the soon to be–to the beauty and elegance of their simple starter "business plan" of core products, which "consisted of a cardboard box of a bag of coffee, a slice of plain butter cake, a loaf of crusty sourdough bread, a salami, a hunk of English cheddar, and a bottle of wine." Hungry for more? So are we. The book's straightforward recipes and captivating images will satisfy your immediate urges and a visit will do even more.
Unless otherwise noted, photography by Helen Cathcart.
Above: At the Somerset House location, Fernandez & Wells commissioned artist David Tremlett to create wall murals, which were made using pastel crayons rubbed directly onto the walls with the palm of the hand. "When we acquired the wonderful space at Somerset House in Autumn 2011, it occurred to me that the large white walls and high ceilings cried out for some color and I asked David, a friend and loyal customer, if he might oblige," Wells says. "As the lovely generous man he is, he did not one but three 'wall drawings' as he calls them, one in each of the rooms of the East Wing café."
Above L: True to the Fernandez & Wells motto of "simple food and drink, from morning to night," the book's recipes and images are arranged by time of day. This image shows "teatime," where just about anything goes. Above R: There are about 30 wines–all European–on the Fernandez & Wells list. "While I am a huge fan of wines from all around the globe, the combination of tradition and innovation on our doorstep here in Britain means there's more than enough to excite the palate," Wells says. "European wines tend to be great food wines and they go particularly well with the simple, quality fare that we aim to serve."
Above: At Fernandez & Wells, they are big fans of toast–"a perfect foil for a multitude of spreads." Some of their favorites include Morcilla with Aioli, Ortiz Sardines with Unsalted Italian Butter, and Heritage Tomatoes with Garlic and Sea Salt.
Above L: Arched window shadows from the architecture of the 18th-century Somerset House move across the specials board. Above R: Bottles of water are stored and displayed on the fireplace mantle.
Above: The founders Rick Wells (left) and Jorge Fernandez (right). While working as a BBC World Service journalist, Wells met Fernandez at Monmouth Coffee–one of the few places to get "proper coffee" in London–where he was the manager 10 years ago. Over "shared enthusiasms," their partnership was formed.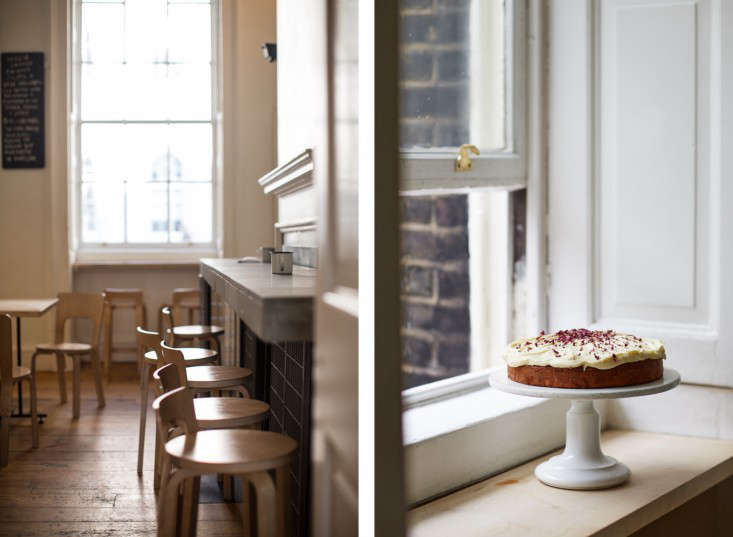 Above L: The Artek High Chair by Alvar Aalto blend in with the tall and grand spaces of Somerset House. Above R: A Marrakechi Orange Cake awaits being served at afternoon tea. "Our cakes are not fancy and overly sweet," says Wells. "Instead, they are the sort of cake you could wrap in a napkin and put in your bag."
Above L: Warm from the oven, freshly baked Madeleines rarely stay on the counter for long. Above R: A graphic and packaging identity that is consistent with the original concept.
Above: With locations in Soho, Mayfair, South Kensington, and Aldwych, Fernandez & Wells has become a favorite meeting spot for Londoners.
Above: Rustic: Simple Food and Drink, from Morning to Night is published by Hardie Grant; $25.82. In the UK, the book is available through Amazon; £13.60. Photograph by Christine Chang Hanway.
See Fernandez & Wells at Somerset House for more. Other noteworthy eating establishments in this area of London include Spring and The Delaunay.
Christine is also the writer of the new lifestyle and wellness blog My Contents Have Shifted–A Fabster's Musings on Being Fifty and Beyond.