Owners Kate and Ben Lawrence of The Cold Press gallery and studio were looking to build a serene community outside the London art scene when they set up their intaglio print studio in Holt, Norfolk. To further their mission, they called on architect Craig Bamfort and artist Louise Sayarer of SasaWorks to build The Artist's House for their growing residency program. The house, 15 miles from the Albert Street gallery, is a restored stable with oak and concrete flooring, iron staircases, and expressive woodworking details.
For more on upcoming exhibitions, go to The Cold Press, and for more on the gallery and studio spaces, see our post Cold Press Gallery in Norfolk.
Above: The open stable house is divided in two with living spaces upstairs and a studio and kitchen downstairs.
Above: The Oscar Three Seat Sofa by Matthew Hilton, Kirsten Heckterman Pillows, and Copper Pendant Shades from Urban Cottage Industries.
Above: SasaWorks carefully restored the original entry into the bedroom with a step up for modern living.
Above: A white iron bed frame, a Pippy Oak Signature Stool from Galvin Brothers, and an Original BTC Hector Dome Table Lamp.
Above: The Signature Oak Dining Table and Pippy Oak Bench are both by Galvin Brothers; the Type 75 Mini Desk Lamp in black is by Anglepoise.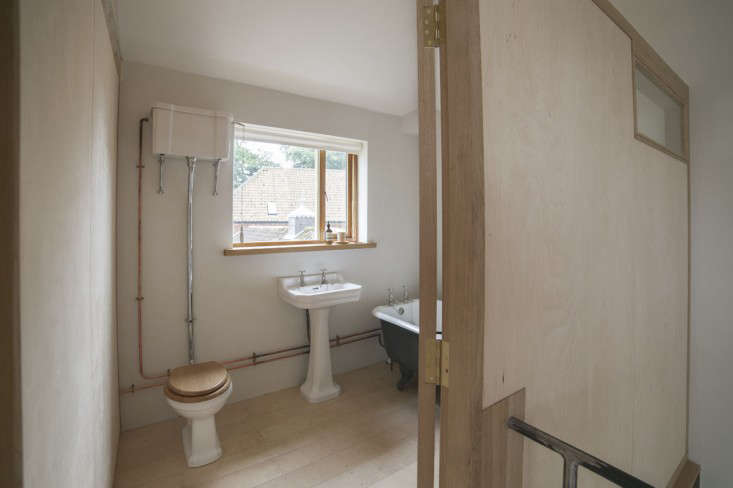 Above: A bathroom pod on the upper level was hand-built by SasaWorks from a blend of oak and plywood; the architects left copper pipes exposed.
Above: A radiator painted matte black contrasts against the ply flooring built by Stuart MacCallum of 95adesign.
Above: The narrow kitchen was also built by MacCallum, with ply cabinetry and original details intact. 
Above: Copper pipes that go from exposed to concealed throughout the house function as a faucet over the kitchen sink.
Above L: While SasaWorks was renovating the building, they discovered an original staircase to the stable boy's room (now leading to the bedroom) from the kitchen. Above R: A view of the custom iron and wood staircase with a curvaceous rail.
Above: A Matthew Hilton Compass Table with beech trestles and a laminate top functions as a worktable in the space just outside the ground floor kitchen.
Above: The downstairs work studio.
Above: The oak wood window additions were designed by SasaWorks and built by North Norfolk Bespoke Joinery.
For a look at some of the artists who have stayed and exhibited at The Cold Press, see our posts:
You need to login or register to view and manage your bookmarks.