Somerset House, the grand arts center (and host to London Fashion Week), recently got that much more interesting with the opening of Spring, the first solo venture of Aussie chef Skye Gyngell.
The author of three cookbooks and a former Vogue food editor, Gyngell is best known for her post as chef at Petersham Nurseries Cafe, set in a garden center where her seasonal, produce-centric menu earned the restaurant a Michelin star. To Gyngell the star became something of a curse, because it invited finicky criticism of the locale's charms (think dirt floors and wild greenery). Upon leaving Petersham, Gyngell declared: "If I ever have another restaurant, I pray we don't get a star."
Her new 120-seat restaurant is in Somerset House's "new wing," built in 1856 and in use as tax offices ever since. Gyngell and interior designer Briony Fitzgerald had only to peel back the trappings of bureaucracy to use the dramatic 19th-century cornices, pillars, and soaring ceilings to their advantage. In a recent restaurant review, Tracey Macleod of The Independent said, "The result is one of the swankiest dining rooms in London; far grander and more elegant than most of the famous hotels." By the looks of it, Gyngell might be setting the scene for her next star.
Photography via Spring, except where noted.
Above: The restaurant's fresh feel benefits from full-height, round-top window and clustered pendant lights that hang like clouds. The service counter's white bookmatched marble is balanced by a pair of Atollo brass table lamps by the Italian designer Vico Magistretti. The floor of the main dining room is Dinesen oak.
Above: Pink is the dominant accent color in a palette of white and light neutrals. The space is further enlivened by fresh and dried flowers and artwork by Emma Peascod and Valeria Nascimento.
Above: An enclosed atrium by landscape designer Jinny Blom sits at the center of the restaurant, with black olive trees among the plantings.
Above: Server uniforms were custom designed by Trager Delaney and Egg, and are individually tailored. Photograph from Gumtree.
Above: Spring also offers an all-day casual Salon, serving sandwiches, espresso, and desserts–like the toasted almond, fig, and marsala ice cream trio shown here.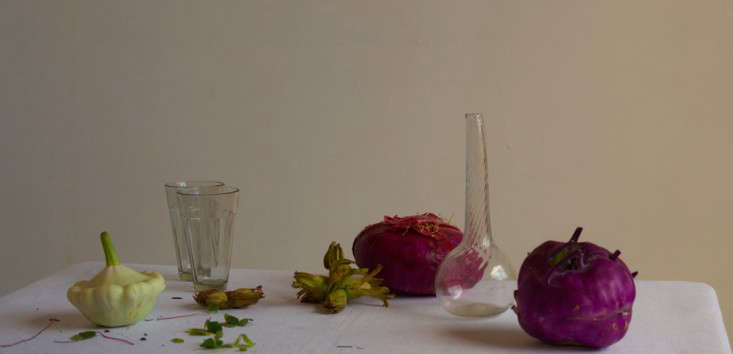 Above: An ingredient still life. Gyngell is known for taking great pains to retain the character of individual ingredients in her dishes; at Spring, she decorates finished plates with seasonal flowers and herbs.
Above: A hand-drawn map details pedestrian access to the restaurant from Waterloo Bridge or The Strand. Visit Spring for reservations–and for more charming Maps, showing access by car, tube, and train.
Where else to eat in London? Here are some of our other favorite spots (including another at Somerset House):
(Visited 155 times, 3 visits today)