According to Martha Stewart Living alums Fritz Karch and Rebecca Robertson, collectors can be neatly divided into 15 personalities. In their new book, they devote a chapter to each type, along with the astonishing results when pack rats put their finds on full display. The two–who happen to be seasoned hunter/gatherers themselves–note that too often beloved objects are squirreled away out of sight; the authors' mission is to show how rooms come alive when dozens of pressed glass plates or vintage toasters or found feathers are masterfully brought out into the open. The book is about to be published by Abrams; here's a preview.
Above: A tabletop assemblage of clothespins that the authors describe as "a trail of invention and ingenuity." Photograph by Dana Gallagher.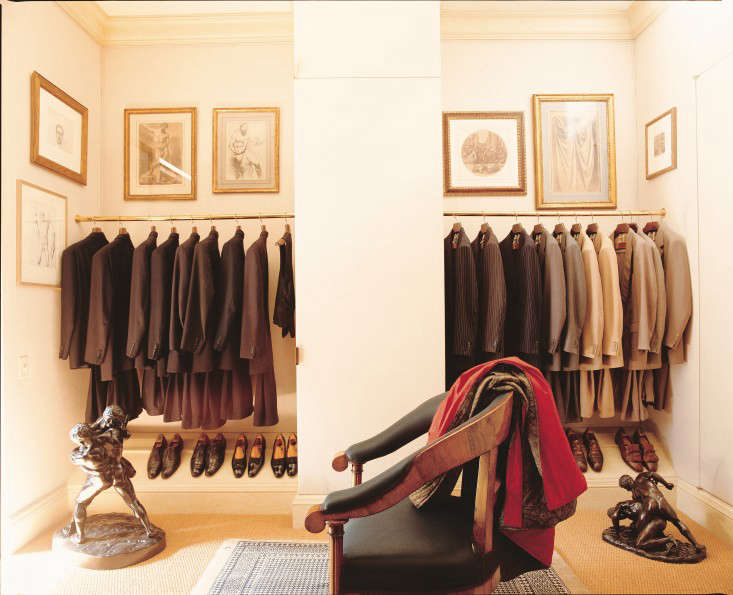 Above: The late fashion designer Bill Blass, a collector who Karch and Robertson classify as an Exceptionalist–"if the object isn't rarified, they're not interested"–displayed his old master drawings (many of them fittingly of nudes) in his New York dressing room. "Even his suits and shoes were arranged as a precious collection, hung from a gilded pole and spaced just so." Photograph by Pieter Estersohn.
Above: A Maximalist architect lines his Sag Harbor bathroom in wood-framed mirrors. The salon-style arrangement, Karch and Robertson point out, is more than decorative: "A multiplicity of mirrors helps amplify light and create views in window-challenged rooms." What do you think of the trough bathtub and sinks? Photograph by David Allee.
Above: Even bandannas are collectible–and can be put to unexpected use. This desk is built from a hollow-core door topped with a patchwork of bandannas under protective vinyl. Also note the bandanna-covered wastebasket. Photograph by Ditte Isager.
Above: The power of numbers: Our favorite spread in the book presents a wall of old coat hangers as sculpture. Photograph by Dana Gallagher.
Above: Wire baskets for eggs and vegetables decorate a kitchen. The top row is a subset collection of wire egg dippers, whisks, and other gizmos. Photograph by Antoine Bootz.
Above: Containerist collectors gravitate toward vessels of all sorts; this one built a pyramid out of Hermés boxes–a display that doubles as storage. Photograph by Dana Gallagher.
Above: A beachcomber's collection of feathers are taped in winglike bundles to her kitchen wall. This Naturalist, the authors point out, even has a table with the elemental look of driftwood. Photograph by Bill Batten.
Above: Collected: Living with the Things You Love comes out tomorrow from Abrams.
We're longstanding fans of both authors' work. See Fritz Karch's own apartment in our post, An Architect and a Collector at Home. Rebecca Robertson is an interior designer–she and her husband, Marco Pasanella, helped create A Whimsical Family Loft in Brooklyn, Whale Wallpaper Included, and they own the Best-Looking Vintner in Manhattan.
(Visited 32 times, 1 visits today)