Editor's note: This is the fourth in a series of posts by Sally Kohn— journalist and CNN political commentator, TED talk giver, and design aficionado—chronicling her adventures in remodeling. For earlier installments, see The Case for Unstained Wood Floors from a Stealth Design Nerd and The Surprising Virtues of Spray Paint (Plus a Few Tips).
We have a conundrum in our house. My partner, Sarah, and I love bold colors. We spend more hours than we should flicking through the Instagram feeds of bold maximalist designers like Beata Heuman and Nickey Kehoe, drooling at the idea of a purple house or a green kitchen.  
The problem is we now live in a late 1700s bank barn converted into a house in the 1950s by the legendary woodworker Wharton Esherick, so we have to honor the era and feel of the house which definitely favors white walls against all the dark woodwork.  Also, we're a little timid when it comes to bold design choices. We don't trust our instincts, or at least not yet.
So when we decided we wanted to have some bold pops of color and even fun patterns in our new-to-us home, we thought outside the box—or, actually, in the box sort of. We put funky wallpapers in our closets. Here's what we learned.
1. Go for peel and stick.
One of our first projects was putting Tempaper's Scandi Floral print in our front hall closet.  The peel and stick feature makes it incredibly easy to, well, peel and stick.  I will say that having a cutting board (we used a sewing mat) and a sharp exacto knife was incredibly helpful, as was the little wallpaper smoother that the company sent—but you can also buy here. That little felt covered plastic smoother was especially useful, because I learned that as smooth as you think it is, you can always press the paper even more smoothly and if you get a tiny wrinkle, you can press hard and basically smooth it out.
2. Paper (or paint) the shelves, too.
In the hall closet, we also quickly realized that the wood lip of the shelf, which had taken a beating over the years, looked even more sad next to the fun shiny new walls so we got creative and added a self-adhesive felt strip in a complimentary green.  Super fun and that's now my favorite feature of the closet.
3. Invest in a laser level.
I will say that we should have figured out sooner to use a laser level. I have a Bosch laser level and once we actually realized it would be helpful here (sometime in the middle of closet #3) it was a game changer for getting the pattern to be as straight up and down as possible.
4. Be forgiving.
But that being said, the other thing we learned is that when you're looking up close, you notice every imperfection, place where the pattern doesn't align, etc., but once the project is done, after a few days, the imperfections fade. In fact, we started to have more fun with the imperfections.  In a few places, when we wallpapered a ceiling or an inside facing-wall, we deliberately hung a piece upside down. It's like a goofy secret only we know about.
But for those more significant screwups, it helps that it's just a closet. Thank goodness I didn't misalign the chicken's legs in my living room (see pantry photo below and if you can spot it).
5. Find the centerpiece.
Process-wise, my advice is to figure out the "hero piece" of your closet (or wall or whatever)—the piece, usually in the center, that you will notice most and want all the other pieces to hang around and/or reference. Start there. And when you cut out the wallpaper for the given spot, for the love of Pete, add a few inches to your measurement because the absolute worst thing in the world is realizing you forgot to check the pattern alignment when you cut and you now have a giant cut piece you can't use. Okay, fascism and abject poverty are worse, but you know what I mean. Cut extra.
6. Paint the ceiling.
Also you can have fun with paint. In a closet in my partner's office—in which she stores her fancy clothes and fancy shoes and knit things she hilariously calls "soft treasures"—we painted the shelf pink to match the wallpaper. In the hall closet we wallpapered the ceiling but in this clothes closet, we decided to paint the ceiling of that closet a shiny copper metallic—to reflect light and, well, because it's cool.  You can't see it in the picture because it photographs badly, but it looks great.  Incidentally, for lighting, we used these magnet mounted rechargeable lights which are hidden just inside the doors of each closet and light up with motion and can be easily slipped off for recharging. We like them for their warm color tone. We don't like that they came from Amazon, but they were the only option we could find.
7. Double check before pasting.
Our most recent closet is definitely our favorite (so far)—putting the extremely fun red Folklore paper from Hygge & West into our pantry. We especially loved this paper because my partner is the main cook in the family and her people are Scandinavian, which this paper echoes. But what made this closet challenging is that it's itty bitty (and I am not) and also the Hygge & West paper is actual traditional wallpaper that requires paste and such. They had a helpful video on their website which I watched, and we bought the exact wallpaper paste they recommend. And I tried to eat fewer cookies in the days leading up to this project so I wouldn't get stuck.
First I repainted the whole closet with Lick paint brand's "Matt White 07" which I was especially glad is low VOC paint, since I was painting in such close quarters and in my kitchen.  And then, over the course of a few hours, we cut and made sure each piece fit before pasting it, and then up they went.  The result?  You wanna do this in your pantry now too, don't ya?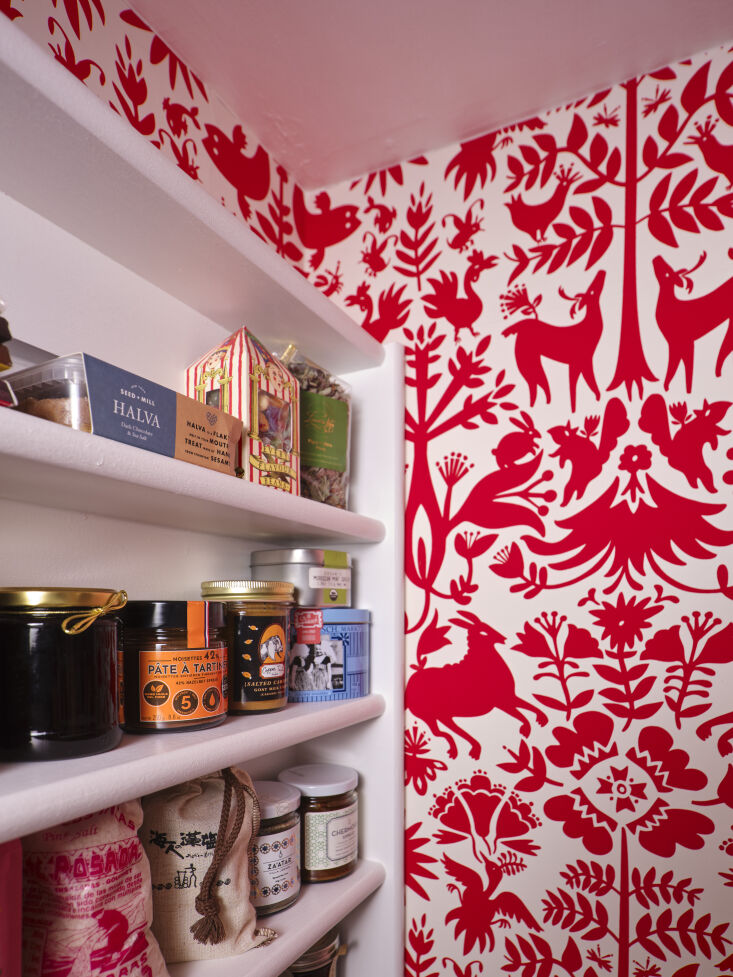 Maybe someday we'll get adventurous enough to use more color and pattern in our living space beyond just pillows and accent rugs, but in the meantime, our closets are riotous. And in the spirit of my friend Ingrid Fetell Lee, they're incredibly joyful. They're playful and pretty and just make us so happy—even in the dead of winter, when I'm going into the closet to grab my thickest sub-thermal coat. Highly recommend giving it a try in your home. (And if you do, let us know what you think in the comments.)
And for more ideas, see Expert Advice: The Art of Wallpaper (and How to Incorporate It).
(Visited 419 times, 1 visits today)
Frequently asked questions
Can I use wallpaper in my closets, cupboards, or pantries?
Yes, you can absolutely use wallpaper in closets, cupboards, and pantries. It's a creative way to add personality, style, and visual interest to these often-overlooked spaces.
What are the benefits of using wallpaper in these spaces?
Using wallpaper in closets, cupboards, and pantries can transform them into unique and delightful areas. It can make these functional spaces feel more inviting, organized, and aesthetically pleasing.
Which types of wallpaper are suitable for closets, cupboards, and pantries?
You can choose from a wide range of wallpaper options, including vinyl, non-woven, or paper-based wallpapers. Consider the specific requirements of each space, such as humidity levels in pantries or durability in high-traffic closets, when selecting the type of wallpaper.
How do I choose the right pattern or design for these spaces?
When selecting a wallpaper pattern or design, consider the overall style and theme of your home. Opt for patterns that complement or contrast with the surrounding decor. You can choose bold and vibrant patterns to make a statement or opt for subtle and neutral designs for a more understated look.
Can I use removable or peel-and-stick wallpaper in these spaces?
Yes, removable or peel-and-stick wallpaper can be a great option for closets, cupboards, and pantries. They offer the flexibility to change the look easily and are ideal for temporary or rented spaces.
How do I prepare the surfaces before applying wallpaper?
Before applying wallpaper, ensure that the surfaces are clean, smooth, and free of any debris or grease. Repair any damages or imperfections on the walls, cupboards, or shelves and ensure they are properly primed or painted, if required.
Can I wallpaper the shelves or interiors of cupboards and pantries?
Yes, you can definitely wallpaper the shelves or interiors of cupboards and pantries. This can create a cohesive and coordinated look, especially when paired with wallpapered walls or doors.