We're calling it: Wallpaper is making a comeback.
Maybe it's because our interiors have been our worlds for so long that we're longing for more color, pattern, and print—a change of scenery, a bit of surprise. Or perhaps it's nostalgic: a comforting return to times past (see also: the return of quilts).
Regardless, the papered rooms of the moment are anything but stodgy, with clever updates on classic applications and patterns that feel entirely fresh.
Case in point: the work of Liz Robinson, who, through her firm Mia Carta Design in Cambridge, MA, incorporates wallpaper in ways that feel seamless and inspired, not slapped-on. Liz wrote to us on the beginnings of her love affair with wallpaper: "Back in my art school days, I was a painting major at the Pacific Northwest College of Art but thought about switching to printmaking. I fell in love with intaglio and monotype printing and was lucky enough to study printmaking under Gordon Gilkey, who was widely known for his role in recovering artwork stolen by the Nazis during World War II. Gordon was also friends with so many of my 20th-century art idols, like Anni and Josef Albers. He totally ignited a love for works of art on paper for me."
Liz's design firm, Mia Carta, also began as a bespoke stationery and invitation business. "I haven't completely let go of my love for printed goods and paper," she says. "I suppose it's only natural that I look for opportunities to use wallpaper in my interior design projects whenever I can."
We asked Liz all about wallpaper, plus her favorite sources for handmade papers and why, in her view, papering a room can be "an act of generosity." Read on:
Photography by Maura McEvoy and styling by Basha Burwell, courtesy of Liz Robinson and Mia Carta Design.
Remodelista: Why wallpaper?
Liz Robinson: Nothing is as instantly transformative or as evocative as wallpaper. The playful storytelling aspect of it instantly imbues a home with lightness, personality, and creativity.
A friend once said that bold wallpaper can be "an act of generosity," meaning it's a treat for you and your guests, creating a surprisingly joyful moment. I absolutely agree.
RM: How do you decide whether or not to wallpaper a space?
LR: It's a question of balance in the design for me, and finding the right opportunities to incorporate more visual texture and a sense of atmosphere without overwhelming the eye. I like to give wallpaper the visual space it needs to be the art that it is.
In a more traditional setting, using wallpaper with a connection to the natural surroundings and with a narrative is the perfect way to layer charm and character and establish a feeling of place. In more pared-back spaces, a patterned wallpaper can be an artful counterpoint to more minimalist moments.
RM: Floral or modern? Patterned or pared-back? Matchy-matchy or pattern on pattern? 
LR: I have to admit that I love modern/minimal and vintage-inspired papers alike. And I'm into playing with pattern on pattern but not necessarily in a sweet, overtly feminine way. While I love that Sister Parish look of layering brightly colored patterns, I like creating spaces with a more intense mood: less preppy, more expressive.
RM: Do you prefer peel-and-stick varieties or old-school applications?
LR: While I appreciate the lower cost and flexibility of the many peel-and-stick varieties of paper, I use traditional wallpaper for all of my client projects. I find traditional wallpaper to have more longevity and to be more breathable (and mold resistant), and it doesn't have the issues with air bubbles that peel-and-stick papers tend to have. Today's non-woven wallpapers are also more easily removed without damage to the underlying walls when compared to the wallpaper of old. In short, you will likely get a better and longer-lasting finished product by using a traditional paper with a paste application. I always recommend professional installation regardless of the application.
RM: Hand-printed or digital?
LR: As you can imagine, I am especially drawn to hand-printed wallpaper where you can see the maker's hand. This sense of imperfection and human touch is important to me and moves me as a piece of art would. I certainly also use digitally printed wallpaper—there are so many high-quality, beautiful options out there.
RM: How can you figure out how much wallpaper you need?
LR: For an easy way to roughly calculate the square footage of your space, combine the width of each wall, then multiply this number by your ceiling height. Next, divide this number by the square footage of a single roll of wallpaper to determine the number of rolls required. Always round up to account for pattern repeat and variation.
That said, I always recommend consulting with your installer to confirm final quantity before ordering. Not ordering enough wallpaper for your project can be very frustrating and turn into a real problem when ordering hand-printed wallpapers or natural-fiber papers like grasscloth that can have noticeable color variation between printing runs, dye lots, etc. And over-ordering can be very expensive as wallpaper is not always returnable.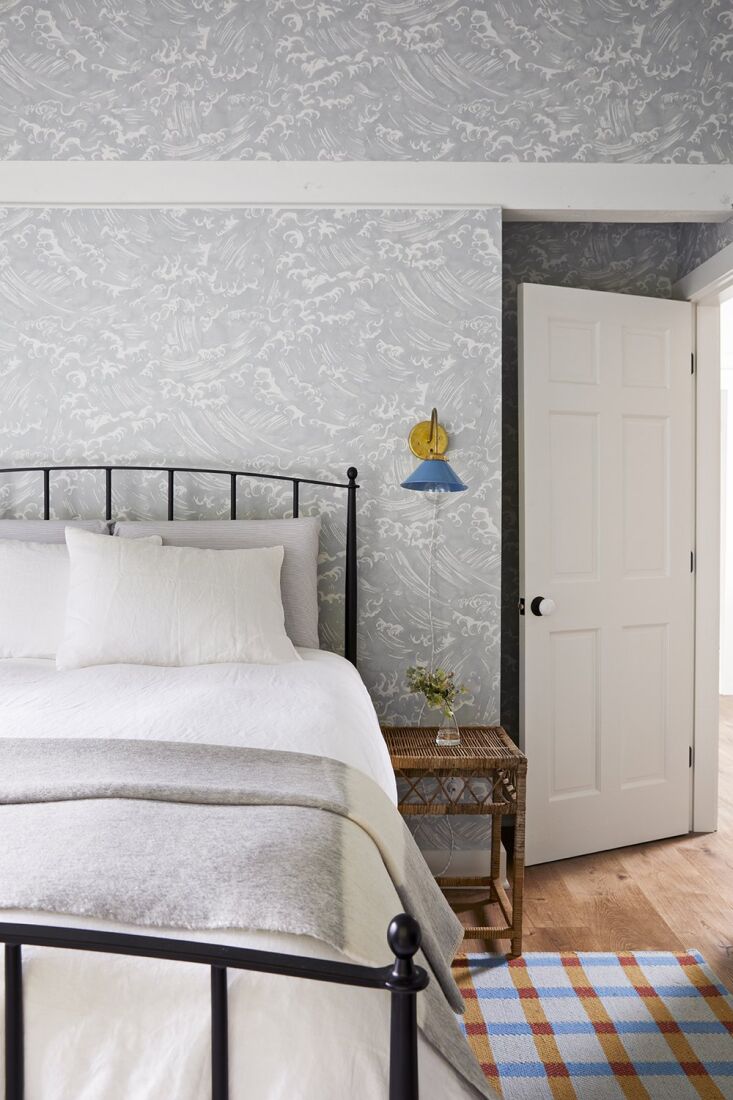 RM: What are some of your favorite sources?
LR: I use Farrow & Ball's wallpapers time and time again, which are beautifully hand-printed, relatively affordable, and coordinate with Farrow & Ball paint colors. I love Marthe Armitage and Galbraith & Paul for their colorful made-to-order, hand-printed product, with the option for custom colors, too. Marthe Armitage also offers a lower-cost, digitally-printed option for some of her wallpapers. Another favorite source is Zak+Fox with their modern and interpretive use of symbols and classic motifs.
For more of a vintage feel, you cannot go wrong with anything from Morris & Co. I am obsessed with the bold color in their collection with Ben Pentreath. Sian Zeng brings a dreamy, charming narrative to her wallpaper designs that are printed on thick matte paper and washable. I also adore the surreal and joyful playfulness of midcentury Josef Frank wallpapers available from Svenskt Tenn.
For classically beautiful, ultra-luxurious, hand-painted wallpaper murals, de Gournay and Fromental are the aspirational choices, or Schumacher for a more affordable range. For grasscloths and textures, Phillip Jeffries is my go-to. Other favorites: Cole & Son for whimsical patterns, Kelly Wearstler for modern/graphic drama, Calico for their moody color gradient papers, Porter Teleo for bold, hand-painted papers reminiscent of abstract expressionist paintings… I could go on.
RM: What are some unexpected spots to wallpaper?
LR: The ceiling, the back of a bookcase, inside of a closet, in a pantry.  I love creating those little surprise jewel-box moments.
RM: And for the uninitiated: What's a low-stakes place to start? 
LR: I would recommend wallpapering a powder room. You can really let your creativity loose and be bold in such a small space. Another way to ease in would be to choose a single wall in a room, such as an office, child's room, or guest bedroom.
RM: How do you test wallpaper before adhering?
LR: Always try a swatch before you settle on a pattern, tape it to the wall, and look at it in all light conditions. An even better strategy, especially if you're wallpapering a larger area, is to order a roll of the paper you are considering and hang a large piece with painter's tape and live with it for a while before you commit.
RM: Is there anyplace you should never use wallpaper?
LR: I have used wallpaper in all rooms, but one should be aware of the potential issues with using wallpaper in a bathroom without proper ventilation due to the effects of steam and dampness. I'm also mindful of high-traffic areas, like mudrooms and hallways, and choosing appropriate materials that can be washed and wiped. A good option for these areas is to use wallpaper above wainscoting for more durability.
RM: What are you coveting now?
LR: One wallpaper my current wish list is John Derian's collaboration with Pierre Frey. I'm planning to wallpaper a room in my home in his Le Paravent Chinois Irise. I love the story behind this paper, which is a reproduction of a favorite 18th-century floral chinoiserie panel owned by John.
I have also been coveting Marthe Amitage's beautifully hand-printed papers for some time. They are stunning works of art, intricately drawn, perfectly imperfect and quirky in the best possible way. Marthe was trained as a painter and is a past Master of the Art Workers' Guild (of which William Morris was himself Master in 1892). She is truly a living legend, and we are lucky to be able to access her work so directly and paper our walls with works of such provenance.
For much more on wallpaper, see: