One of the more original projects we've seen in a while, with the windows thrown open to let in summer breezes (and a fresh dose of design): Ca'n Rei on Mallorca, a 17th-century house far from the party scene and spring break resorts in the tiny town of Banyalbufar, on a cliff overlooking the sea, redone by Isla Architects. The house is the architects' own: Juan Palencia and Marta Colón, the couple behind the firm, recently moved to Mallorca full-time to establish their practice after living and working in the colder climes of Basel, Switzerland. First, they stripped the house down to the bones, removing the fussy fittings and furniture that had been added on over the years, and designed it for carefree, barefoot living year-round, with bright white-washed walls, lime and terracotta floors, a kitchen with recessed workstations, and antique Mallorcan finds. Join us for a look inside.
Photography by Luis Díaz Díaz, courtesy of Isla Architects.
After
When the couple found Ca'n Rei, it had been used by a German couple as a vacation home for 40 years. "The space was basically full of objects and things, an accumulation for many years and different people using the house," Palencia says. But it had kingly bones: "The house sits on an upper part of the village called Es Penyal where the village was founded," the architects say. "The house is likely to be really old, probably from the seventeenth or eighteenth century, although there is no documentation about it, but the vaulted ceiling and other details of the house reveal hints about its age."
The couple bought the house and set about repairing it. The main matter of business? Stripping away all of the additions from the past century. "The house was renewed in the 1970s and it lost the materiality of a traditional Mallorcan house, when trendy-at-that-time stained, colored cement tiles were added, and a new bathroom was created in the former animal pen. Then the house was slowly updated 'on the go,' with pragmatic interventions, like an Ikea kitchen, a washing machine in the middle of the kitchen, and a closed fireplace over the old existing one," the architects say. They restored the facade, structure, and roof, added windows in the back of the house for maximum cross-breezes, then replaced everything inside with more traditional Mallorcan elements, "from floors to furniture."
The furnishings are sparse: a
Potence Wall Lamp
by Jean Prouvé that can be swung from the kitchen to the living area, a custom red table, and two traditional Mallorcan rocking chairs—original to the house—that the couple had reupholstered in blue and white striped fabric from 
Bujosa
, a local textile company. The effect is bright and beach-like.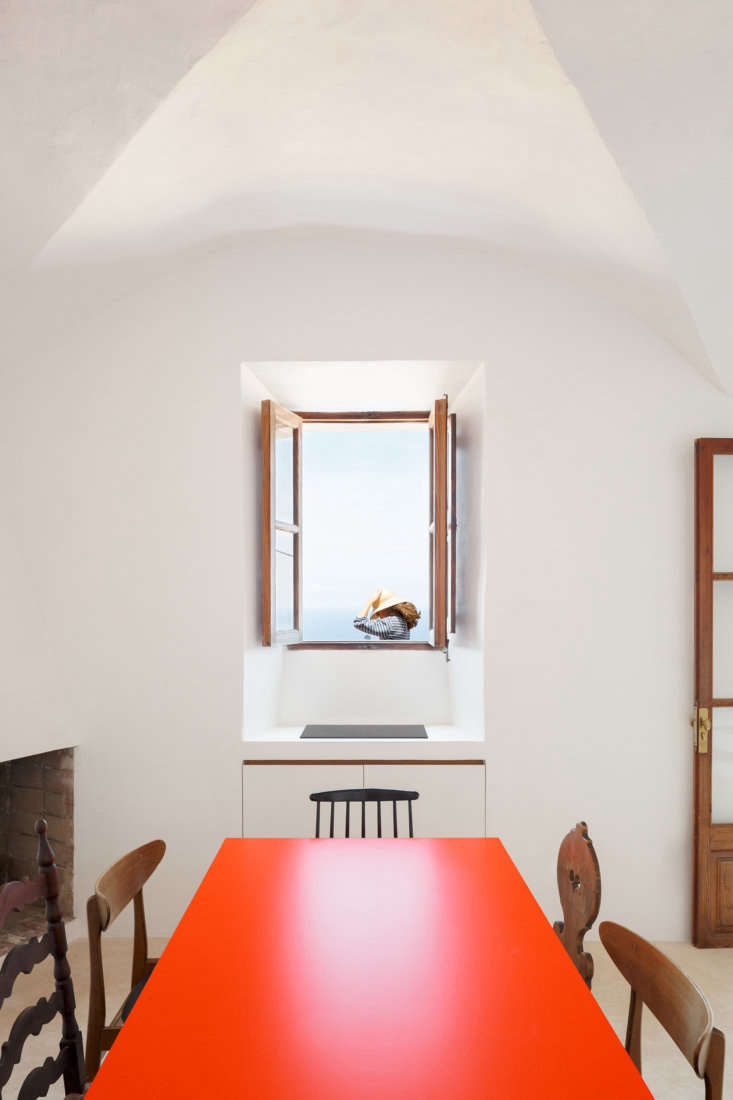 Above: The cabinets reveal a surprising amount of storage: behind the righthand door, shelves for ceramics and small appliances and, behind the lefthand door, three drawers for cutlery and tools. "The lower drawer is used to store pots and pans and has a high door that hides the other two drawers," Palencia says. "The idea was to have as few doors and partitions as possible, to keep everything as much integrated in the wall as possible."
Before
Looking for warm-weather interiors? See these other projects on Mallorca and Menorca: