In the early days of pandemic, when so many of us were starved for inspirational browsing, news of Kostas Anagnopoulos's new upstate New York antiques shop, Pidgin, sent ripples of excitement throughout the design world. Kostas himself could relate: Since his purchase of a pelican-shaped Art Deco bottle opener at the age of 14 , he's been on the hunt. "I think all antique and vintage dealers who go into business do so in part because they've been accumulating for so long that it's just time to practice detachment and share the finds," he tells us. "That's certainly true for me."
Kostas is also a poet and a seasoned salesperson—he and his husband, Jesse James, founded the creative consultancy/design firm Aesthetic Movement, which we have been chronicling for years: see the couple's city apartment here and the upstate tent resort they designed here. As anticipated, Kostas's offerings are far-ranging and soulful: "I'm a very democratic collector. I like patina, and often gravitate towards the homespun and anonymous, how something feels in the hand. The thing has to have nice lines, like a drawing within a larger space." Come see.
Photography by Victor Schrager, unless noted.
Not all is vintage but everything has a story: the wood-handled knives in the glass case are by The Shin Blacksmith, a fifth-generation Korean family business. Writes Kostas on Instagram: "Master Shin hand makes each piece using the repurposed carbon steel of railroad track, which is rich in manganese and can be heated to a very high temperature. The handles are chestnut, slowly dried in sunlight for years, so it is lightweight, strong, and rot-resistant."
Shown here: a driftwood lamp—"the most monumental I've ever seen," says Kostas—and, on the floor, an outsized ceramic fruit of mysterious origin.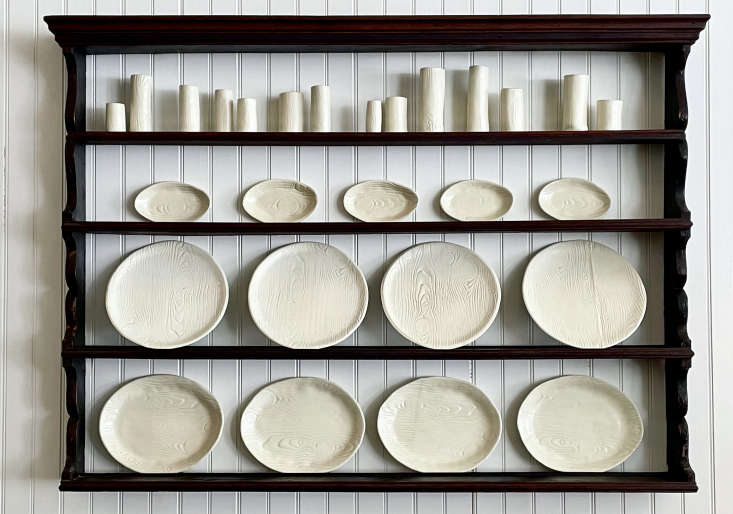 Of the materials he gravitates to, Kostas explains: "Glass is always good to brighten an area and create reflection. Wood is extremely soulful and has a sense of life. Metal can be weighty and formidable or shiny and delicate."
Above L: Kostas is the son of Greek immigrants–he grew up on Chicago's West Side speaking Greek before English. His Uncle Dionysus tends the family orchard on an island across from Puglia, Italy, and oversees its small-batch olive oil production. "The olives on the island are a bit spicy. Because the oil is always from the first cold press, it's the most beautiful shade of green. I didn't want to add a label; I wanted the olive oil to say it all, but my husband convinced me that some sort of simple label was necessary. We chose Didot for the font: the Didot family were among the first to set up printing presses in the newly independent Greece in the early 19th century. Above R: Pidgin's honey is from photographer Victor Schrager's nearby hives. Photographs by Jesse James.
Pidgin is at 7811 Route 81, in Oak Hill, New York, a two-and-a-half-hour drive north of NYC (and 30 minutes west of Hudson). . You can read some of Kostas's poetry here.
Peruse our Shopper's Diary archive for more Remodelista favorites, including:
N.B. This post is an update; the original story ran on January 15, 2021, and has new links and information.
(Visited 5,933 times, 2 visits today)
Frequently asked questions
What is Pidgin Antiques Shop?
Pidgin Antiques Shop is a unique antiques store located in Oak Hill, New York. It is owned and operated by Kostas Anagnopoulos.
Where is Pidgin Antiques Shop located?
Pidgin Antiques Shop is located in Oak Hill, New York.
Who is the owner of Pidgin Antiques Shop?
Kostas Anagnopoulos is the owner and operator of Pidgin Antiques Shop.
What can I find at Pidgin Antiques Shop?
Pidgin Antiques Shop offers a wide range of antique items including furniture, decor pieces, artworks, and collectibles.
Is Pidgin Antiques Shop open to the public?
Yes, Pidgin Antiques Shop is open to the public for browsing and purchasing.
Does Pidgin Antiques Shop ship items?
Yes, Pidgin Antiques Shop offers shipping services for purchased items. They can provide shipping quotes upon request.
Can I sell my antiques to Pidgin Antiques Shop?
Yes, Pidgin Antiques Shop buys antiques from individuals. You can contact them with information about the items you wish to sell.
Does Pidgin Antiques Shop offer restoration services?
Yes, Pidgin Antiques Shop offers restoration services for antique furniture and other items. They have skilled craftsmen who can restore and repair your treasures.
Are the prices negotiable at Pidgin Antiques Shop?
Yes, the prices at Pidgin Antiques Shop are negotiable to some extent. It's always worth discussing your budget and preferences with the owner.
Are there any upcoming events or special promotions at Pidgin Antiques Shop?
For information about upcoming events or special promotions at Pidgin Antiques Shop, it is recommended to check their website or get in touch with them directly.