How to live cost-consciously and exceptionally well in NYC? Creative consultants and product developers Jesse James and Kostas (Gus) Anagnopoulos solved the riddle for themselves and their daughter, Olympia, by leaving Williamsburg, Brooklyn, for Jackson Heights, Queens, a melting-pot neighborhood best known for its Indian restaurants and markets. Mysteriously less celebrated are the area's grand, historic apartment buildings: the one that the family settled in is a landmarked, 1924 Tuscan-style garden complex that has griffins standing guard over its gates. Inside the family's classic seven (a living room, dining room, kitchen, and four bedrooms) things are equally magical—and of an age. Jesse and Gus have a shared, longstanding weakness for overlooked and unfashionable antiques. And when what they like becomes desirable, as it invariably does, they move on to the next. Have a look at their fresh approach to living with vintage.
Photography by Philip Ficks; styling by Pam Morris.
Above: Jesse James, Gus Anagnopoulos, and their daughter, Olympia, 7, outside their apartment building in the Jackson Heights historic district. Designed by Andrew J. Thomas as a co-op, the complex is comprised of eight brick buildings surrounding a block-long central garden and there's even community composting.
Jesse and Gus are the founders of Aesthetic Movement, a multifaceted New York City design office that provides wholesale representation to small makers, develops its own product lines, and creates retail spaces among other things. By day the couple note that they're surrounded by newly minted objects, which explains why at home, they gravitate to antiques, drawn not by provenance, but by patina and soulfulness and anonymity: "We prefer not knowing every detail of how, when, and where something was produced because that's what we do at work," explains Jesse. "With old things, there's a mystery, a life that preceded us." Photograph by Philip Ficks via Kinfolk.
Above: The apartment was last remodeled in the early 1990s by the son of the original owners, who stripped the entry of its woodwork and painted the walls in brown and gold stripes. To bring back the apartment's original bones, Jesse and Gus introduced transoms, chair rails, and moldings.
Many designers who spend their days surrounded by color and pattern take a palette-cleansing approach at home and opt for all white. Not Jesse and Gus. Their foyer is painted Farrow & Ball Off Black, and, like the rest of the apartment, given over to display. The central botanical, shown here, is a John Derian mailer on newsprint for a Hugo Guinness show; the couple mounted it on linen and added a frame. Photograph by Philip Ficks via Kinfolk.
Above: The living room has a cove ceiling and large wood-burning fireplace. The sofa came from the now defunct Classic Sofa, and the green armchair is a yard sale piece reupholstered in a jacquard from the Silk Trading Company. The Husbands poster of Peter Falk, from a 1970 John Cassavetes film, was a wedding gift. Travel souvenirs are another of the couple's specialities: They purchased the room's antique area rugs on a trip to Marrakech shortly after their daughter's first birthday.
Above: A mantel still life includes a tag sale stoneware bottle that, Jesse notes, "looks like it stepped out of a Giorgio Morandi painting."
Above: In a corner of the living room, a small table from a Catskills antiques shop is where Gus spends his mornings writing in addition to his work at Aesthetic Movement, he's a poet. His published work includes the collection Moving Blanket. Gus is also a master at displaying collections. "Like things with like things" is his longstanding motto and explains the pairings and clusters of objects and colors found throughout the apartment. Shown here, a framed sketch by Jesse's cousin Ashley James, a weathered mirror, and a watercolor by Ginna Triplett, a friend of Gus's since high school.
Above: A Thomas O'Brien Aero Studio Goodman Light with a bronzed interior hangs over the dining table, which came from Jesse's grandmother, an aesthete and great collector herself. Jesse tells us: "Our approach is to layer and edit a room starting with a few well-chosen anchors. Then we add and subtract elements until we strike a balance of symmetry and asymmetry, of positive and negative space. When you get it right, it feels sort of magical carefully considered but not decorated, beautiful but not precious."
Above: Cylindrical art pottery vases from the 1950s each picked up individually and inexpensively form a striking ensemble on the dining room armoire. "They don't look like anything on their own," says Jesse. "That's how most of our collections come together: This is stuff that's at any antiques mall, but no one ever looks at it because it's kind of ugly on its own. For whatever reason, we slowly start buying more and more." The lamp and small bud vase are Danish Art Deco by Schollert. The armoire retrofitted to hold a printer and office materials because the dining table often gets used for work is painted Pigeon, a gray-green from Farrow & Ball.
Above: A lineup of pink milk glass goblets top a French wall-mounted cabinet that holds etched glassware by Japanese artist Shizuyo Saegusa. Transferware platters part of a large collection of 19th-century Aesthetic Movement designs that are the source of the couple's company name are displayed in a wood church hymnal, a piece that Jesse and Gus replicated for Sir/Madam, their tableware and kitchen goods line; see it in our post The Wooden Spoon and Other Staples.
Above: Green batter bowls are gathered on a dining room sideboard."They're 1920s Deco but we're not ever sure who made them," says Jesse. "We love bowls; we put them everywhere and use them to store things some have rocks from a trip or piles of photos." The pleated lampshade could have come from a thrift store, but it's actually a several-years old find from Anthropologie paired with a bronze-finished light.
Above: The kitchen required a bit of triage (and investment) to return it to its 1924s guise. In addition to having cabinet faces rebuilt, Jesse and Gus added an AGA Legacy range and a cast-iron farm sink, which took four people to install. The runner is Swedish and the industrial stepladder was purchased on a trip to Chicago, the couple's shared hometown. Photograph by Philip Ficks via Kinfolk.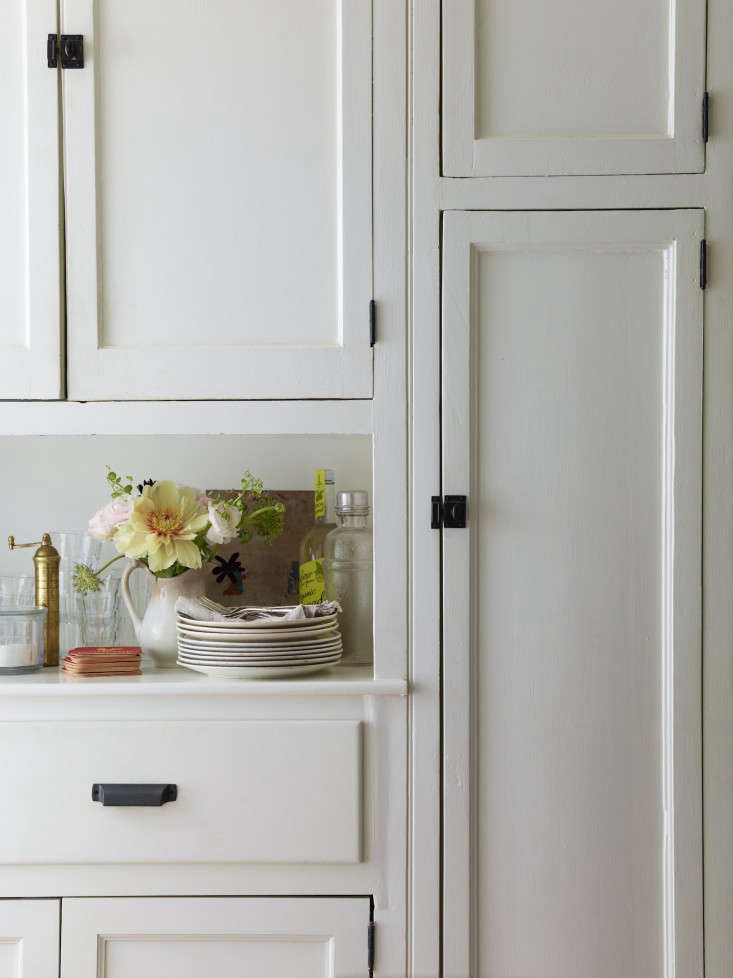 Above: Restored pantry cupboards in the hall outside the kitchen have drawer pulls and cabinet latches from House of Antique Hardware. The brass pepper mill is an Atlas from a hardware store in Nafpaktos, Greece, where Gus's paternal grandmother lived. Read about the design and where to source it in Object Lessons. Photograph by Philip Ficks via Kinfolk.
Above: The master bed is covered with a vintage kantha quilt from India, and a collection of Czech and Polish film posters sit waiting to be hung. The framed photograph is of Jesse's father.
Above: A French secretary in the bedroom holds important papers and displays favorite small paintings and a sturdy dried leaf.
Above: Griffons perch at one of the apartment complex's six gates. The structure was one of many that went up in the speculative frenzy following the construction of the Queensboro Bridge, which linked Queens to Manhattan, in 1909.
Above: Four Italianate towers adorn the buildings. Not surprisingly, the area has become a magnet for creative young families Jesse estimates that at least 25 friends and relatives have moved to the neighborhood.
Above: Metalwork quatrefoils pattern the entrance door. Architect Robert A.M. Stern has singled out Jackson Heights' garden buildings as "a model urban suburbia that demonstrates as none have since what high-density housing in the city could be."
To see more work by Aesthetic Movement, have a look at our posts Now Serving: Perfected Tableware from the Past and Vintage Revival: Kitchen Essentials Made in India, go to Izola, and take a tour of Jesse and Gus's former country house here.
N.B.: This post is an update; the original story ran on September 15, 2014.