San Francisco photographer Leslie Williamson specializes in capturing the nuanced homes of midcentury artists, architects, and designers; her two books, Handcrafted Modern: At Home with Midcentury Designers and Modern Originals: At Home with Midcentury European Designers, are instant classics. So it's not surprising that she lives in a nostalgia-laden 1960s Joseph Eichler house in SF, unseen until now. When our friends at Freunde von Freunden approached her about photographing the interiors, she called on Brian Ferry, a Brooklyn photographer known for his artfully intimate work.
"I've admired Leslie's work for a long time and she's had a big impact on my own photography," Brian says. "No one has photographed her home for a feature before so I was honored that she had chosen to let me do it. I felt a responsibility to capture Leslie and her interior with sensitivity and emotion, in a way she has done so many times in her career."
See the full feature on Freunde von Freunden, with photography by Brian Ferry and writing by Laura Spencer King.
Above: Slanting sunlight in the paneled dining room. "The day was bright and sunny, a rarity in the area of San Francisco where Leslie lives, so I took that as a good sign," Brian says.
Above: "The things I collect all have stories and are from my family, both my genetic and chosen families," Leslie tells FvF. "These things are deeply rooted in telling the story of my life."
Above: A fiber art wall hanging above a midcentury sofa. "The house is a Joseph Eichler, and it was built in the 1960s," Leslie tells FvF. "I have been living here for about 10 years. Believe it or not, I found it on Craigslist." Eichlers are known for their open plans, signature interior wood paneling, and modest scale (for a revamped example, go to Reader Rehab: A Respectful Eichler Remodel in Marin).
Above: A Marimekko wall hanging.
Above: Leslie captured in a quiet moment. "I always feel a bit nervous before a shoot no matter who I'm shooting," Brian says. "For this one, you can imagine how I felt. I was shooting an interior portrait of one of my photography heroes, a woman who has made iconic photographs of the exact subject matter."
Above: A single dark wall sets off a collection of found and inherited objects in the bedroom.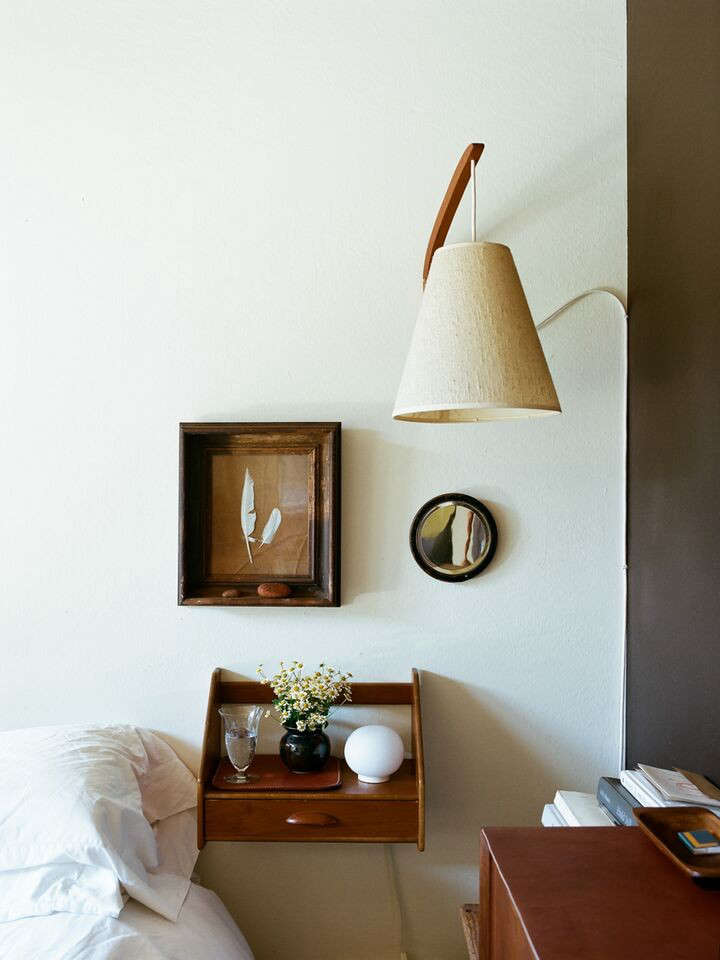 Above: An artful bedside tableau: a wall-mounted table, framed feathers, and a beveled mirror.
Above: In a guest room with a daybed, a piece of leather serves as a table covering.
Above: Williamson's work area includes a chalkboard for lists and a vintage coat rack.
Above: A pair of wicker chairs and potted plants define the outdoor space.
Interested in learning more about Leslie's books? See our post Modern Originals: At Home with Midcentury European Designers and Handcrafted Modern: At Home with Midcentury Designers. To see a Brooklyn interior photographed by Brian Ferry, go to Designer Lena Corwin at Home in Fort Greene.
(Visited 165 times, 1 visits today)