Several years before Columbus set out for America, a glassworks was set up at La Rochère, a mountainous area of timbered houses and waterfalls near the Swiss border of France. After a few false starts (a devastating fire followed by the Thirty Years' War), the furnace was relit in 1666 and has been going strong ever since. Over the centuries La Rochère has produced canning jars, medical equipment, window panes, and roof tiles, but the company is best known for its drinking glasses. La Rochère's wide range of glasses, plain and fluted, retain shapes that were as popular in 19th-century dining rooms as they are today. It's not difficult to imagine the local writer Victor Hugo and painter Gustave Courbet taking refreshment from La Rochère goblets while nibbling the area's famous Comt© cheese at a rustic cafe.
Today the company is run by the descendants of the 19th-century owners and sells its traditional hand-blown as well as more affordable pressed-glass ranges worldwide. Here's a selection of some utilitarian favorites.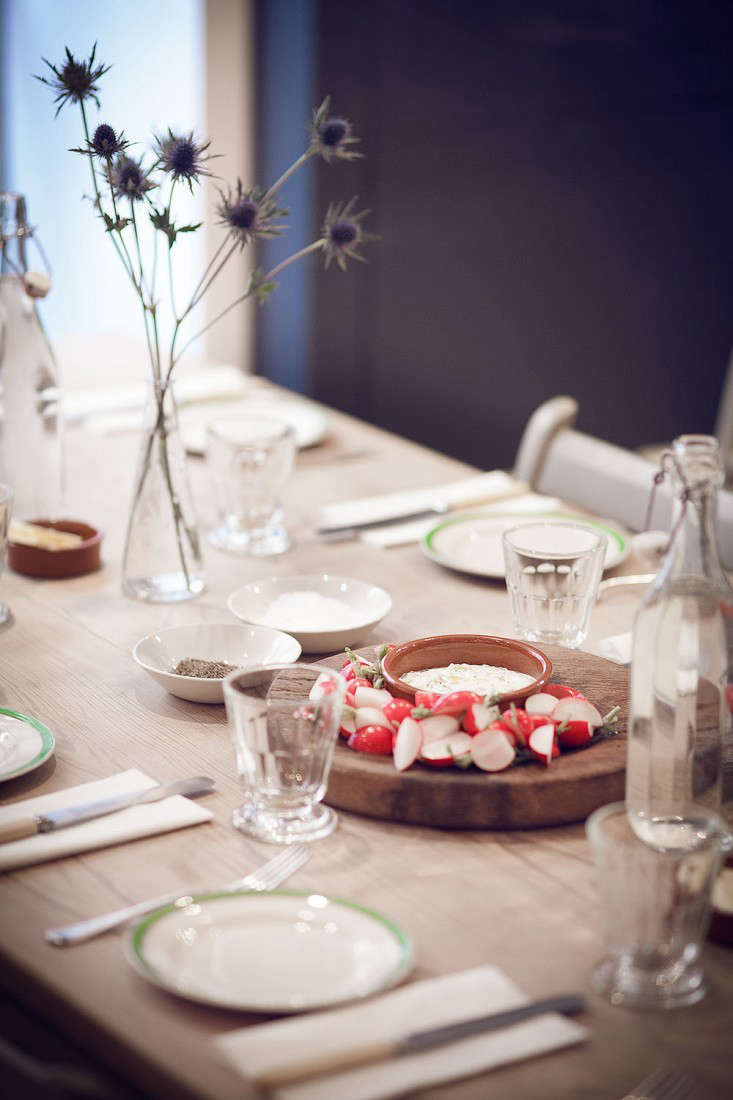 Above: A table set with La Rochère glassware from the Perigord line at London popup restaurant Pips Dish (see London's Best Below-Stairs Lunch, Hoxton Edition). Photograph by Simon Bevan for Remodelista.
Four to Buy
Above L: A set of six La Rochère Perigord Tall Drink Glasses is $65.48 from Amazon. Above R: A set of four Perigord Glass Water Tumblers is $40 from Posh Chicago.
Above: A set of six La Rochère Traditional North Africa Espresso Cups is $51.55 from Amazon; the same Espresso Glass is €4.50 ($4.95) at Merci.
Above: A set of six 8-Ounce Balloon Decor Water Glasses is $51.86; a set of six 4.5 Ounce Balloon Decor Red Wine Glasses is $51.32; and a set of six La Rochère 2.5-Ounce Balloon Dessert Wine Glasses is $47.81, all from Amazon.
Above: A set of six 15.2 ounce La Rochère Ouessant Iced Tea Glasses is $77 from Sur la Table.
Object Lessons columnist Megan Wilson is the owner of Ancient Industries and the curator of the Remodelista 100, a collection of everyday essential objects presented in the Remodelista book. Have a look at her past lessons on iconic designs, including Cafe Ware from Duralex, La Rochère's competitor, and Le Parfait and Other Canning Jars.

(Visited 125 times, 1 visits today)