An essential for any kitchen: well-proportioned basic drinking glasses. Here's what we've got on our shelves.
Above: Francesca is a fan of the Jasper Morrison Glass Family Set for Alessi. Available in each of the three sizes at All Modern, it's $36 for a set of four.
Above: Janet swears by Orskov Glassware from Denmark. Made of heat-proof borosilicate, the glasses are available in five sizes, ranging from Mini ($30 for a set of six) to XXLarge ($56 for a set of six) from A+R Store in Los Angeles.
Above: Meredith is the proud owner of a set of gray Iittala Kartio tumblers, a classic by Finnish designer Kaj Franck. The glasses are available in two sizes: the 7-Ounce Kartio Tumbler is $22 for a set of two and the 13-Ounce Kartio Tumbler is $27.99 for a set of two from Amazon. Available in clear, gray, apple green, sea blue, and light blue. Read about the companion Teema Tableware by Franck in Object Lessons.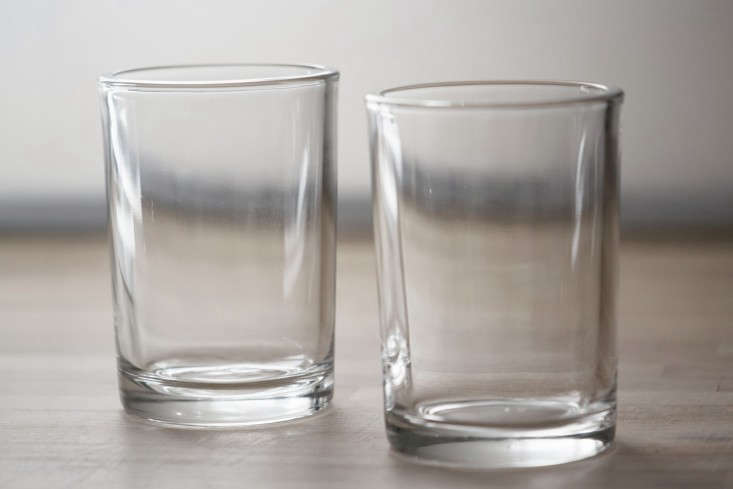 Above: Julie and Sarah both sip from the Oaxacan-style Dosa Tumbler, imported from Mexico by designer Christina Kim; $4.25 each from OK.

Above: A new addition to our wish lists: Japanese Drinking Glasses made of soda-lime glass by Sasaki, a Japanese glassware company in business since 1876. They come in two sizes: a set of six 7.4-ounce Japanese drinking glasses is $28, and a set of six 11.3-ounce glasses is $34 from Kaufmann Mercantile. 
Above: When crowds descend, we like the stacking Vaken Glasses from Ikea; a set of four is $4.99.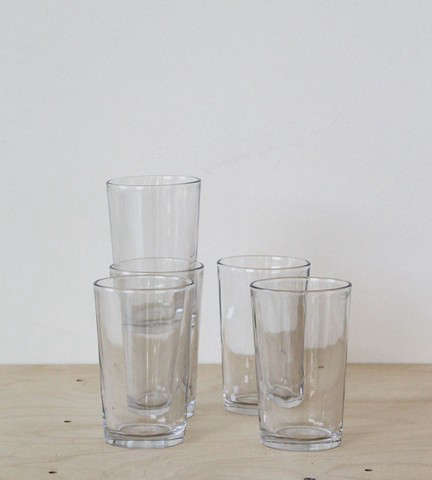 Above: From iconic French company Duralex, the tempered Chopes Unie Glass is $31 for a set of six from Heath Ceramics. The glasses are also available for $7 NZD ($5.28 US) each from Father Rabbit in New Zealand.
Above: Justine is a longtime fan of the Spanish wine glass. West Elm is now carrying Bodega Glassware from Bormioli Rocco in Spain, made of tempered glass and currently marked down. Sold by the dozen (L to R): Modern Red Wine Glasses are $14 for a set of 12 (down from $18), Highball Glasses are $24 for 12 (down from $30), and Double Old-Fashioned Glasses are $28 for 12 (down from $36). 
Above: A recent entry to the scene from the Williams-Sonoma Open Kitchen collection, Kitchen Tumblers, made in Portugal of soda lime glass, are $24 for a set of six Short Tumblers and $30 for a set of Tall Tumblers.
Above: The micro-thin Marta Barware line from CB2 is well priced and appealing; prices start at $1.50 for the Marta Juice Glass.
Looking for more basic wares for everyday use? See our Entertaining Essentials and Everyday Stainless Steel Flatware roundups.
N.B.: This post is an update. It originally ran on July 27, 2011, as part of our Montauk Mod issue.
You need to login or register to view and manage your bookmarks.