Installing kitchen cabinets isn't a job for your average homeowner. Think about the total weight of all the ceramics, glassware, and appliances stored in your wall-mounted cabinets—and how disastrous it would be if those cabinets came tumbling down. Enough said? Let's leave installation to the pros.
But if you're planning a major kitchen remodel, trying your hand at designing your kitchen yourself, or just want to be in the know when talking with the contractors, it helps to have some basic cabinet info. We asked Scott Bird of Danish company Reform, which makes custom cabinet fronts for Ikea cabinets (and now has a Brooklyn showroom), for a cabinet cheat sheet, everything from how much of a gap to leave between the upper cabinets and the counter, to where not to install drawers. Scott emphasizes that a lot of cabinet decisions depend on the style you're going for. But at Reform, he says, they like to have the upper cabinets mirror the dimensions of the lower cabinets, because, as he says, "symmetry is good."
Here are some rules of thumb to keep in mind when it comes to kitchen cabinets.
Cabinet Measurements
How deep should the cabinet boxes be?
Standard wall cabinets (sometimes referred to as "upper cabinets") are 12 inches deep; standard base (below-counter) cabinets are 24 inches deep. But these days, says Scott, more companies are making wall cabinets 15 inches deep, which gives more storage space.
What's the optimum cabinet width?
A wider cabinet means a wider door, which takes up more space when it swings open—something to consider if your kitchen isn't roomy. "You'll see wider cabinets in bigger homes, with a more open setting," says Scott. "The most common width we do is 24 inches, which could either have one 24-inch door or two 12-inch doors," a workaround for those who want wide cabinet units in a smaller space. Scott says Reform sometimes installs 36-inch-wide cabinets; these could have two 18-inch doors that open from the middle out. Another space-saving idea: installing a door with a hinge on the top, rather than on the side, can work in smaller clearances for a wider wall cabinet.
How high should the base cabinets be?
The standard height for base cabinets, including the countertop and the toe kick underneath, is 36 inches. But it depends on the different components: countertop, base cabinets, and toe kick. "Our cabinet frames are 30 inches high, and the countertop varies—we like a ¾-inch countertop for a more modern look, and that allows for a taller toe kick. Most of the toe kicks we do are 4½ inches."
What's the difference between framed and frameless cabinets?
Something you might not think about when shopping for cabinets, or having custom ones built: Some cabinets have a frame around the open portion that can get in the way of reaching in. "Reform uses European cabinets that are frameless—that is, without an interior wood frame—which gives you more storage space," Scott says. Look for frameless cabinets for a more streamlined, roomy option.
Cabinet Installation and Placement
How high should wall cabinets be hung above the counter?
"The standard distance is 18 inches" from the top of the counter to the bottom of the wall cabinet, Scott says. "But we subscribe to the Scandinavian design aesthetic, and we often put cabinets higher—say, 24 inches above the counter, or even more. That creates a sense of openness and light."
Of course, you want to be sure the cabinets are easy to access; Reform will put them lower so the height works for the client. But cabinets less than 18 inches above the countertop won't give you enough space to work underneath. And, a cabinet above a cooktop must leave the required amount of space for the range hood to work properly.
And keep in mind: During an installation, the cabinets go in before the countertop, so the installer has to take into consideration the thickness of the countertop when measuring the position of the wall cabinets.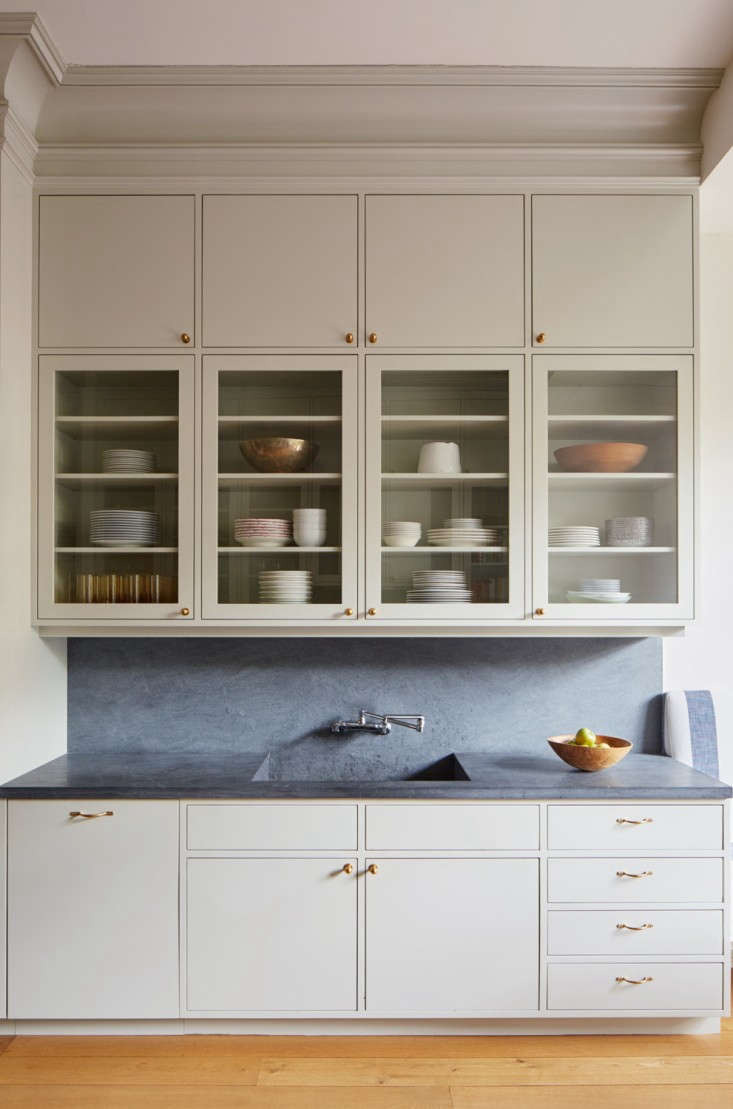 Should wall cabinets go all the way to the ceiling?
"In places like New York, where storage is at a premium, you often see cabinets that go up to the ceiling," says Scott. "It does give a nice clean look, and you don't have that area up top that's hard to reach for cleaning." We've been seeing the (almost) floor-to-ceiling cabinet trend take off lately; take a look at Trend Alert: 9 Kitchens with Floor-to-Ceiling Cabinetry.
But Reform does many kitchens with wall cabinets that aren't that tall. "If you have the space and want to create a more open feel, you can do shorter wall cabinets—or in some cases, no wall cabinets at all. A lot of our kitchens in Europe have only base cabinets; they're incredibly open."
Still, wall cabinets do put things within easy reach. "And they don't have to go wall-to-wall," says Scott. "You can have a mix—perhaps some floating wall cabinets, some open space, and some open shelves."
What to Know About Drawers
"Drawers look great, and if your drawers are neatly organized, it's so easy to get access to what's inside," Scott says. "Even if something is way in the back, you can easily grab it."
But drawers do cost more than doors. "A door just needs two hinges, but a drawer has to have drawer slides, and they must be heavy-duty to handle the potential weight of the stuff inside."
Where should I opt for drawers (and where should I avoid them)?
The only place you might not want a drawer is if you're doing a cooktop: You'll need to see how much clearance the cooktop takes up in the cabinet unit below. The same goes for under the sink. And for obvious reasons, you don't want drawers in wall (or upper) cabinets.
Installing Cabinets in Tricky Places
Are there places where cabinets shouldn't be installed?
Only for aesthetic reasons, says Scott. For instance, you might not want wall cabinets around a window, because they cut off light.
What's the best solution for a corner?
For an L-shaped corner, Scott finds a single door easiest and recommends a wall cabinet on one side (with a small gap of a half-inch or so at the corner, for the door to open) and open shelves on the other side. But other solutions exist for corner base cabinets: Ikea makes a corner cabinet with one door that has attached semi-circular shelves (they call it a pullout carousel) and another with two doors that fold at a hinge.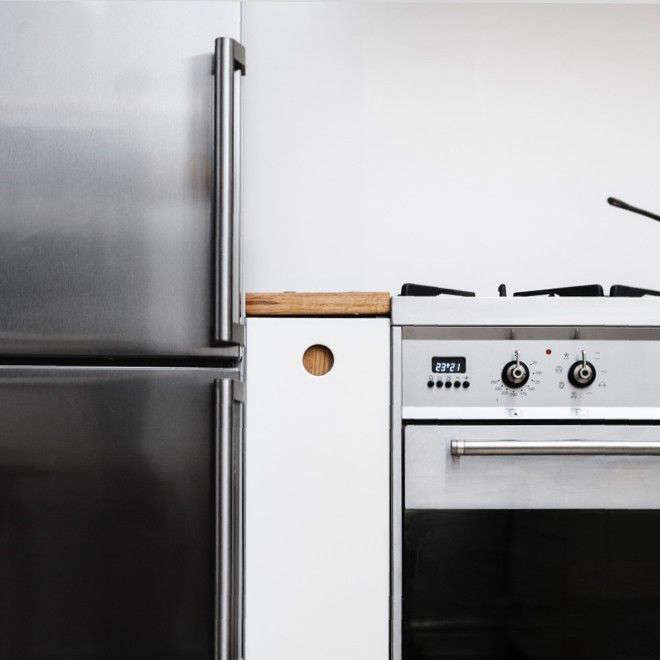 What should I know about installing cabinets in an island?
"Islands have to be appropriately scaled for the size of the kitchen," Scott says. "Along with that, you must plan carefully to ensure there's enough clearance between the cabinets and the appliances around them."
What should I know about the toe kick?
The toe kick—the recessed bottom part of the base cabinet unit, where your toes can tuck underneath while you're cooking—may just be the unsung hero of the whole kitchen cabinet. "Our toe kicks aren't an afterthought, they're part of the design aesthetic," says Scott; they tend to leave about 4½ inches for toe kicks. "They're a bit more recessed than normal, and usually exposed at the corner. Instead of having the cover panel on the side go from the top of the cabinet to the floor, we install a panel that only covers the cabinet, leaving the toe kick exposed on the side. It makes the cabinet look more like a piece of furniture." The material is also part of the design—Reform might use laminate, aluminum, brass, black waxed MDF, or a natural oak for an extra detail.
What's one tip to keep in mind when installing cabinets? 
Invest in appliances that can be disguised by cabinetry. "A panel-ready dishwasher is one of my favorite upgrades," says Scott. "You get a nice sense of simplicity from what looks like a matching row of cabinets, not broken up by a stainless steel dishwasher door."
A panel-ready fridge also looks good but will be more expensive. "Since we like big fridges in America, that can cost as much as $5,000 extra. But you can upgrade to a panel-ready dishwasher for a few hundred bucks."
For more on Reform (and some other custom-front favorites), see Ikea Kitchen Upgrade: 8 Custom Cabinet Companies for the Ultimate Kitchen Hack. Choosing a cabinet style? Consult Remodeling 101: A Guide to the Only 6 Kitchen Cabinet Styles You Need to Know.
And for questions answered when it comes to remodeling the kitchen, see: