Ikea hacking has become a viable business, especially in the kitchen department. Several US companies specialize in selling cabinet fronts and counters as upgrades for standard Ikea components (see, for example, the SemiHandmade Kitchen Remodel). But so far, the hacks we've most coveted come from Scandinavia, making them pricey in these parts—until now.
Reform of Denmark, which created a splash last year by commissioning Norm Architects, among others, to come up with its High-Brow Hacks is just now setting up an operation on the East Coast of the US, so it can fabricate and ship its most popular Ikea upgrade, the Basis design, here in the States. Reform founder Jeppe Christensen told us the yet-to-be formally announced new setup will be fully open in a matter of weeks.
Above: The Basis kitchen, Reform's first and most popular design, was created by the company's in-house team, inspired, says Christensen, by "sixties Scandinavian architect kitchens."
Its core is composed of Ikea's European kitchen system, Metod (and in the US, it will work with Sektion parts), which Reform's clients buy on their own in consultation with Ikea design experts. The setup is then finished with Basis cabinet fronts and counters. Already own an Ikea Metod or Sektion kitchen? Then you can consider swapping in Reform's fronts.
Above: The fronts are made of spray-painted three-quarter-inch MDF—which Reform says is durable and long-lasting—and have cutout drawer and cabinet openings with a backing of natural or smoked oak. They can be ordered in black as well as white.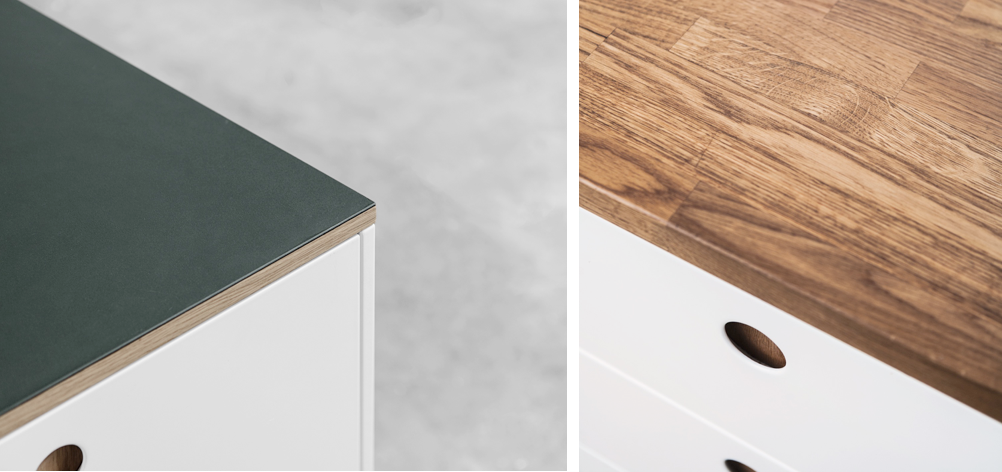 Above: Worktops will be available in the US in linoleum with a solid oak edge (left) and solid oak (right). In Scandinavia, Corian and steel counters are also an option.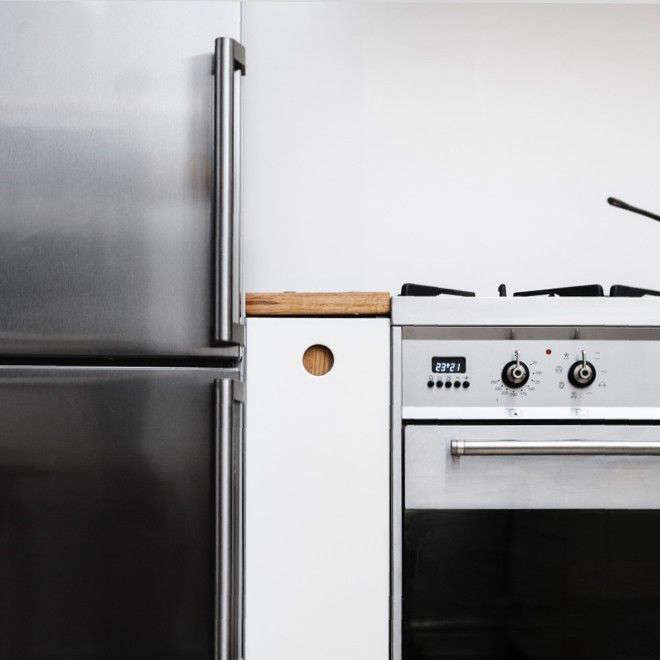 Above: Reform's cabinet fronts range in size and work with a variety of kitchen configurations. Clients often hire someone to install the Ikea kitchen, counters included, and then add the Reform fronts themselves—they're mounted on hinges and have a click-in system.
Above: The linoleum comes in a color Reform calls Conifer.
Above: The Basis kitchen can also be ordered with oval handles. Faucets are not included, but Reform uses colored Volas in its models.
Above: Reform's prices start at €76 ($82.97) for drawer and cabinet fronts and go up to €311 ($339.52) depending on size. Quotes can also be made in dollars—the company says it's nearly ready to start taking orders in the US. For more details, go to Reform.
Take a look at a few more inspired Ikea kitchens:
And here are some other Ikea upgrades worth knowing about:
(Visited 938 times, 6 visits today)