Everything about The Ferry Boat Inn in Cornwall, England, is charmingly faded, as if it has seen many summers on the salty coast. And it has: The pub is housed in a 300-year-old building on a cove in the fairytale coastal village of Helford Passage, near Falmouth, and within the Cornwall Area of Outstanding Natural Beauty.
The pub, as it's now known (it was formerly an inn, hence the name), was recently transformed and reopened by two couples, Kate and Ben Towill of Charleston-based Basic Projects (co-owners of Remodelista favorite The Fat Radish) along with Ben's brother, Alex, and his wife, Sarah. "When Alex, a well-known chef in Cornwall, told us this pub was available, Ben said to me, 'This is the one,'" according to Kate. The family had a personal history with the place: "Alex, Sarah, and Ben all knew this pub from their childhood; it was where they went for special occasions," she adds. They set about transforming the interiors, using old photos from the late 1800s as a guide and taking new inspiration from red-sailed boats, the moss and palm trees that grow on the cove, and a favorite 1970s film. The hitch? They had six short weeks to transform it. Here's how they did it—plus 15 ideas to steal.
Photography by Mae Pate, except where noted.
1. Find inspiration in unlikely places.
2. Add a jaunty greeting.
3. Stick to a strict palette.
4. Be subtly nautical.
5. Opt for patina, not shine.
6. Evoke portholes with round windows.
7. One coat of plaster goes a long way.
8. Place vignettes in unexpected places.
9. Repurpose vintage church furniture.
Many of the dining room chairs and benches are repurposed church finds. "The high back benches are pews from a church in Yorkshire from 1300; I found them on eBay," Kate says. "We had planned to chop them up and use them as pew seating in the bar room. In the 11th hour, we decided to have one long bench along the wall, so we used pieces of these pews all over the pub. One was kept whole and used in the pub room [above], one pew was used as a vanity in the men's washroom, and we even used a piece as the door for the electrical panel. The wood was so beautiful and old, we couldn't waste it." The dining room chairs are vintage chapel chairs with rush seating. (Another restaurant we love with chapel chairs: Via Carota in NYC; see Design Sleuth: Church Chairs in the Dining Room.)
10. Use local wood wherever possible.
11. Mix and match throw rugs under tables.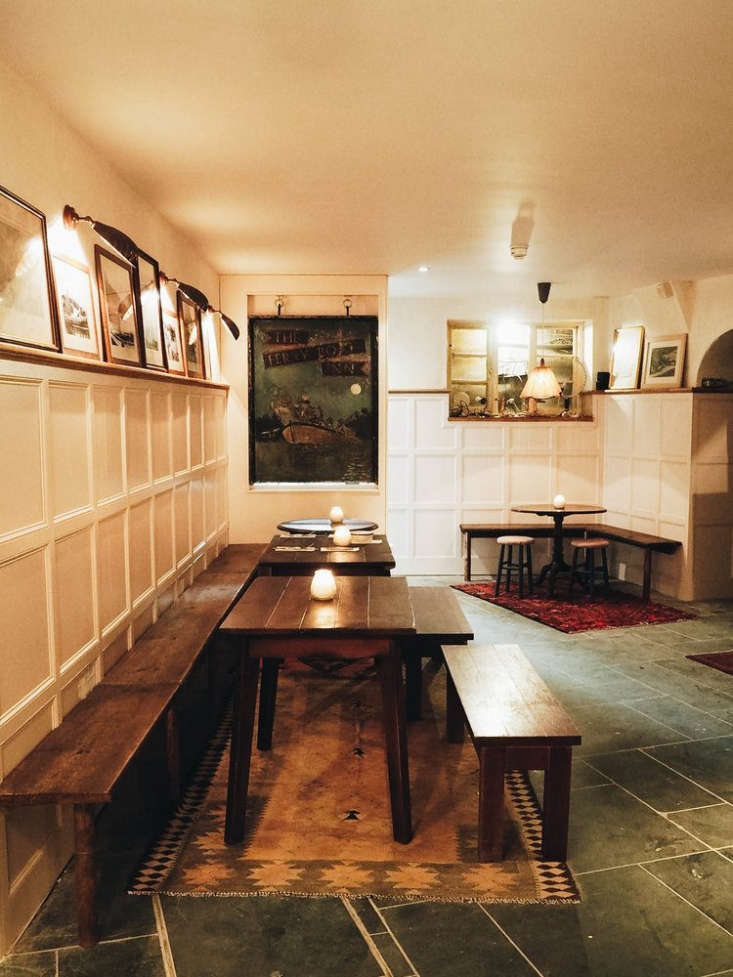 12. Practice communal design.
13. Embrace kitsch.
14. Keep raincoats at the ready.
15. For beachside homes, a no-frills spigot cleans sandy feet.
The real trick to working on a tight time frame? A steady stream of tea. "Every few hours, we were asked, 'Cuppa tea?,'" Kate says. "In the US, all the builders drink Red Bull or gallons of coffee. The English builders drink tea, and I swear it's what kept them working at their sensible steady pace."
For more charming, look-like-they've-always-been there UK restaurants:
N.B.: This post is an update; the original story ran on July 27, 2017.
(Visited 693 times, 2 visits today)