As a native Cape Codder, I'm all too aware of the fine line between beach chic and coastal cliché. (That's why I live in fear of shell-frame mirrors and driftwood "Life's a Beach" signs.) But that doesn't mean I don't appreciate a well-placed nautical accent or two. In my view, the key to subtle seaside style involves two rules: Exercise restraint and think outside the (sand) box.
1. Caged Industrial Lamps
Reminiscent of bulkhead and other industrial lighting frequently used on boats and around shipyards, caged lamps are a subtle way to add a nautical note.
2. Portholes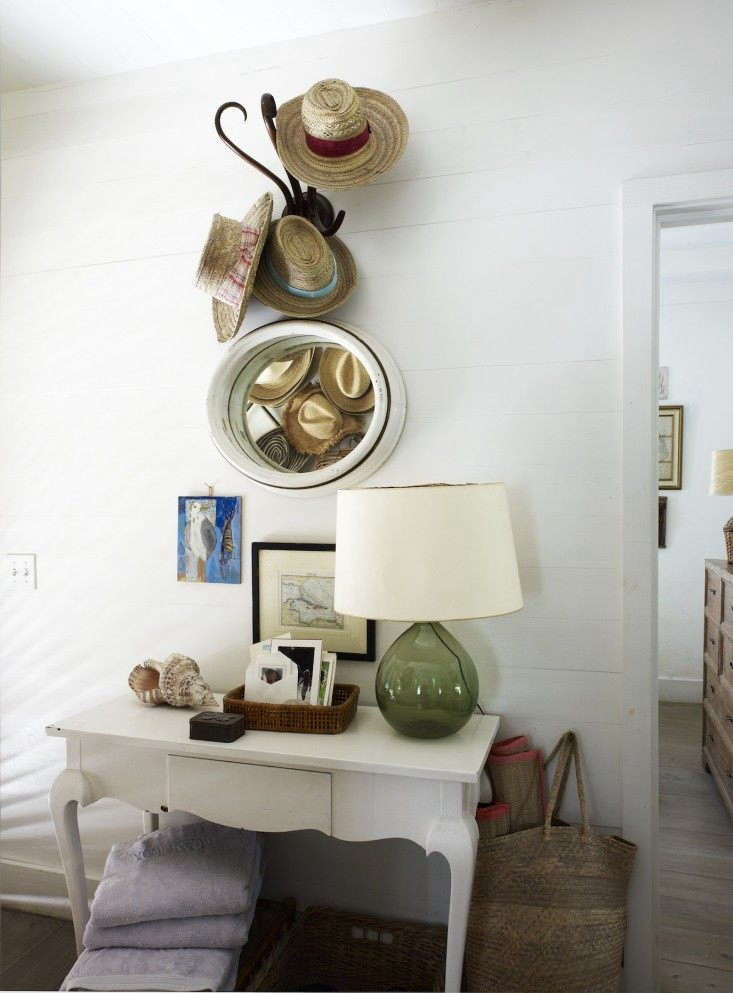 3. Seaweed Wallpaper
Above: Former World of Interiors editor Min Hogg offers an entire collection of whimsical seaweed wallpapers and fabrics. See Underwater Chic: Seaweed-Printed Fabrics & Wallpapers.
For a more formal approach to nautical style, or just to change things up a bit, try seaweed print wallpapers and fabrics. Min Hogg and Tradescant & Son are among our favorites.
4. Fish Skeletons
Delicate yet slightly sinister, fish skeletons are some of Mother's Nature's most exquisite sculptures. Look beyond the obligatory shark jaw for more unorthodox finds—but make sure you're not buying anything endangered. Vintage shops can be a great source for unusual marine finds.
5. Dried Seaweed
Extremely pliable when wet, sinuous kelp dries into sturdy, sculptural forms.
6. Creative Shells Collections
7. Strings of Beach Finds
Speaking of creative ways to display your beach finds: String them together. Strands of driftwood or shells become art in and of themselves (with special masonry drill bits, you can also string beach stones).
8. Unframed Maps
Maps always conjure a nautical vibe. But sometimes, when you frame utilitarian objects like these, they look too formal or precious. I prefer a more informal treatment, tacked directly onto the wall.
9. Nautical Stripes
More nautical details:
N.B.: This post is an update; the original story ran on June 5, 2017.