Ilse Crawford's design for the Olde Bell Inn, an Elizabethan-era hotel in the UK, is a brilliant mashup of rustic and modern—you can almost smell the wood smoke. Re-create the look with the elements shown below.
 Photographs of the Olde Bell Inn via Design Tripper.
Above: Ilse Crawford of Studioilse designed the dining room at the Olde Bell Inn, which features black-painted ceiling beams, chairs, and doorways.
Above: Crawford used leather straps to anchor Welsh blankets to high-back benches.
Above: Matthew Hilton Fin Chairs for De La Espada (see below) contrast with traditional textiles.
Above: Tea is served in traditional red-clay Brown Betty teapots.
Above: Venerable UK company Davey Lighting began making lights in the 19th century; the Box Wall Light is simultaneously modern and historical; available at Heal's for £438 ($651). For something similar in the US, consider the Union Filament Bath Sconce ($239) from Restoration Hardware.
Above: Crawford sourced handwoven rush matting from Rush Matters in Bedfordshire, England. English Floor Rush Matting is made to measure, starting at £150 ($223) per square meter.
Above: The simple Windsor-style Salt Chair in black is $129 from Design Within Reach.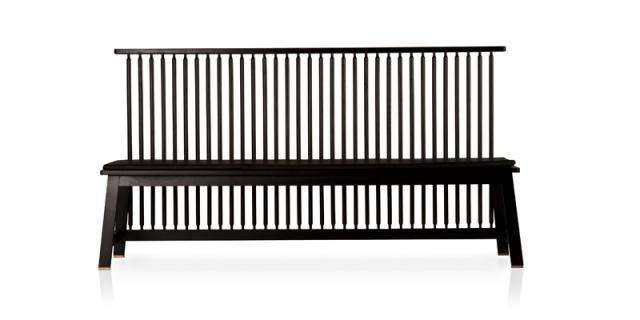 Above: Studioilse's Bench with Black for De La Espada is made of solid chestnut and has copper feet.
Above: UK designer Matthew Hilton's Fin Dining Chair is available in American white oak or American black walnut; $1,125 at De La Espada.
Above: The dining room banquettes are outfitted with Welsh tapestry blankets. Blankets from Melin Tregwynt's Black and White Collection start at £129 ($192). For a leather strap like the ones fastening the blankets, try the Chestnut English Bridle Leather Strap; $8.50 for the 84-inch version from Outfitters Supply.
Above: Stamped plates are displayed on the dining room walls. For a similar look, San Francisco–based ceramist Rae Dunn makes hand-stamped porcelain plates like this Wide Rim Wafer Plate for $34.
Above: Peugeot's Dark Wood Pepper Mill is $32.99 at Amazon.
Above: The classic Brown Betty Teapot is made of terra cotta and finished with a brown glaze; the six-cup size is $30.99 at the English Tea Store.
N.B.: This post is an update; the original story ran on March 13, 2012, as part of our issue The Celtic Angle.
Steal This Look is a longstanding weekly Remodelista column. Have a look at all the Steal This Looks in our archive, including A Low-Cost Kitchen for Serious Cooks and A Finnish Cottage Kitchen and Dining Room.
(Visited 165 times, 1 visits today)