Here's a use of pink we can get behind: the rosy interiors at Hero, a tiny restaurant on Paris's Rue St. Denis specializing in unlikely fare for the City of Lights: Korean fried chicken, soju, and copious amounts of champagne. But the small interiors—designed by Swedish-born, New York–based Jeanette Didon of Byblack—stop short of feeling too romantic thanks to a graffiti twist: blush pink banquettes and tinted glassware are mixed with blue chalk-patterned walls, kitschy neon, and a central concrete sink with exposed fixtures. And the soundtrack: "Accompanying your meal will be over thirty years of French and Anglo hip-hop mixed with a selection of the latest K-pop anthems," say restaurateurs Quixotic Projects (they're also behind Remodelista favorites Glass and Le Mary Celeste). Here are a few romantic/grunge ideas to take away.
Photography by Danielle Rubi, courtesy of Hero and Byblack, except where noted.
1. Rethink a fairy-tale palette.
2. Create a concrete focal point.
3. Leave chalk marks.
4. Make your own lights.
"We wanted to create something that was obviously handcrafted that included a lot of textiles and tassels, as an homage to Korean crafts, and at the same time create a tiny 'gallery' for Korean imagery pinned up with tiny clothing pins—something for the guests to discover when dining," Didon says. The project's contractor built the brass frames, which Didon then wrapped in a "bird's nest" of string ("enough to diffuse the light, but not to block any of it," she adds). She finished the lights with vintage tassel detailing that she and Carina of Quixotic Projects found at a Paris flea market.
5. Enlist pink glassware.
6. Customize seating with string.
Above: The dining room leading into the tiny bar area. Note the custom bar stools, which the team wrapped in string to create an extra textural detail.
7. Aim for imperfect paint jobs.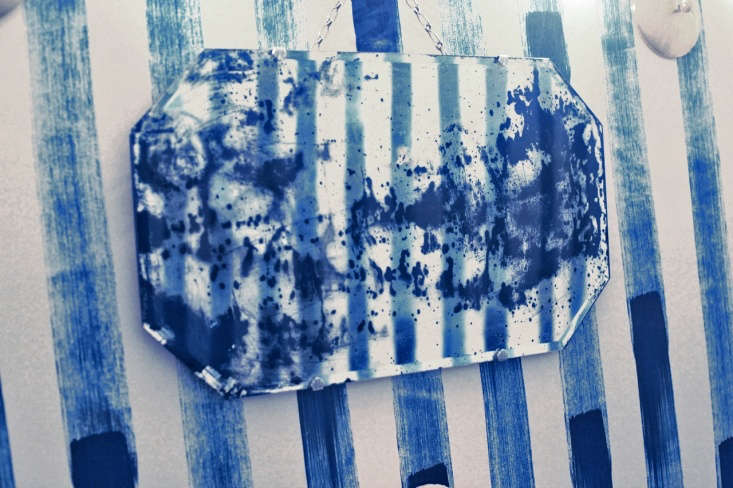 8. Clip tiny moments of art.
Above: Adding to the graffiti appeal: collages of found imagery and graphics clipped to the windows and hung in the neon-lit entryway.
9. Mix romantic with industrial.
10. Bring back neon.
11. Adopt a "champagne meets fried chicken" mentality.
We've sleuthed many more design ideas to steal from the world's most design-forward restaurants. Take a look:
N.B.: This post is an update; the original story ran in February 2018.
(Visited 154 times, 1 visits today)