My ceramicist/aesthetic arbiter friend Richard Carter recently introduced me to the work of Yolande Milan and Christian Batteau, describing the creative duo as "true Renaissance people." He was right. The brother and sister are both fine artists who show their work independently; together, they create luxurious, hand-painted textural wallpapers and surfaces that they describe as "like the shadows on a wall in autumn." Callidus Guild, their Brooklyn atelier, counts Louis Vuitton, Chanel, Tiffany, and, recently, Roman and Williams, among its clients. Their approach involves far more the pigment and paper; here's how Yolande explains the process: "I create techniques to manipulate marble dust, mica and bronze powders, pigments and waxes to achieve unusual results out of historical materials." She goes on to explain, "I try to make art for walls, but art that is also a ground for great art collections and objects, or even intimate, domestic quiet spaces." 
To see more of the Batteaus' one-of-a-kind creations, visit Callidus Guild; for pricing and ordering, go to Jean de Merry. 
Above: Linear wallpaper (shown at right) from Callidus Guild's Sinuous Collection, which they describe as "crystalline lines encapsulating blooming dispersions of jewel-colored threads." The Sinuous line papers have a base of hand-tinted marble dust plaster with varying degrees of polish and sheen. Yolande explains, "Italian architect Carlo Scarpa reintroduced the use of ancient encaustic–a type of marble dust plaster–in many of his renovations of museums as an aesthetic bridge between ancient buildings and his contemporary additions, since the feeling of the plasters evoke both so well. We do the same in our approach to finishes."
Above: Ribbon from the Sinuous collection in two-tone Begune ivory with a softly undulating waxed finish. Asked about what inspires her, Yolande supplied a long, far-reaching list: Japanese tea houses, Villa Kerylos in Greece, Ewe textiles from West Africa, Belgian farmhouse walls chalk-painted with horsehair brushes, decaying Milanese Palazzos ceiling frescoes, Japanese Anagama-fired ceramics, Meiji lacquer embedded with mother of pearl, Art Deco screens, homespun linen."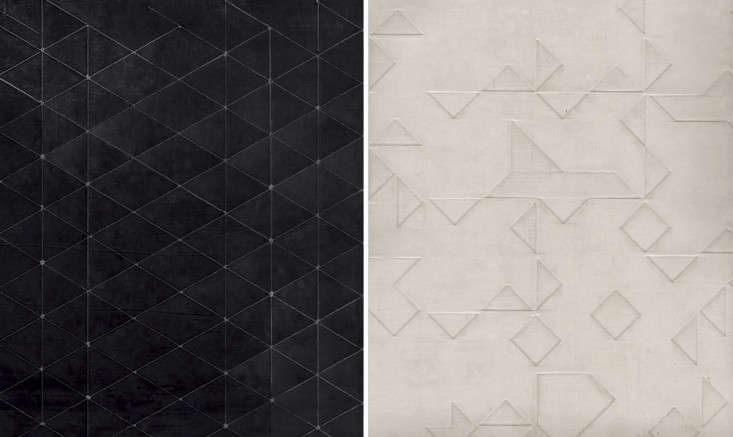 Above L: Tessellation is said to echo the natural forms found in the growth pattern of crystals, honeycombs, and lava flows. Above R: Folded Origami.
Above: One of the surfaces created for the Louis Vuitton store in Sydney, Australia. Yolande and Christian worked with a team in Paris to make a slew of new papers for Louis Vuitton stores.
Above: Custom wallpaper by Callidus Guild in designer Jean-Louis Deniot's Paris dining room. Photograph via Jean-Louis Deniot.
Above: Yolande in her Brooklyn studio making verre eglomise mirrors to be used as panels for the walls of the Chanel Ginza Fine Jewelry store in Tokyo. 
Above: Christian Batteau works out of a studio in rural Arkansas where he is creating a sustainable art farm and residency program. He's shown here (in the foreground) creating a Linear wallpaper design called Caviar with one of his team. The Batteaus work with a team of painters, sculptors, artisans, plasterers, and gilders in both Brooklyn and Arkansas.
For more ideas on wall coverings, check out our Wallpaper posts and read How to Pick the Perfect Wallpaper on Gardenista.
You need to login or register to view and manage your bookmarks.