"If you had known in advance all that your house would require—three move-out renovations in seven years—would you still have bought it?" Maya Schindler has come to see her Long Island, New York, ranch house as a member of her posse and her devotion to it is unwavering. Especially now that it's been tailor-remade for her and her family: husband, Ranaan Schul, and their kids, Naomi and Mikael.
Maya is a painter/installation artist and Ranaan is a mathematician—they met in high school in Jerusalem and have been together since they were 19; they're both full-time professors at Stony Brook University. They came to this country as graduate students (she has an MFA and he a PhD from Yale), and moved to Long Island from LA for their jobs. After initially hunting for a Victorian fixer-upper, they fell for the humble ranch thanks to its proximity to a nature preserve and possibilities: they were looking forward to having kids and liked the idea of living in close quarters: "I wanted us all to be together in a common space," says Maya.
The couple took on the first renovation themselves in 2010: while living in a rental, they tore down walls, installed a kitchen, and laid wooden floors—"plywood was all we could afford," says Maya. "We definitely committed sins, but we're both handy—in my student job at Yale I learned how to put up Sheetrock." Naomi was born six months after they moved in, and just as she was starting to crawl, Hurricane Sandy wrecked the interior ("it was only ten inches of water, but just enough to mess everything up"). While staying in another rental, they hired a local contractor to replace wet drywall, shore up the floors, and redo the two bathrooms. Then they heard about New York Rising, a state reconstruction program offering financial assistance for flood proofing, an extreme measure that, as crazy as it sounded at the time, they knew would be providential.
After a year of filling out forms, they found themselves again camped in a rental—this time for 11 months and with two young kids—while their ranch was literally suspended and then rebuilt again. We heard about their saga from Michael and Lisa Fine of Quiet Town, who got to know Maya when she ordered accessories for their V3 bathrooms. The Fines led the way to #6ftuphouse, as Maya dubbed the raised structure, and Michael, a fashion photographer, captured it for us.
Photography by Michael Fine.
The setting is what made flood proofing worthwhile: "We knew that these days we'd never be permitted to build so close to wetland. So it was a question of walking away or using what we had," says Maya. "We decided to save the house."
Maya is a collector of many things, including modernist lighting, and loves chasing down a bargain: she bought her Panton Topan Pendant for $35 on eBay years ago.
The wood stove is a Jotul Black Bear, one of the Norwegian company's original models: "I wanted something old-fashioned and in one unit; it's skinny and long and also extremely efficient; instead of a stone hearth, it rests on a steel base I had made." The Marshmallow Sofa, an LA Craig's List find, stands under an Anders Pehrson Bumling brass light.
The house's doors and windows, all installed during the recent overhaul, are from Andersen's A-Series. "We wanted the biggest windows we could afford," explains Maya. "One of the house's appeals was its many windows, but there were six different sizes; they're now the same window on repeat."
She worked with "the nicest, most honest, and talented contractor around here, Scott Cargill" of Scott J. Cargill Construction.
The fridge is set in a niche built out with Ikea storage cabinets and Ringhult doors that Maya and her contractor redesigned to work. Maya's collection of vintage Kaj Franck enameled bowls by Finel Arabia fit perfectly on the top. The first one came from her grandmother, a fellow Scandinavian design lover. The bowls are widely available on Etsy and eBay, but hard to come by at Maya's cutoff of no more than $30 each.
Maya notes that the building code required electrical outlets at the end of the island: "I didn't want to have an outlet in the waterfall piece, so I opted to extend the island six inches and the outlets are inset on the window side; it ended up being such a practical solution."
As for the Eames Molded Plastic Chairs, they came out of a school in Southern California: "They were being tossed, so I grabbed them, but they had student bases with tables. Removing the bases made them easier to transport; I've had them for years and finally put them to use—with vintage legs found on Etsy." The Ant Chairs are part of a set of four that Maya found at a Long Island estate sale for $13, "not each but total; they're my all-time biggest score."
The room is used for reading, phone conversations, and workouts on a wooden rowing machine. The Eames Lounge Chair was a birthday present bought at a Long Island antiques store. The metal shelving units are Ikea's Fjalkinge design.
Her shower curtain is Quiet Town's Sun Shower in Phlox: see Radical Transparency, New Shower Curtains from a Brooklyn Maker.
Above L: The DIY copper sink and shower fixtures were a collaboration between Maya and her plumber. The Ypperlig Mirror is by Hay Design for Ikea. Above R: Maya found the shower head on eBay: "I wanted something very simple in copper, which is hard to find. It's made for outdoor showers."
The Exterior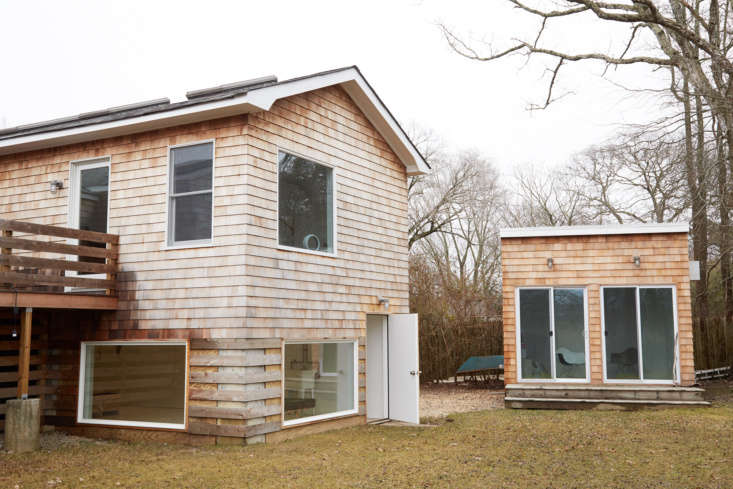 In Progress
In-House Art Studio
Take a look at another stylishly flood-proofed family home: A Brooklyn Rebuild on a Budget, Ikea Kitchen Included
And two standout remodels by artists:
N.B.: This post has been updated; the original ran on February 11, 2019.
You need to login or register to view and manage your bookmarks.