To create his moody, nature-inspired paintings, David Campbell uses a witch's cauldron of materials, including wood ash, beeswax, iron oxide, and rabbit skin glue. So it makes sense that he would care—a lot—about the surfaces in his own house. He and his wife, Anita Evagora, a hat designer-turned-ceramic artist (the two met as students at London's Royal College of Art), live in a Victorian townhouse in York stripped down to its bare and scarred plaster walls. They moved to the northern English city from London when their two now-grown children were young. The 1850s townhouse happened to be close to their kids' Quaker school, so when the owner surprised them by accepting their unrealistically low offer—"the vendor turned out to be in a hurry to sell"—they bought themselves a live-in project, one that continues even now, 16 years on.
Last spring, I was in the area visiting my friend Laura Jones—see Kitchen of the Week: A 'Dreamiest Dream Kitchen'—when she mentioned having just taken part in York's annual Open Studios event and discovered a house I had to see. That afternoon, David and Anita greeted us in their front parlor, which is used as David's studio. The fact that the most public room is the workshop seemed surprising until we saw that the whole place has become an enchanting extension of David's art and his collaborations with Anita. Laura and I aren't the only ones transfixed: the house has a starring role in Ros Byam Shaw's latest book, Perfect English Townhouse, and she and photographer Jan Baldwin kindly agreed to share their images of it. Join us for a look around.
Photography by Jan Baldwin from Perfect English Townhouse, courtesy of Ryland Peters & Small Inc. See our feature on Baldwin's own house from the book here.
The couple slowly tackled the renovation of the house themselves, room by room: "It took some twelve years to get close to where we are now," says Anita. "The house's former single occupant had bizarre taste in decor," adds David. "The reception room was pink and green wallpaper, the kitchen was painted pale orange, and most of the rest was papered with wood chip, a sandwich of regular paper with pieces of wood chip between, creating an unpleasant bumpy surface like porridge. It took some removing." They discovered the original lime and sand plasterwork was mostly in good condition, and though the plan had been to paint the walls, they fell in love with the warm buff/gray color, and decided to leave it as is.
David and Anita happened upon the castoffs while picking up their son from a Saturday morning orchestra practice: "We arrived to witness the lab being stripped out and its contents being hurled from a window into a skip. We pleaded with the contractors to wait, and in three trips, we saved as much as we could. We stored it in our back garden, wrapped in heavy-duty polythene, dreaming that someday it would come into its own."
"Repairing the floors was another lengthy project and a real labor of love (one more room to go!)," says David. He explains that when the house was originally built, it had no electricity, and the installation of wiring, heating pipes, and radiators over the years damaged a lot of the boards. He's been making patches with "timber of the right age for the house and filling in narrow gaps with slivers of pine planed and sanded flush by hand." As for the color, Anita says: "Many Victorian houses have floors stained a warm black with a product made from walnut shells; we decided to go with this color; coincidently it's a shade that David uses a lot in his painting, Van Dyke brown." The couple also use raw pigments to tint patches on the walls. They painted the baseboards a gray they mixed to work with the plaster: "we found the color had to be modified on the north-facing side of the house where the light is bluer."
There's also graffiti scratched onto the surfaces: Anita's sister, who had been a student at the Camden School for Girls, spotted on the tabletop: "Jean's last biology lesson July 1977," and said, "I know that girl; she was in my class." And eerily, on the day David Bowie died, David tells us he was cleaning a high shelf when he spotted "a graffito I hadn't seen before: 'Bowie Lives On.'"
"The complex surface textures of my large paintings have the quality of frescoes that survived years of candle wax and incense smoke. I trained as a sculptor and have always had a rather experimental approach to painting, incorporating my own palette of unconventional materials."
She made the curtains out of mismatched antique velvet from London's Greenwich Market. The mohair velvet armchair is part of a set bought at a local auction: "None of the dealers were interested. The fabric was originally a deep moss green but the areas exposed to sunlight have faded to a bronze," says David. "A friend of Anita's helped her replace the horsehair, webbing, and springs while leaving the velvet intact." The marble fireplace, he adds, had been "rather unsympathetically altered in the Seventies with a modern marble and steel insert. We decided to just paint over it and arrived at a good color by mixing gray undercoat with graphite powder." His over-the-mantel painting is called Helleborus I, and incorporates "pigment and silver metallic powder on a gesso ground."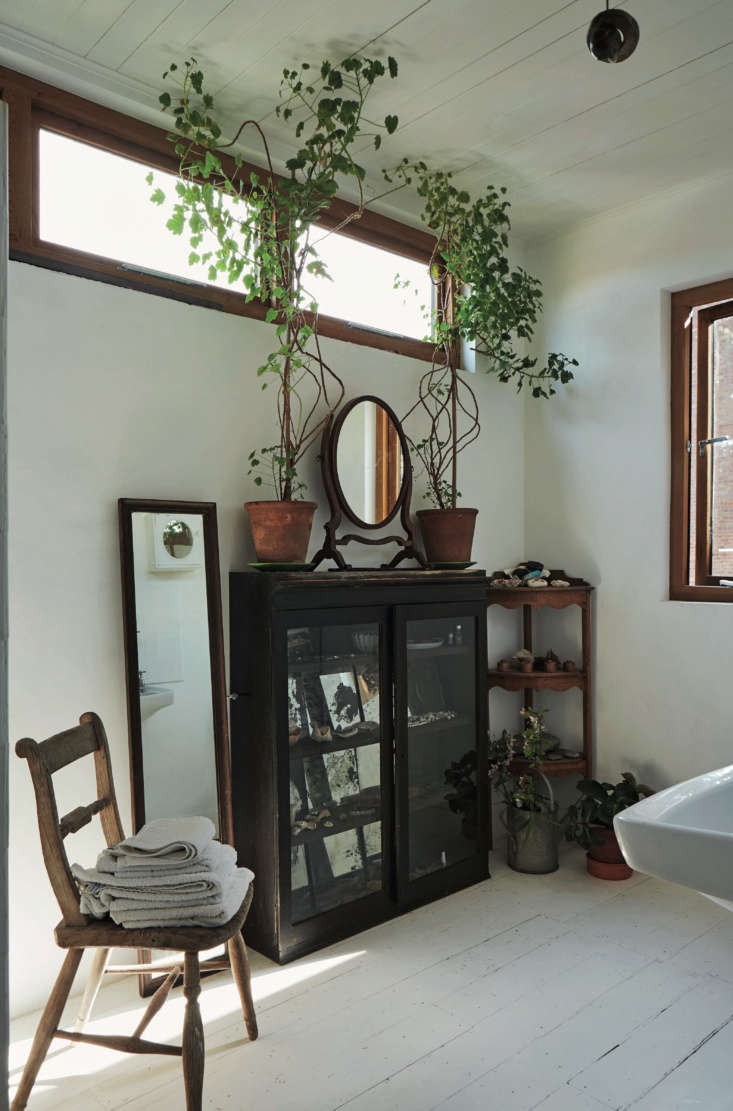 Three more memorable live/work setups:
You need to login or register to view and manage your bookmarks.