Not too long ago, on a quick business-ey type trip to Toronto, I made a side pilgrimage to Mjölk (one of our favorite shops ever at Remodelista). Sensing my curiosity (read: snoopiness), owners John Baker and Juli Daoust invited me upstairs to take a tour of their newly remodeled flat–a sanctuary of Scandinavian design above the busy city streetscape.
Working with Toronto firm Studio Junction, the couple created a two-level flat atop the three-story building they bought a few years ago when they launched their shop (Mjölk is on the ground floor). The bedrooms are on the second floor and the living space is on the top, anchored by a kitchen-dining area. "The design was inspired by the kitchens in Norwegian summer homes featured in Norwegian Wood: The Thoughtful Architecture of Wenche Selmer," John says. 
Photos by Juli Daoust.
Above: The raw copper Kvist Chandelier is by Jonas Bohlin; €1,812 at Skulptur Fabriken. The shelves are stocked with kitchen utensils, cutting boards, and tableware from Mjölk. "Having a shop and gallery like ours, we get to make personal connections with most of the artists we represent," John says. "We're fortunate to be able to use their work in our home every day."
Above: A Sori Yanagi Tea Kettle (CA$150). "I do most of the cooking around here," John says. "I leave work an hour early, before we close, so I can make dinner. I mostly make Japanese food, especially homestyle cooking like okonomiyaki and chicken karaage, which reminds me of our trips to Japan. And of course Canadian staples like pancakes and maple sausage (our daughter Elodie's favorite breakfast)."
Above: The counters are soapstone. Suspended from a custom oak rail are a Bagel Trivet (CA$80) and a Coffee Trough by Tomiyama Koichi ($150). On the counter, brass Utensil Holders by Oji Masanori (CA$200 for the small, CA$300 for the large) corral a set of kitchen tools.
Above: The floors are soap-treated Douglas Fir and the dining chairs are Borge Mogensen Shaker Chairs (a set of six is currently available at Lawson-Fenning for $2,250). "The joinery and many of the proportions of the cabinetry were derived from furniture pieces by Mogensen." 
Above: "We love displaying this work on the open shelves of our kitchen and made a conscious decision to only use one staple glass," John says.
Above: The Sucabaruca Coffee Set is a Mjölk exclusive, designed by Venice- and Stockholm-based Luca Nichetto. Contact Mjölk for ordering information.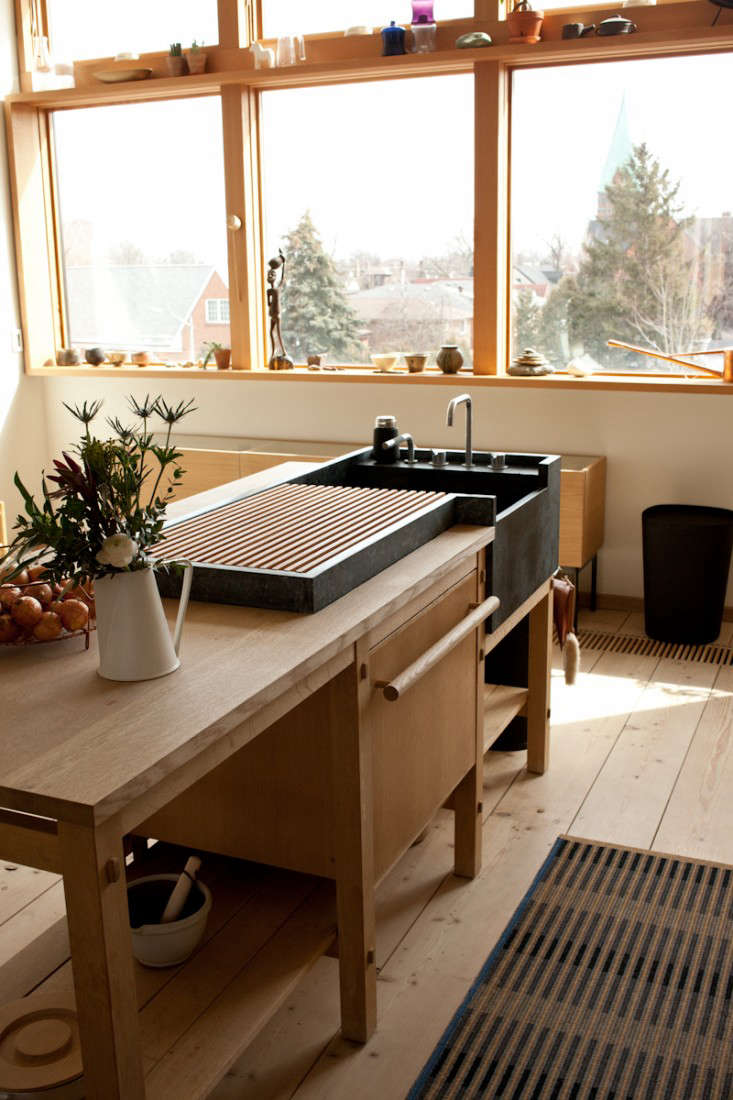 Above: A hard-carved soapstone sink with a Vola kitchen faucet and custom drainboard. To read up on soapstone counters, see our Remodeling 101 post.
Above: A charcoal gray 8-gallon Vipp 24 Pedal Bin is $469 directly from Vipp; the small Iris Hantverk Table Brush is CA$38 from Mjölk. The Harimi Dustpan, designed by Oji Masanori and made of persimmon-coated cardboard, is $22 for the small size and $28 for the large size from Ioneta Shop (it's also available at Objects of Use in the UK).
Above: A detail of the custom drainboard.
Above: A culinary center for Elodie occupies a corner of the kitchen (her new baby brother, Howell, arrived last week).
Above: In another corner, a vintage Danish piano.