Pre-marriage and pre-kids, antiques dealer Jonathan Burden and costume designer JJ Joseph spent summer weekends in a group share on Shelter Island situated off the eastern tip of Long Island, New York. Both are people who gravitate to the old and untouched, so they couldn't help but admire the scraggly farmhouse across the way. "It had fantastic old trees and the house itself was always empty," says Jonathan. "It was clearly a gem that needed to polished and that's what I do."
Several years later, when friends reported that the elderly owners of the farm wanted to sell, the couple expressed their interest and, after much back and forth, struck an agreement. Or thought they had: "It was a nice handshake deal that turned stratospheric when real estate brokers got involved and we had to step away. Really quite painful." A year passed and, to Jonathan's surprise, he got a call from the owners: "They said they liked us and were ready to sell—at the price we'd originally agreed upon."
That was more than a decade ago, and Jonathan and JJ, now the parents of two daughters, have since lovingly shored up every inch of the place. Back in 2019, when we first featured the project, they themselves had just put it on the market—being in the restoration business, Jonathan said he was ready for his next big project and had set his sights on upstate New York or northwest Connecticut: "we've done the beach and now I want to reinvent something in the hills, where I can also set up a workshop." Two friends of the family, stylist Hilary Robertson and photographer Dana Gallagher, captured this chronicle of life at the Burden farm, which we're revisiting as a Remodelista favorite.
Styling by Hilary Robertson and photography by Dana Gallagher, unless noted.
The kitchen is located in a long-ago converted chicken coop, which the Burdens refreshed with understated components: a farmhouse sink, cherry counter with skirted storage underneath (see New Directions: 11 Interiors Trends for 2019 for more on skirted sinks) and open shelving in the unused space next to the fridge. Jonathan painted the checkerboard floor himself and worked alongside a local carpenter in every room. The walls here are painted a Farrow & Ball warm gray called Dove Tail.
The dining room, shown here, has its original beadboard paneling: like the kitchen it's painted in Farrow & Ball's Dove Tail. Most of the furnishings are antiques dealer favorites and castoffs: Jonathan made the dining table by marrying an Anglo-Indian base with a new top and the wall hutch was originally part of an old Welsh dresser.
As for Birdie, the cockatiel: "My wife was sitting outside doing her bookkeeping, when he just landed on her head and wouldn't leave her. We put up lost bird flyers, but that was ten years ago and he's still with us. Before we had a car, he traveled to the island with us by jitney. We put a blanket over his travel cage and he's perfectly happy."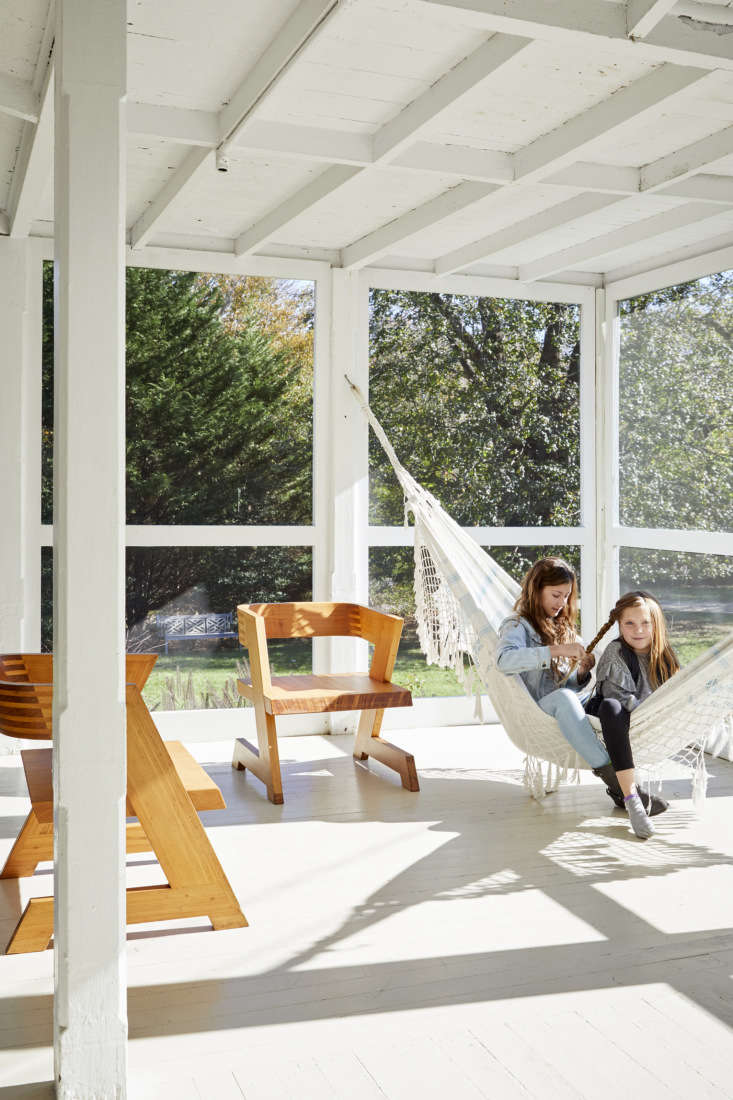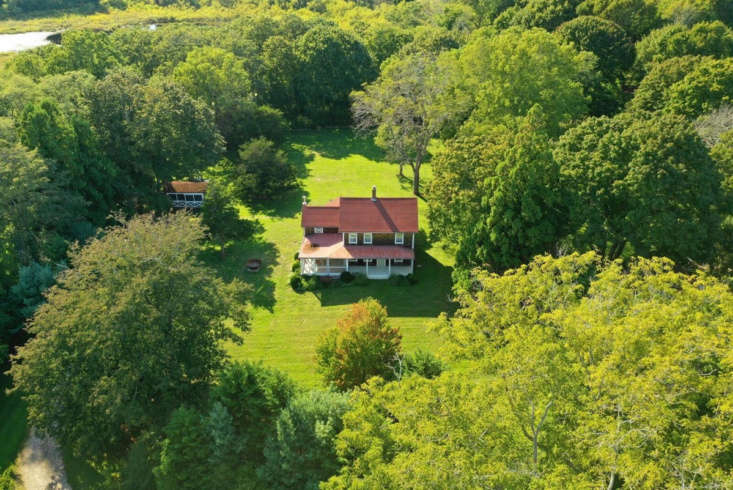 More farmhouse chic:
N.B. This post has been updated; the original story ran on January 7, 2019.
(Visited 2,055 times, 1 visits today)