If you've been on the Internet over the weekend, or watched the just-dropped new episode of For the Love of Kitchens, featuring cook spaces transformed by UK-based deVol, today's house tour may look familiar.
Then again, it may also ring a bell if you've been on Instagram over the past year, when Paul West and Michelle Bower moved into their Stepney Townhouse and began documenting its transformations on their feed, @consideredthings, where we first began following along. (We later realized we'd featured the couple's previous place, the lower duplex of a Victorian townhouse and a continued favorite: see English Translation: A Compact Victorian Gets an Eclectic but Cohesive Makeover.)
The Stepney Townhouse's moment of fame is well deserved. Grand in stature and moody in tone, the circa-1717 East London home has been immaculately redone by Paul and Michelle. Built "spanning the Queen Anne and Georgian periods, it's a classic London townhouse with four generous floors and a studio loft," Paul wrote to us via email. "At risk of demolition in the 1990s, it was rescued and restored by The Spitalfields Trust, with support from English Heritage." 
The couple moved in just before the holidays in 2021, almost exactly a year ago. "In 2022, it underwent a phase of restoration and renovation, thanks to a carefully selected range of specialist brands and craftspeople, and is home to an ever-evolving collection of antiques, collectible furniture, and homewares," Paul adds.
It's a transformation that at last is being revealed; join us for an intimate tour, as captured by Paul.
Photography by Paul West (@consideredthings).
Adds Paul: "Each level presented a new experience, from the cozy basement kitchen to the grand reception, the atmospheric drawing room, and uplifting top floor with views to the treetops outside." The dwelling is "currently set up as a two bed, with the flexibility to flex the layout and add more beds if needed."
"We were initially wary of taking on such an old and really quite remarkable property," Paul admits. "It has lasted this long—305 years to date—surviving world wars, the introduction of the London Underground nearby, and the effects of a rapidly changing city through the Industrial Revolution, as well as being brought back to life from the threat of demolition in the late 20th century. We were very aware of the sense of responsibility in making good decisions and, for want of a different word, being 'custodians' of this very special house."
That said, Paul adds, "We wanted to make a few key changes—firstly, to create a calm and considered home to support and inspire our daily lives. This meant sanding floors, creating a more unified decor, and simplifying the overall look to be more sympathetic to the age of the property, letting its craftsmanship and original features shine through."
"It was important to us to retain the original layout of the house and keep the kitchen in the basement. It made a great story for the new season of For The Love of Kitchens—Michelle and I were naturally nervous to take part in a TV show, but came to the realization that life is too short, and we upheld our mantra to 'just say yes.'" N.B.: Stay tuned for a full Kitchen of the Week tour on Remodelista this week.
"All the existing plasterwork is traditional Marmorino plaster," reports Paul. "The floor is reclaimed 200-year-old French smoked oak, which was already here and possessed a huge amount of character underneath the waxed finish, so we sanded and treated to enjoy the grain."
"We were also very aware of making quite a substantial shift in terms of scale (at least by London standards!)," Paul notes. "We went from 1200 square feet down to 500 square feet for a few months to Stepney Townhouse, which is around 2400 square feet across four main floors. It's required a mindset shift for how we would design and use the space, compared to a typical two-three floor Victorian property."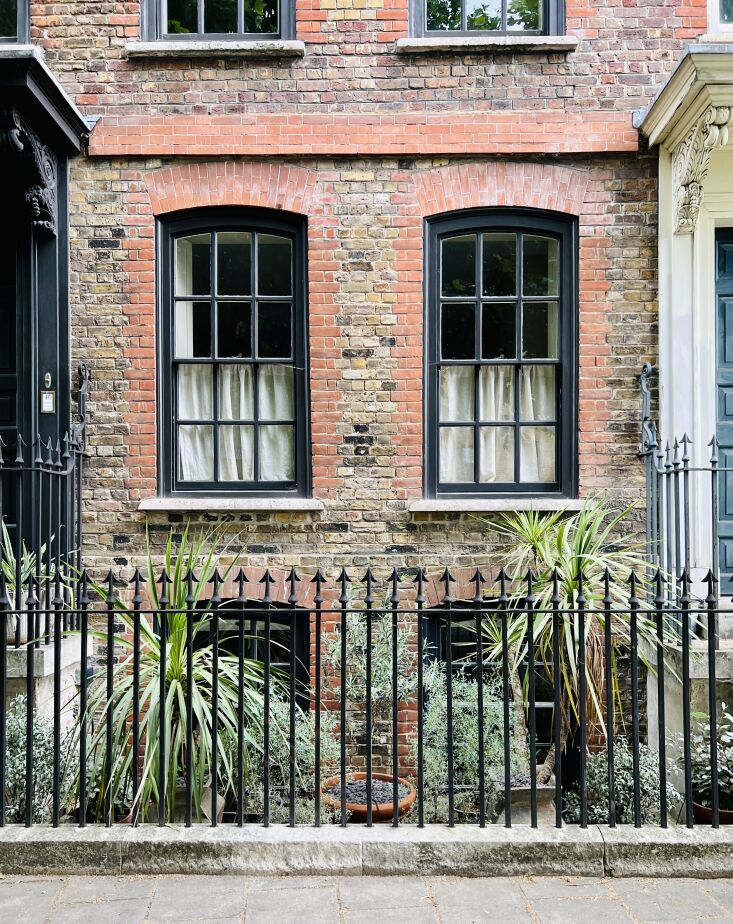 For more, follow Paul and Michelle on Instagram via
@consideredthings.
And for more historic homes we love, see:
(Visited 3,978 times, 5 visits today)