Interior designer Brian Paquette's client, a successful Hollywood movie composer, came to him with the equivalent of an intricate melody: The composer had worked out an entirely new open floor plan for his 1910 Los Feliz bungalow with architectural designer Lara Howenstine of Studio LH. Walls had come down, ceilings had been raised, and beams, skylights, and new windows added. But progress had stalled as other projects distracted the two friends. Someone was needed to orchestrate the full symphony.
Paquette, who is based in Seattle but often works in LA (he was introduced to the composer by clients who live blocks away), was in his element: "I selected all the materials, finishes, lighting, furnishings, and art." Marrying "the era of the 1,800-square-foot Craftsman house with modern elements," Paquette created an elegantly serene and cohesive hideaway, a place that, as he says, "allows its owner to shut off, recharge, and entertain friends"—and to write music.
Photography by Laure Joliet, courtesy of Brian Paquette Interiors.
Above: Paquette's mandate from his client: "Keep the materials honest and natural, and choose pieces that stand well on their own as well as together in a room." Toward that end, Paquette paired Lawson Fenning's simple, sculptural Cruz Chairs with his client's own Sean Woolsey Dining Table, and inserted low-impact corner shelves that echo the wood of the beams and floor.
Above: "The fact that the entry, living room, dining room, and kitchen all share one space informed a lot of the choices," says Paquette. "We had to be mindful of heights, sight lines, and traffic flow, and we used the same materials throughout to keep the space from feeling chopped up."
The pair of pendant lights, Rejuvenation's Haleigh Wire Dome in oil-rubbed bronze, were selected "to not distract from the room-centered Apparatus HighWire fixture, a must from the client."
Above: "Giant, low, and loungey sofas" was the request for the sitting area. Paquette notes that the structured lines of the two custom eight-foot designs are broken up by the live-edge coffee table, another Lawson-Fenning piece. The framed textile on the mantel is by Carrie Crawford of Mineral Workshop.
Above: Lawson Fenning's Ojai Lounge Chair and a brass and copper pedestal table. Note the firewood inserts incorporated into the mantel.
Above: Each of living areas in the newly opened-up space has its own discrete territory.
Above: Formerly a suburban galley with banks of pine cabinets, the reinvented kitchen has clean lines and much more elbow room. The custom millwork is painted Farrow & Ball's Down Pipe and fitted with Newport Brass hardware. The subway tiles are from Heath and the counters are Caesarstone. Get the lowdown on engineered quartz in Remodeling 101.
Above: A breakfast counter divides kitchen from living room. The windows throughout are from Andersen and have trim that, Paquette notes, "reference the old baseboard moldings without being as overpowering." The wide-board oak flooring is also new and has a custom stain.
Above: A deep undermount sink and Newport Brass's solid brass East Linear Faucets.
Above: The entry opens to the heart of the house.
Above: A photo of Leonard Bernstein, one of the client's heroes, on a Ferret Desk from Noir. The stools are vintage Swedish.
Above: An Eames lounge and Nickey Kehoe pillows in the lofty sitting room.
Above: "Powder rooms to me are always an opportunity to be bold and fun," says Paquette. In this case, he went for a jazzy interlude using Commune's Sitio Tile  with touches here and there of brass grout. The black stone sink sits atop a counter that project contractor Leif Johanson of BTR Construction dipped in unlacquered brass.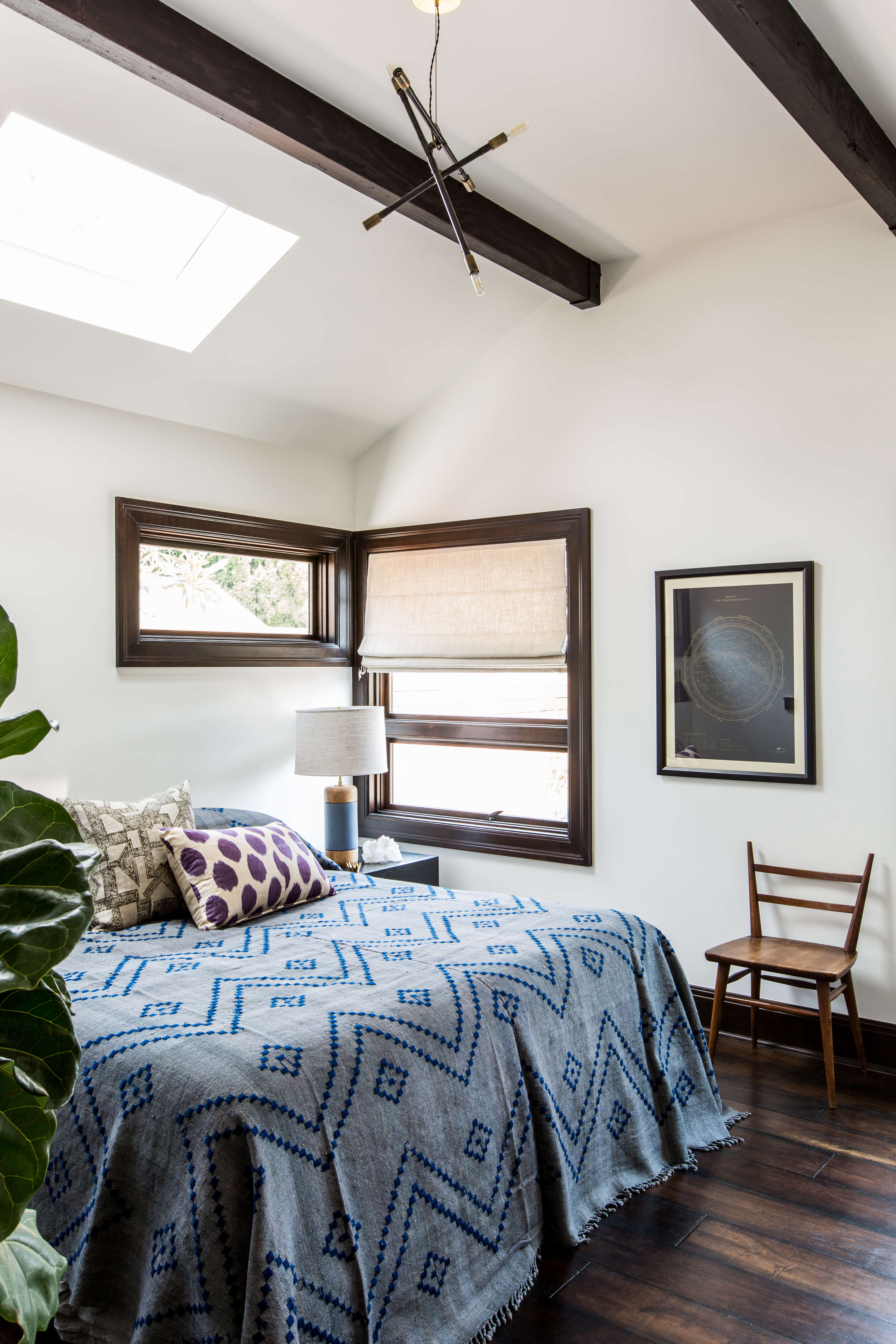 Above:"No headboard, and just enough color to not be boring" was the request for the master suite, which, like the living room, has a new skylit soaring ceiling and exposed beams. The handwoven wool Zig Zag Bedcover and patterned pillows are from Hollywood at Home.
Above: Custom walnut cabinets, Newport Brass fixtures, and a freestanding Kohler tub in the sunny master bath.
Above: The glass-walled shower is crowned by a skylight.
Above: In addition to young plantings, the exterior received a new look: Paquette replaced the old siding with stucco in a warm gray outlined in black. The front door is original.
Get a glimpse of Paquette's own bedroom here (and go to Brian Paquette Interiors). See dramatic Before and After photos of the project at Studio LH.
Fixing up your own vintage place? Tour more standout LA remodels, bungalows included:
You need to login or register to view and manage your bookmarks.