"Art objects with function." This is the philosophy of Block Shop, an online heirloom textile company run by sisters Lily and Hopie Stockman. To the Stockmans, "function" speaks to the notion that the art can be wearable, and also the idea that every aspect of their line's creation can be done with purpose. It's a manifesto the sisters have put into action in the designs they create with a Bagru, India, printmaking co-op.
Block Shop has been selling work online since 2012, but its story actually begins well before that. The concept originated when Lily, a painter with an MFA in Studio Art from NYU, was living in Jaipur in 2010. There to study pigment and Mughal miniature painting, she says, "At the time, I was feeling restricted by the tiny brushes and perfectionism that miniature painting necessitates. I started spending time in Bagru researching block printing and natural dyes, experimenting with architectural motifs from classic Mughal paintings, blowing them up, repeating them in geometric compositions, and printing them on sumptuous fabric. It felt like a revelation: utility, scale, and purpose in art–precisely what I had been craving." A year later, Hopie visited Bagru, and the idea was cemented into a partnership between the sisters and a cooperative printing workshop in the region known for hand-block printing with vegetable dyes.
Above: Lily lays out two just-printed scarves to dry. Utility, scale, and purpose are the Block Shop lynchpins: "We want to swaddle you with art that looks just as beautiful around your neck as it does hanging on the wall," Lily says.
Above: Local flowers are soaked to prepare for the natural dye-making process. Within the co-op, Block Shop works with about 20 printers, many of whom are from families that have been in the business for generations. The co-op was formalized around the same time as Block Shop, making it easy for the businesses to work in tandem. "We have grown together, made all our business decisions together, and developed a business plan together," Hopie explains. 
Above: Block Shop's chief printer prototypes the Zipper Scarf ($120) in the Bagru studio. For printer artisans, there is a significant advantage to being part of a cooperative: more control over job responsibilities and workload, and higher wages compared to those offered by industrial printing factories in the area.
Above: The process for a Block Shop scarf begins with the design, drawn freehand in ink and watercolor. "We insist on keeping the hand involved in every step of the process," says Lily
Above: After the pattern is created, designs are carved into blocks of sisam wood by master carvers in Bagru. Printers dip the blocks into a dye tray, and as Lily says, "they stamp our airy silk-cotton fabric with a pound of the fist in one quick motion. Our dabu resist patterns are printed with a mud paste, then dipped in the dye vat. Every color requires a separate printing, so you can see how time-consuming the process can be."
Above: After being printed, scarves fix in the sun for three days; they're then boiled in a bath of alum and flowers and dried on the grounds again, before being shipped to the US. The Stockman sisters say they've received an occasional scarf stamped with a "Bagru blessing," the hoof print of an errant cow.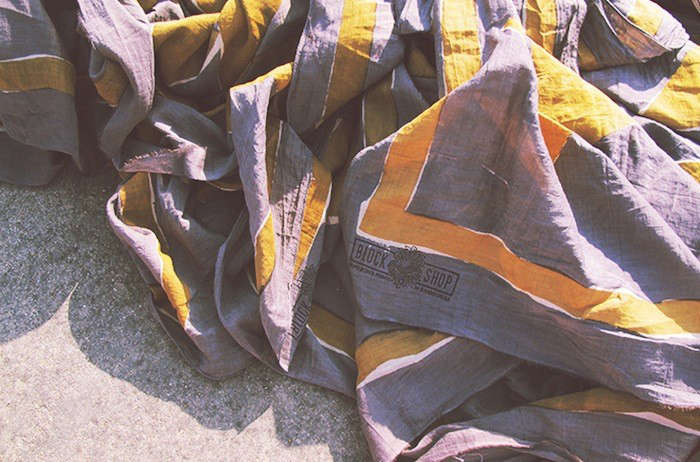 Above: The Flock Marigold and Gray Scarf is $120 through Block Shop online.
Above: Hopie works on designs at the home of Block Shop's foreman. For both Lily and Hopie, having a close relationship with the growing co-op has been integral to their process and results. Explains Hopie, "We know exactly how much every single person is being paid, who needs more work because auntie is in the hospital, who is the best indigo dyer, and who needs a micro loan for a new sewing machine at home." 
Above: "Our printers are like family to us," says Lily. "After four years of sharing stories over chai, learning Bollywood dance moves from their kids, and sweating through infernal 115 degree heat with blue-stained hands to get just the right shade of indigo–it's only natural that our relationship has evolved into one of love and respect."
In addition to building relationships, the sisters of Block Shop feel a responsibility to contribute to the community. To address the lack of medical care options in Bagru, Lily and Hopie are working to set up mobile medical clinics, an initiative that launched this January and brought six Jaipur-based doctors to the region for a day-long mobile healthcare clinic with complete community participation. According to Lily, over 200 people received medical examinations and 67 received corrective lenses; just this past month, the initiative sponsored eight successful cataract surgeries. Next up: the Stockman sisters are currently exploring ways to provide families with water filtration treatments to cut down on waterborne illness.
Want to try a simplified version of block printing? See Alexa's DIY Tea Towels and Izabella's Three Fabric Printing Techniques. And on Gardenista, have a look at Justine's DIY Wrapping Paper Made by Your Kids (hint: potatoes required). Oh, and here's a DIY Hand-Blocked Chair to Obsess Over.
You need to login or register to view and manage your bookmarks.