A while back we featured the Satyagraha House, a guesthouse  in Johannesburg, South Africa. Since many of us at Remodelista are city or near-city dwellers with countless distractions and noise pollution, we were especially drawn to the calm, light-filled bedrooms.
To re-create the look, we sourced the essentials of the monastic Satyagraha bedroom. See the rest of the property in our post Serenity Now: A Guesthouse that Channels the Spirit of Gandhi.
Above: Light is filtered through a set of curtains fashioned from layered cotton dhotis. Photograph via The Satyagraha House.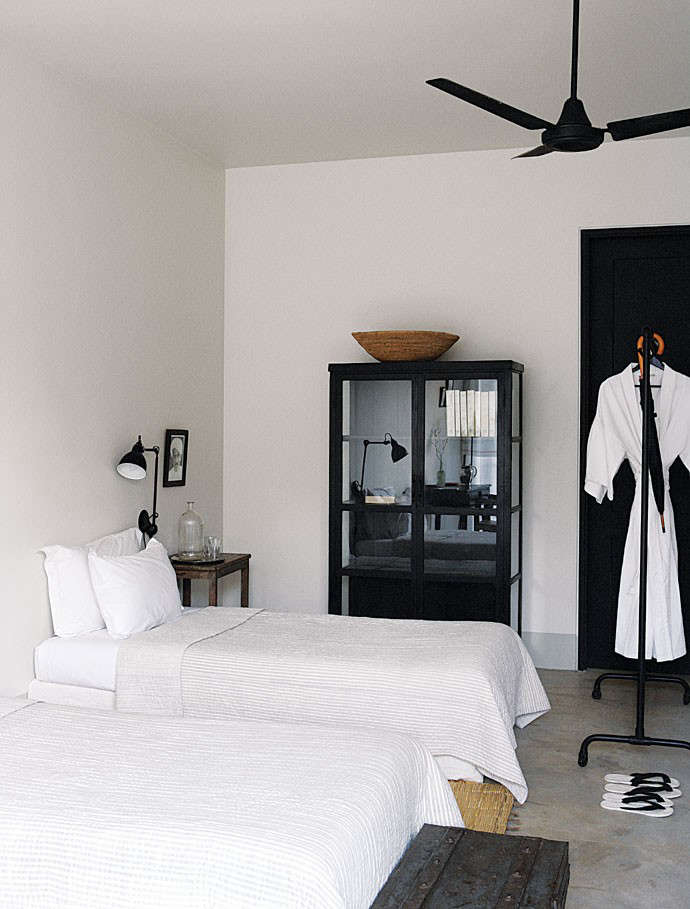 Above: A black and white bedroom with minimal storage is a reminder to pare down and pack light. Photograph by Elsa Young via House and Leisure.
Above: A charpoy, or rope bed, serves as a bench or place to recline. Photograph by Elsa Young via House and Leisure.
Above: Designed by Giulio Gianturco for Boffi, the Air Fan is available with black varnished or natural wood blades; to source in the US, contact Dzine in San Francisco. For more ceiling fans options, see 10 Easy Pieces: Ceiling Fans.
Above: The Italian Vintage-Washed Percale Sheet Set is $319 from Restoration Hardware.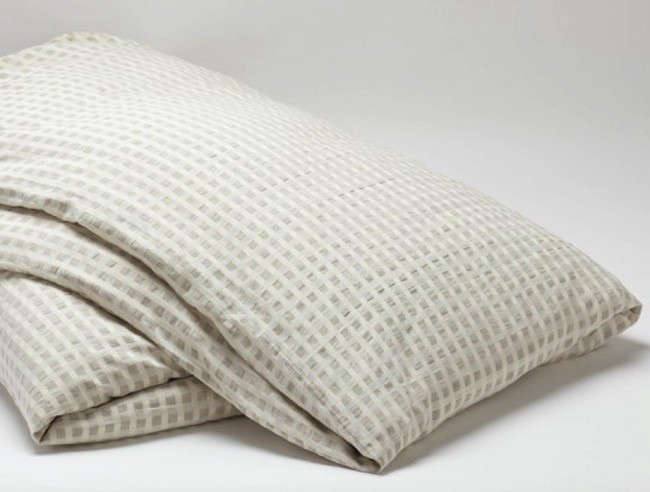 Above: Coyuchi's Cotton & Linen Birch Duvet Cover is made from flax grown in France and Belgium and 100 percent cotton from India; $348 for the full/queen size.
Above: The Lampe Gras Model 222 has a pivoting base and articulated arm; designed by French engineer-inventor Bernard-Albin Gras, it's been used in projects by likes of Le Corbusier, Eileen Gray, Man Ray, and Robert Mallet-Stevens. The 222 model is available directly from Lampe Gras. The smaller Lampe Gras Model 304 Sconce Lamp is $360 at Design Within Reach.
Above: The Lampe Gras Model 205 Task Lamp has a cast steel frame that's made without screws or welded joints and has a 40W candelabra base; $475 from Design Within Reach.
Above: At Satyagraha, a vintage lab bottle functions as a bedside carafe paired with drinking glasses; a similar option is the Alessi Tonale Carafe (shown here); $55 from Zinc Details. For more, see 10 Easy Pieces: Bedside Water Carafes.
Above: Senufo Stools, made by the Senufo people across the Ivory Coast, Mali, and Burkino Faso, are carved from a single piece of wood and are available for $300 from the Hamill Gallery. See another inspired interior that makes use of the stools in our post Design Sleuth: Senufo Stools.
Above: The Jute Boucle Rug is a simple, thin, and reversible option; $349 for the 8-by-10-foot size from West Elm.
Above: Ikea's simple Mulig Clothes Rack in black (also available in white) is made from steel; $9.99 each.
Above: For a minimalist branch or two, the Single Stem Vase is available in six different finishes and made in Sausalito, California; $81 from Heath Ceramics.
Above: Satyagraha's woven charpoys have ebonized wooden legs. Charpoy beds, like the one shown here, can be sourced from Ouma Productions and on eBay. ABC Carpet & Home in NYC offers a sparkly silver Charpoy Coffee Table/Bench in two sizes (priced at $695 and $1,295).
For other places to stay and visit in Johannesburg, see our South Africa City Guide.
Plants in the bedroom? Join the debate and get some ideas at Gardenista.
N.B.: This post is an update; the original story ran on July 9, 2013, as part of our issue The Summer Bedroom.
(Visited 258 times, 1 visits today)