"What do we need to know about?" we asked photographer Matthew Williams, just back from a month of capturing the high life all over India. His answer was definitive: "Bungalow 8."
Named for its original location in owner Maithili Ahluwalia's bungalow, the 10-year-old emporium now sprawls over three floors of an 1857 heritage building in Colaba, Mumbai, and is devoted to spotlighting the best of Indian design, from fashion to tableware to salvaged factory lights and baroque picture frames–and many points in between. Madonna and Sting, among others, are fans.
Maithili was only 24 when she returned to Mumbai, fresh from having studied at Swarthmore College and the London School of Economics, and worked as a management consultant in New York. The fact that she opened Bungalow 8 was no surprise: her grandmother Chandu Morarji set up the first lifestyle store in the city (and designed for Chanel), and her mother is celebrated jewelry designer Jamini Ahluwalia (you can find her pieces on the third floor of B8). "Design is in my DNA," say Mathili. Come browse.
Photographs courtesy of Bungalow 8.
Above: A dining room unfolds on the first floor, which is devoted to showcasing household accessories in full detail.
Above: The tableware on offer ranges from antique Anglo-India tea services to modern rustic pottery.
Above: Maithili Ahluwalia gave her emporium a romantic-industrial look, with exposed concrete and brick walls and preserved original features, including glass double doors. Shown here, the second floor–the shop's bed and bath section–defined by its striking concrete floor tiles.
Above: Bungalow 8 is known for sourcing antiques from all over India and restoring the pieces before they show up in one of the store's ever-changing displays. Here, before a window wall, vintage wicker office chairs and wooden armchairs surround a periodicals rack lit by a towering industrial light.
Above: The second floor's bath paraphernalia area, complete with tub.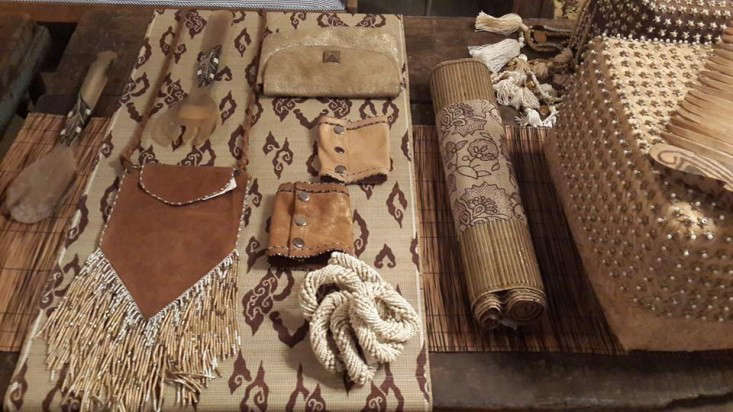 Above: Bungalow 8 just set up a B8 Summer Essentials Pop-Up at Baba's Wood Cafe in Goa; it's open until April 30.
Above: To ensure that Bungalow 8 is easy to find, its exterior is in the midst of receiving a new paint job.
The New York equivalent of Bungalow 8? ABC Carpet & Home is definitely a kindred spirit. For our favorite shops around the world, peruse Shopper's Diary and Gardenista's Picks, including the World's Most Beautiful Floral Shop.
Location of Bungalow 8 in Grants Building, 17 Arthur Bunder Road, in Colaba, Mumbai:
(Visited 172 times, 1 visits today)