What do you do when you're not at work? Brooklyn ceramic artist Suzie Ryu and painter/furniture designer Kana Philip both have demanding jobs by day—she does marketing for architecture site Architizer and he's the cofounder of just-launched content-sharing platform 8. At night, they create things for their online design shop, Trollhagen & Co. As for weekends, they can be found in Chatham, New York, making a dent on their DIY house remodel. Take a look at what they were able to accomplish in two weekends for just under $350.
Photography by Suzie Ryu.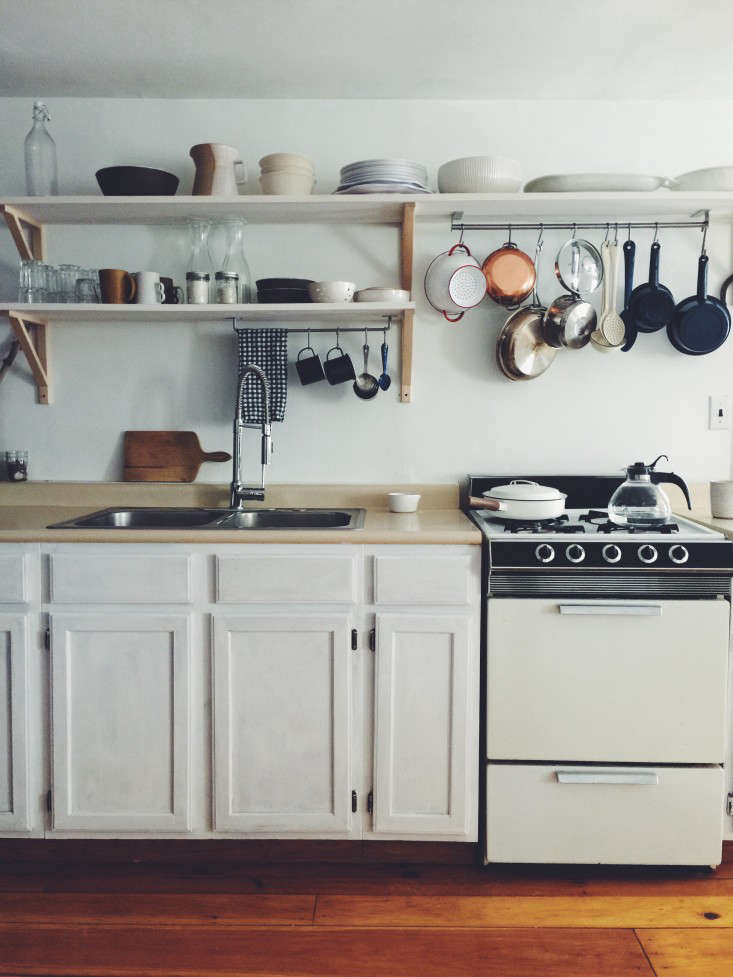 Above: Suzie and Kana arrive every Friday night to their 1930s house, known as The Schoolhouse because it has an 1812 school attached to it. ("The school was rolled down the road after the house was built," says Suzie.) They only have 48 hours there every week, but they manage to get a lot done. After setting up their bedroom, they opened up the 1980s kitchen in the main house by removing the dark upper cabinets and replacing them with open shelving and Ikea pot racks. They painted the lower cabinets white and left the speckled laminate counter and fixtures as is.
Here's Suzie's description of the open-shelf prep: "First we measured the length and depth we wanted. We decided to run two six-inch-deep boards across our brackets to have an approximate shelf depth of twelve inches. We knew we wanted to run one shelf along the whole length of the wall and have a shorter one running over the sink but not over the stove, so we took our measurements accordingly."
Above: The shelves are Home Depot pine boards that the couple painted with a roller for speed and then brush-finished because they prefer a handmade look. They used Home Depot's Behr Ultra Pure White paint in matte on the walls and shelves. (Suzie notes that in hindsight it would have been smart to paint the under shelves matte and the top gloss for easy cleaning.) The brackets are Ikea's Ekby Valter design in birch—a mere $4 each—and the hanging bar is Ikea's Grundtal Rail over the stove with Gundtal S hooks.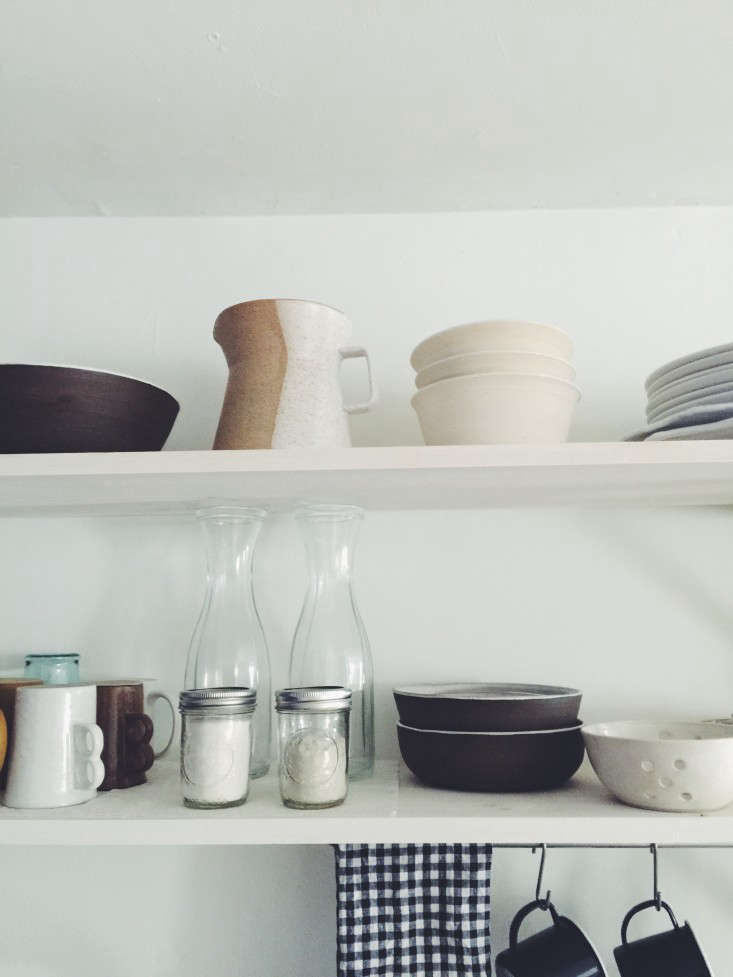 Above: The shelves are stocked with Suzie's own ceramics that she sells at Trollhagen & Co., including, on the top shelf, the Harvest Bowl, two-toned Saturday Carafe, and, on the lower shelf, Harvest Dishes and Porcelain Berry Bowl—all, alas, currently sold out. Stay tuned: The couple are at work on furniture and textiles for the shop and also plan to showcase some of their friends' designs.
Above: Vintage blue enamelware collected locally and white enamelware from Valley Variety in Hudson, New York.
Above: Suzie replaced the existing leaky faucet with a Glacier Bay Single Handle Pull-Down Sprayer Faucet that she picked out at Home Depot—"it was $170, our biggest expense." She did the installation herself by watching YouTube videos on how to remove an old faucet and put in a new one (here's one that she recommends).
In Progress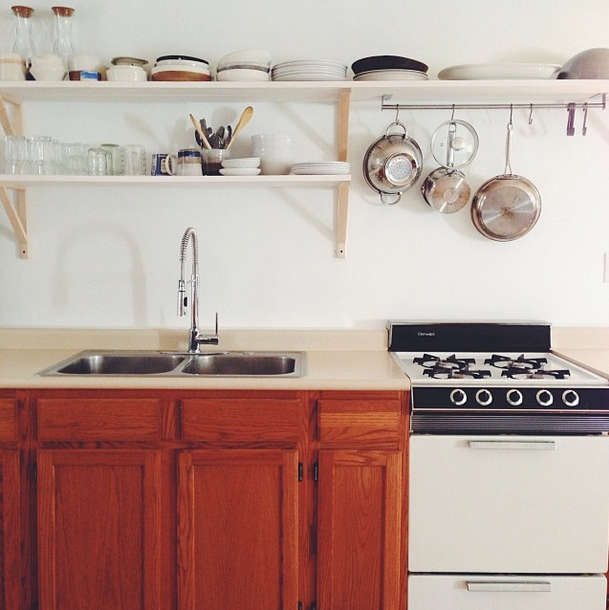 Above: The cabinets awaiting paint. They would receive two coats of brushed-on Behr Ultra Pure White in matte from Home Depot. Suzy and Kana like the look of the hardware-free paneled drawers and doors now that they're white and say they're holding up well.
Before
Above: The compact kitchen overlooks the sun porch, which Suzy and Kana turned into their bedroom.
Above: The cupboard and vent removal took place over a winter weekend (during which three pipes burst), and the wall spackling, sanding, and painting the following weekend.
See more DIY kitchen overhauls.
And on Gardenista, read Michelle's kitchen wisdom in 10 Mistakes to Avoid When You Remodel.
N.B.: This post is an update; the original story ran March 19, 2015.
(Visited 679 times, 2 visits today)
Frequently asked questions
Who are Suzie Ryu and Kana Philip?
Suzie Ryu and Kana Philip are the owners of Trollhagen & Co., a design and lifestyle company based in Minnesota.
What was the cost of the kitchen overhaul?
The kitchen overhaul cost approximately $350 in materials.
How long did the kitchen overhaul take?
The kitchen overhaul took two weekends to complete.
What changes were made to the kitchen?
The cabinets were painted, the hardware was replaced, a backsplash was installed, and the countertops were covered with contact paper.
Did they hire professionals to help with the kitchen overhaul?
No, Suzie and Kana completed the project themselves without hiring any professionals.
What advice do they have for others looking to tackle a DIY kitchen overhaul?
They recommend doing your research, taking your time, and not being afraid to make mistakes. They also suggest starting small with a project or two before tackling a larger overhaul.