Heather Chontos's restless verve is writ large all over her paintings. And her bright abstract paintings are all over her farmhouse in Southwest France: brushed and drawn directly on the walls, patterning the upholstery, and tucked inside old wooden drawers. Raised in New York's Hudson Valley, Heather says her gusto is in response to a year of being ill and temporarily losing her sight at age 14: "There was no clarity about what caused it or if it could happen again. I emerged with a sense of urgency to travel the world—to see and taste and smell everything."
At 16, after finessing an early high school graduation, Heather took off for London, where, among other things, she earned a BA in art history and conservation at University College London; interned at The World of Interiors ("when Min Hogg was on the way out and Faye Toogood was a junior editor"); showed her art for the first time at Maureen Doherty's cult favorite store, Egg Trading; and worked as a fashion illustrator and prop stylist.
Early along the way, Heather also became a mother: she has two daughters, now 24 and 15, who she has raised on her own as global citizens: they've lived in Paris, New York, Barcelona, Maine, and Montana, with extended visits to Tanzania and New Zealand.
The family were based in Berlin when Heather had a sell-out show at Voltz Clarke Gallery in NYC in 2019, which enabled her to go house hunting for the first time. At French-Property.com, she came across a number of astonishingly affordable options in Southwest France, a part of the country she'd never been to. "I was looking for an old house with wooden beams, a fireplace, and a barn for a studio—that was my criteria." She found her place in the hamlet of La Tour-Blanche in Nouvelle Aquitaine, and, unable to visit while her daughters were in school, "took a What's App tour and said 'I'll take it.' The broker thought I was crazy, but I figured: what's the worst that can happen? I'll just fix it up." Come see the results.
Photography by Heather Chontos (@hchontos).
Buying a house in France is an extended process and Heather didn't move in until the very start of the pandemic. At the time, her daughters were temporarily away and she was in Bolzano, Italy, with her now-former partner, Luis. As Covid hit, they decided to flee to France by car, crossing borders in Austria and Switzerland as they were literally just closing. They planned to work on the house for a couple weeks—and ended up spending a year in lockdown with no Wifi or telephone and little access to materials. "Fortunately, just before we got to the house, we stopped at Leroy Merlin, France's Home Depot, and bought a shit ton of white paint and spackle," says Heather. "It was the best thing we could have done."
During lockdown, unable to venture more than 10 kilometers beyond the house—"which led to a field"—Heather put her hunter-gatherer skills to work. At the big local supermarket, she bought children's paints. In the woods, she gathered stones for the front wall and hazel branches for curtain rods. And she found old paper, rolls of antique cotton canvas, and just about just about everything else she needed, such as pots and pans, at a local vintage emporium called La Cavern d'Ali Baba: "They made everything okay—they do house clearances and the owners' son would call and say, 'we have some furniture we're going to throw out but I think you'd like it.' I loved it."
In the kitchen Heather painted a wall in her signature, loose geometric style—"I work impulsively, harnessing the power of gesture," she says. Here, she also painted the wooden floor "like six times and then sanded it back to its original natural oak. That was crazy, but this place is a living art project for me. I think about every single detail constantly." Heather bought the straw light over the table at the local, once-a-month flea market in nearby Verteillac.
The house and barn studio are both heated by wood stove and require constant tending: "I have amazing neighbors who taught me everything."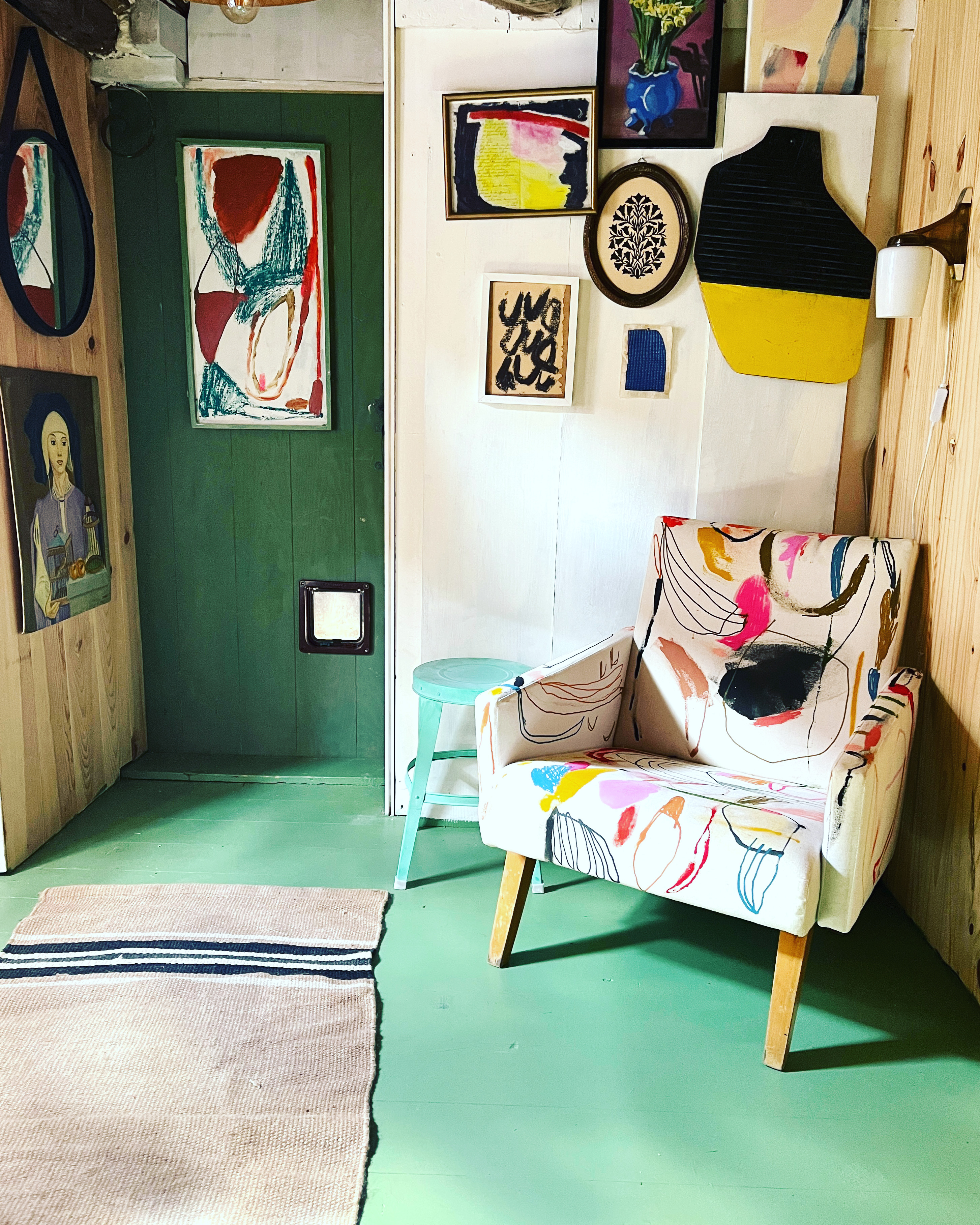 Incentivized by a need to spread out, she later transformed the vast barn into her studio and moved the bed here—its homemade headboard was treated with a water-based stain of Payne's gray paint. Heather stitched the patchwork quilts out of "hot pink jackets and other clothes—things I was never going to wear."
Stay tuned: we'll be touring Heather's barn studio next month.
Here are three more artist visits:
(Visited 13,582 times, 14 visits today)
Frequently asked questions
Who did the artist Heather Chontos collaborate with on her French farmhouse?
Heather Chontos collaborated with her husband on their French farmhouse.
What is the inspiration behind Heather Chontos' interior design at her French farmhouse?
Heather Chontos' interior design at her French farmhouse is inspired by her travels, nature, and her love for collecting unique objects.
What type of art does Heather Chontos create?
Heather Chontos is a painter and creates abstract art.
What is the style of Heather Chontos' French farmhouse?
Heather Chontos' French farmhouse is decorated in a mix of eclectic and rustic style.
Where is Heather Chontos' French farmhouse located?
Heather Chontos' French farmhouse is located in the Toulouse area of France.
What are some key design elements in Heather Chontos' French farmhouse?
Some key design elements in Heather Chontos' French farmhouse include exposed beams, colorful tiles, and vintage furniture.
What kind of artwork is displayed in Heather Chontos' French farmhouse?
Heather Chontos displays her own artwork as well as pieces from other artists in her French farmhouse.
What is the color scheme used in Heather Chontos' French farmhouse?
Heather Chontos' French farmhouse features a neutral color palette with pops of vibrant colors.
What is the significance of the name 'French Paperie' in Heather Chontos' French farmhouse?
The name 'French Paperie' refers to the room in Heather Chontos' French farmhouse where she displays her collection of antique papers.
How does Heather Chontos incorporate her love for collecting into the design of her French farmhouse?
Heather Chontos incorporates her love for collecting by showcasing her unique finds throughout her French farmhouse, such as vintage textiles and vintage furniture pieces.