With an idyllic garden studio next door to her house, ceramicist Lucy Dunce has an enviable life on the East Lothian coastline of Scotland, one which she and her cabinetmaker husband, have been painstakingly fixing up over the past 10 years for their family of four. Home is a stone cottage that was originally part of a block of 10 farm cottages. The group of structures was developed into four individual houses in the 1970s, and when the couple came upon the one that would eventually become theirs, it was in a serious state of disrepair without even a staircase connecting upstairs and down. After the couple finished the remodel of their home, they set to work building Dunce's longed-for studio from the ground up. Inspired by the Scottish countryside at their doorstep, Dunce casts a painterly eye on her ceramic creations while filling the house with sea air and light. Read on for a tour of both. 
Photography by Douglas Gibb via Her Indoors. 
Home
Above: An avid gardener, Dunce's stone cottage is surrounded by her plantings. 
Above: A turquoise door leads into the kitchen. (Dunce's ceramics studio is just a short walk up the stone steps.) 
Above: A marble-topped dresser displays an array of ceramics and glassware in the entrance of the kitchen.
Above: A series of handmade wood shelves with brackets provide valuable open shelving by the door. 
Above: A modern farmhouse table stands at the center of the kitchen. The wood carving above the wood stove was brought home from a trip to Zanzibar. 
Above: A Japanese-inspired open shelving system was built to fit between the cabinet and the end of the wall. Fresh flowers and herbs from the garden bring greenery inside.
Above: Dunce painted the cottage's low ceilings and beams white to keep things bright.
Above: The model ship and driftwood above the living room mantel are reminders of the nearby coast.
Above L: A new staircase was crafted out of locally sourced sycamore. Above R: Skylights were installed throughout the house to bring in more light. A model townhouse fits into the corner of the landing. 
Above: A fuschia bedspread supplies some drama to the otherwise calm palette in the master bedroom. 
Above: The blue-gray painted wood floor fits in seamlessly with the soft light of the British Isles. For similar shades, see Meredith's Coastline-Inspired Blue Paint post. 
Above: A set of bookshelves were built in to follow the attic roofline of the house. 
Above L: Painted beadboard creates a green base that runs around bathroom unifying the cabinets and the bath. Above R: A skyllight fit into the sloping roof above the sink provides light and extra headroom. 
Studio
Above L: In her garden, Dunce created a decorative path using small stones with a brick border. Above R: The doors of Dunce's ceramics studio open to the garden.
Above: Dunce finds inspiration in the abstraction of nature. 
Above L: Dunce's ceramic glazes ready to be applied. Above R: An old mustard crock holds paint brushes. 
Above: A collage of inspirations surround Dunce's desk.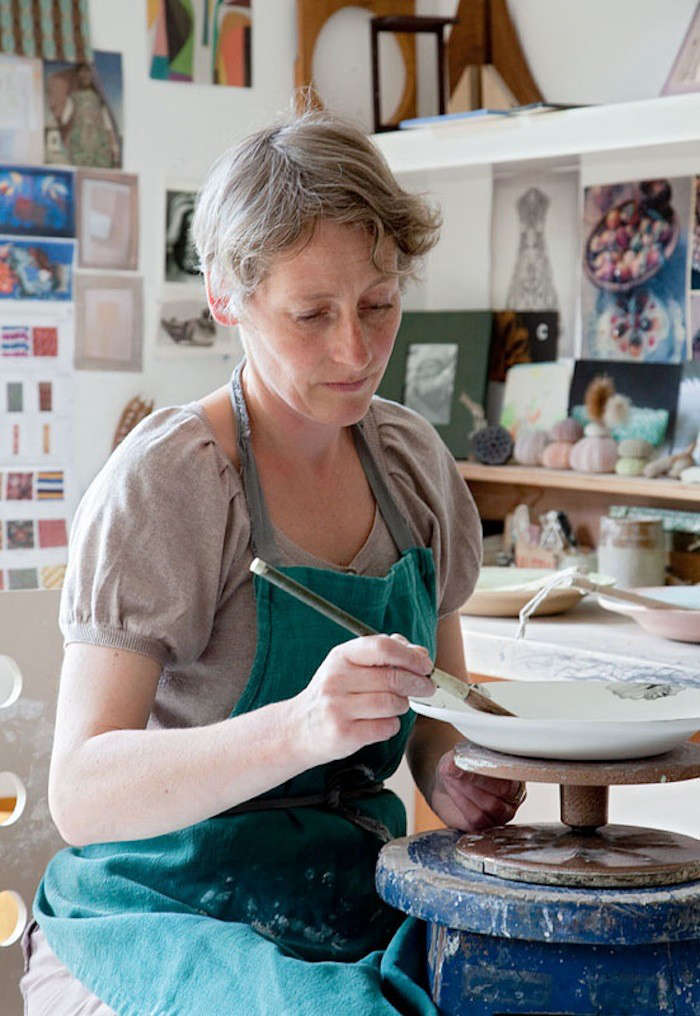 Above: Dunce glazes a bowl. To see her finished work, go to Lucy Dunce Ceramics.  
Inspired by Dunce's garden studio? Have a look at these idyllic work spaces: model Carolyn Murphy's gorgeous garage, London stylist Twig Hutchinson's summerhouse shed, and London graphic designer Noma Barr's backyard studio. Working out of a cubicle? Here's Gardenista's advice for how to add some crucial greenery.
You need to login or register to view and manage your bookmarks.