British designer and creative director Richard Ostell is the man behind one of our all-time favorite houses (see House Call: Richard Ostell in Westchester). When a new job brought him to Milwaukee, we wondered how he would cope with such a huge change of scenery.
Ostell staked his claim on 1,700-square feet of unfinished space in a former blanket factory in the historic Third Ward, where, from his balcony, he can take in Lake Michigan and the Hoan Bridge. Milwaukee itself has proved surprisingly hospitable: there's a giant used bookstore in the airport, the Eero Saarinen-designed Milwaukee Art Museum has a Santiago Calatrava addition, and the century-old Milwaukee Public Market is now a bastion of the artisanal. As for the loft, Ostell seemingly overnight made the place his own. A fan of "honest things that look like what they are," he opted for concrete floors, honed granite countertops, and angular wooden furniture, mostly of his own design, that traveled with him from his old house. The results are a celebration of new-found space and of simple materials, no Midwest twang detectable.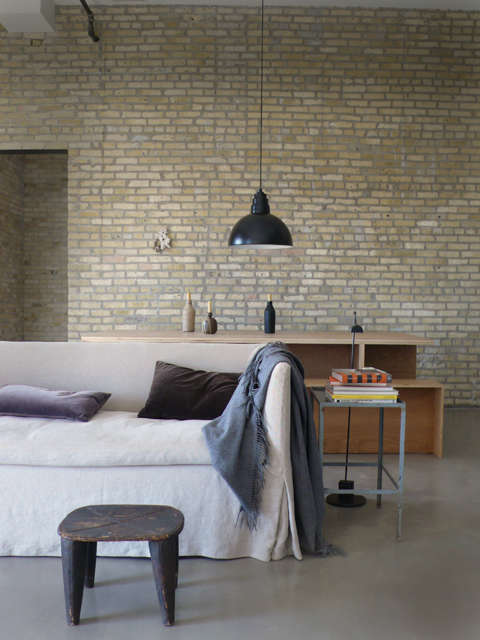 Above: Ostell's sofa is Cisco Brothers' Stewart design slipcovered in their Quixote natural linen. (For more on the company and its organic approach to upholstery, see Furniture: Cisco Brothers.) The pillows are hand-dyed velvet by London-based stylist Kirsten Hecktermann. Antique stoneware bottles have been put to clever use as candle holders.
Above: "I wanted the living space and the kitchen to blend in a way that is seamless and calm," says Ostell. "To reduce the amount of visual noise, I kept appliances hidden, and made sure that everything visible was something I wanted to look at." The white oak dining table and benches are his own design—he hopes to be able to offer them commercially soon.
Above: All of the kitchen overflow is tidily housed in a pair of vintage medical cupboards from SS21 on Eddy Street in San Francisco.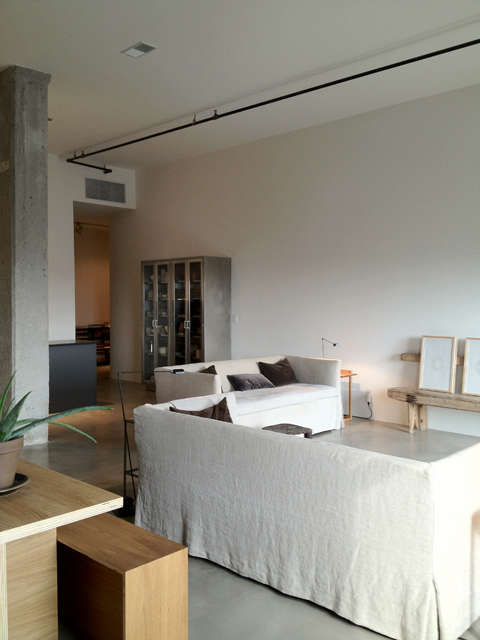 Above: The rumpled linen upholstery adds a softening note to the otherwise hard-edged space.
Above: The building's original yellow bricks, made from local clay, are known as Cream City bricks. They were used on so many local structures in the 19th century that Milwaukee became known as Cream City. Here, two African milk jugs made from gourds rest on a bench found at one of Ostell's favorite haunts, Antiques and Tools in Pound Ridge, New York.
Above: A virus embroidery by Trevor Hill sits next to a lamp from a series Ostell cobbled together out of lab stands purchased on eBay.
Above: A search for a plain gray blanket finally yielded this one by Pendleton. Its simplicity is luxuriously matched by sheets from Rough Linen. The African stool is a London find that has accompanied Ostell on many moves. The bedside lamps are the Daphne by Lumina, which Ostell calls "the most beautiful, elegant lamp ever."
Above: A souvenir from home: twine necklaces made from pebbles with naturally formed holes gathered at the English seaside.
You need to login or register to view and manage your bookmarks.