One of our favorite companies is Cisco Brothers in LA. Founded by Cisco Pinedo, who began making custom furniture out of his garage in South Central in the early 90s, the company has grown to encompass six retail showrooms (including a gallery at ABC Home in NY).
In 2006, Cisco developed the Inside Green™ method of construction and became the first designer to create 100 percent FSC Pure sustainable upholstered furniture. Cisco uses FSC Pure certified woods for upholstered furniture, reclaimed hardwoods for a collection of case goods, and water-based glues and environmentally friendly detergents to wash all fabrics. Natural and organic upholstery and slipcover options include linens, hemps, and velvets in shades of oyster, lichen, stone, and graphite.
Below: The 85-inch-wide Betula sofa starts at $5,190 at Eco-Terric.
Below: The 60-inch-wide Burche Bench starts at $1,665 at Eco-Terric.
Below: The 85-inch-wide Lancer Sofa starts at $4,777 at Eco-Terric.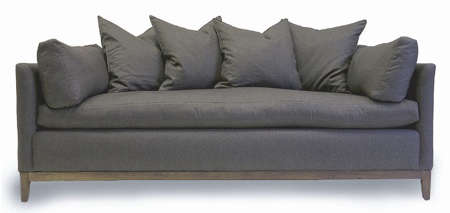 (Visited 52 times, 1 visits today)