Years ago I borrowed an Alfa Romeo from a friend and was loath to return it. I was smitten–not with the engine power (there was a lot), but with the tiny design details of the interior handles and knobs. I feel the very same way about Italian ranges; while they might fire up with gusto, it's the knobs and levers that have me enamored. They're well designed as opposed to being mere functional additions. Here's a roundup of some seriously good-looking Italian ovens.
Above: Alpes Inox's stainless steel designs are on wheels; see Race-Car-Style Appliances for Compact Kitchens. US buyers can purchase directly from Alpes Inox (be warned that these pieces are pricey–the most compact electric oven with a five-burner gas cooktop is €6,695, approximately $8,840). For more information and prices, see Alpes Inox, and contact Mr. Passalacqua in the company's export department at [email protected]
Above: The 30-inch Bertazzoni Professional Series X304GGVRO is a pro-style gas range with four sealed burners; $4,149 at AJ Madison.
Above: The Smeg 30-Inch Gas Range with five heavy-duty burners; $2,949 at West Elm. Also available in 24-inch and 36-inch sizes.
Above: The 36-Inch Verona Gas Single-Oven Range is made in Italy and features a 16,000-Btu power burner and an oven with a turbo electric convection fan and infrared broiler; prices start at $2,799 for the stainless model; it's also available in bisque, burgundy, matte black, and white for $3,549 from AJ Madison.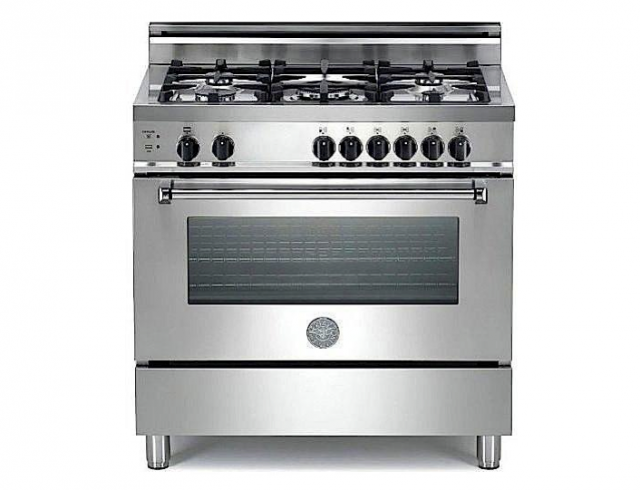 Above: The Bertazzoni Master 30 Gas Range features five sealed burners and is $3,199 on Amazon. If space is a constraint, the 24-inch Bertazzoni Professional Series X244GGV pro-style gas range with four sealed burners is $1,999 at AJ Madison.
Above: The Officine Gullo Collezioni Range is custom made in Florence; visit Officine Gullo for more information.
Above: The grande dame: A traditional-style dual-fuel range, the 60-inch Ilve Majestic Collection UM150FS has five semi-sealed burners and additional options such as defrost function and convection oven. Available in a choice of colors, it's shown here in stainless steel with chrome trim; $15,199 from Elite Appliance.
Living with a compact kitchen? See 10 Easy Pieces: Small Ranges with Big Performance and Five Favorites: Skinny Refrigerators.
Finally, get more ideas on how to evaluate and choose your kitchen range or oven in our Remodeling 101 Guide: Kitchen Ranges & Ovens.
N.B.: This post is an update; the original story ran on January 16, 2013, as part of our Roman Holiday issue.
(Visited 4,093 times, 14 visits today)