On my recent vacation in Italy, so many accessories caught my attention: an all-glass cooking pot that had me wide-eyed and wanting, tiny glass wine tumblers for pouring civilized quantities of red wine, and woven rattan serving trays too beautiful to try to describe. I wanted to lug all of them home with me. Instead, on return, I figured out where to source most of my finds from the US, priced from $12 to $200, and all made in Italy. 
That last point is no mean feat: Of late many venerable design houses have moved production to cheaper markets, making it hard to tell which–if any–of their products are still made in Italy. (Alessi, DeLonghi, and others are guilty of this.) But these 16 standouts are still all-Italian. I also should add that I got help on this roundup from my two best Italian friends. When I asked them to fill me in on kitchen essentials from home, they talked about Parmesan graters, espresso makers, and the all-important (but oddly absent in the US) mezzaluna. Read on–that, too, is easily attainable.
Above: The Marcato Atlas Wellness 150 Pasta Maker is the gold standard of pasta machines both in Italy and abroad. It's the machine I used in Gardenista's Garden-to-Table Recipe: Colorful Fresh Pasta, and it's Christophe Lemaire partner Sarah-Lihn Tran's pick in Style Counsel: An Under-the-Radar Parisian Designer. The machine starts at $69.95 for the Hand-Cranked Version, available in eight colors on Amazon, and $169.95 for the Motorized Version.
Above: The Vulcania Italian Clay Bean Pot is made of Tuscan terracotta and holds six quarts of soup, sauce, or beans; available in red or brown for $158 at Provisions.
Above: Ubiquitous in Italian kitchens: the Bialetti Moka Express Stovetop Espresso Maker. (So ubiquitous, in fact, that spare parts–handles, gaskets, funnels–are stocked at seemingly every corner market.) Here in the States, it's available in several sizes starting at one-cup capacity for $24.95 via Amazon.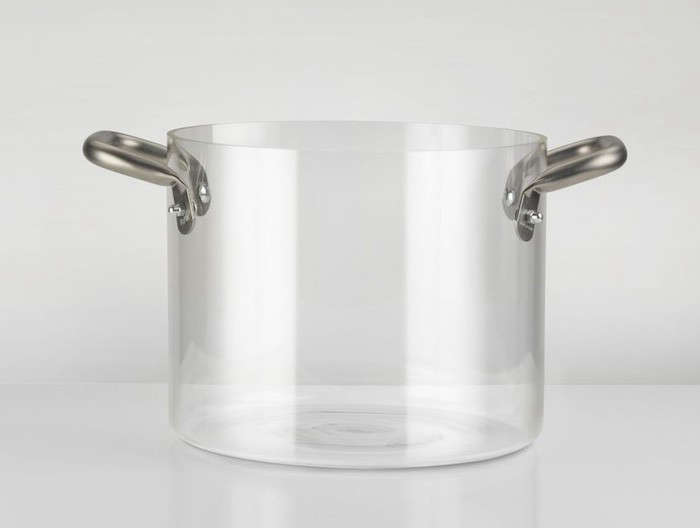 Above: I spotted this pot at the Schiffini kitchens store in Milan, and it's been on my mind ever since. Made of borosilicate glass, the KnPro Pasta Pot is free of chemicals that can leech into food, and it's nonporous and nonreactive. It's a new product, and we're hoping it proves durable enough to become a classic. In the US, it's available at MoMA Store for $200. Italian online store OWO also offers it for €114.05.
Above: The Consigli Olivewood Bread Knife has a serrated blade for making quick work of crusty Pugliese bread and a smooth olivewood handle; $199.95 from Williams-Sonoma. 
Above: In 10 Easy Pieces: Countertop Dish Drainers, we called this Stainless Steel Draining Rack "the Mercedes of dish racks." While most dish racks are chrome-plated, this one is solid stainless steel. It's designed and produced by German company Manufactum and made in Italy; €133 (US $169) from Manufactum. 
Above: I asked my friends about the preferred tool for grating Parmesan in the Italian home: flat grater, box grater, or grater with storage container? The answer was all three. An Italian-made grater is surprisingly hard to find online, but not impossible: This Guzzini Latina Multi-blade Grater is $22.94 at AllModern. (A less expensive alternative, the 10-inch Handled Grater, is $3.69 from Fante's.)
Above: Ceramic cookware with clip-on detachable handles, ABCT Pans have an eco-friendly nonstick surface and can be used on the stove and as serving dishes. Thanks to their removable handles, they're easy to store, and they come with mahogany lids that double as hot pads; pans and woks start at €36.30 (US $46.29) at Dep Design Store. 
Above: My Italian friends wonder why these aren't found in every American kitchen. Used for chopping dinnertime staples like onions, garlic, and herbs, a stainless steel Mezzaluna Knife with Wood Handles is $23.39 via Amazon.
Above: Olivewood kitchen spoons are a Mediterranean standard, and the unique grain of each makes it tempting to collect a stack. A 10-inch Italian Olive Wood Mixing Spoon is $11.99 at Overstock. 
Above: If you're cooking in glass or terracotta, consider using a heat diffuser, a tool we spotlighted in The Secret to an Italian-Style Simmer. The Frabosk Heat Diffuser Plate is made in Italy of brushed steel; $52.69 for the small size at Espresso Zone. 
Above: This solid walnut Bread and Salami Serving Set comes with a linen bread basket. It has an inset cutting board, which, like the basket, is removable, making room for more aperitivo fare, such as cured meats and cheeses. Designed by Studio Brizzi+Riefenstahl and manufactured in Italy by Sabatti, the set is €189.55 (US $241.61) from the Dep Design Store of Como.
Above: The Chop Chop Chopping Board, designed by Danish company Hay, is made in Italy of Calacatta marble. It's available in two sizes, starting at €86 (US $110) at Connox. 
Above: The Italian Olive Wood Five-Inch Steak Knives Set is made in Maniago, in a region known for steel blade production since the 15th century. These particular knives are made by a company in business since 1912; $159 for a set of four at Kaufmann Mercantile.
Above: Gray on White Splatterware Canisters are made of earthenware in the Pugliese region and are dishwasher safe. They're available in three sizes, starting at $55 at March, in San Francisco.
Above: This Tricolor Broom is made of horsehair by a family-owned company. A beechwood handle and rubber bumpers make for a refreshingly plastic-free tool; $49.95 from Williams-Sonoma.
During our Kitchens Around the World week, we've been featuring essential kitchen tools from other European countries: See 12 Made-in-France Kitchen Essentials, 16 Favorite Accessories from the English Kitchen, 11 Scandi Kitchen Essentials, and 11 German-Made Kitchen Essentials.
(Visited 1,238 times, 2 visits today)