Here at Remodelista the obsession with tiny kitchens hits close to home. Many of us live with postage-stamp-size setups, but, surprisingly, we don't long for more space. What we're eternally searching for are great-looking, high-functioning appliances scaled to fit our quarters, which is why we're so taken with Italian company Alpes Inox's freestanding stainless steel kitchen systems. Tailored for tight spaces, they're multifunctional and made to come with you should you move–none are built-ins, so they can be rearranged as needed, and most designs are available on wheels.
Based in Bassano del Grappa, Italy, Alpes Inox has been fabricating stainless steel kitchen equipment since 1954. Inox, by the way (an abbreviation of the French, acier inoxydable), means stainless steel, and the company uses only top-of-the-line, high-nickel stainless, which has a durable, bright white shine. All of Alpes Inox's designs are the work of founder Nico Moretto, who now runs the business with his two sons. An American company would be wise to take inspiration from Moretto's example.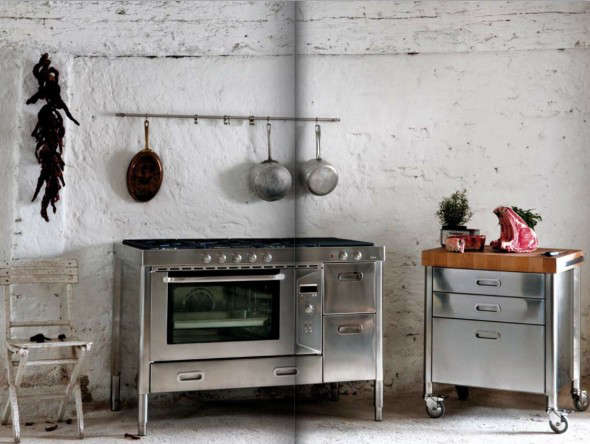 Above: US buyers can purchase directly from Alpes Inox (be warned that these pieces are pricey–the most compact electric oven with a five-burner gas cooktop is €6,695). For more information and prices, see Alpes Inox, and contact Mr. Passalacqua in the company's export department at [email protected].
Above: The two gas burners on this cooktop flip up so that the piece doubles as a food prep table. Under it, a two-drawer cart on casters holds pots and pans and other kitchen essentials. Several variations of the cart are available, and buyers can opt for a steel top or a wooden cutting board (shown in the previous photo).
Above: This all-stainless-steel sink has two basins with different depths, which makes it possible to position a dishwasher under the shallow side. A sliding cutting board (not shown) fits over the work surface alongside inset bins with knobbed white tops for collecting compost. 
Above: An Alpes Inox stacked oven and beverage refrigerator stands next to a multi-drawer unit that features a sink, inset dish-drying rack, and cooktop.
Above: The gas burners flip up to create extra counter space as needed.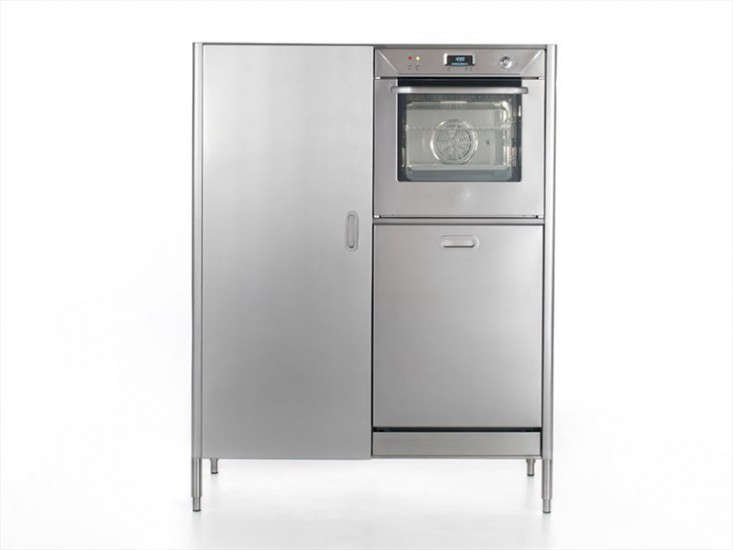 Above: Alpes Inox's Washing, Cooking, and Refrigeration Column comes with a 60-centimeter-wide oven and spaces to insert a dishwasher and fridge.
Above: The same structure is available as a two-door wine refrigerator, a side-by-side refrigerator and freezer, or a four-shelf pantry.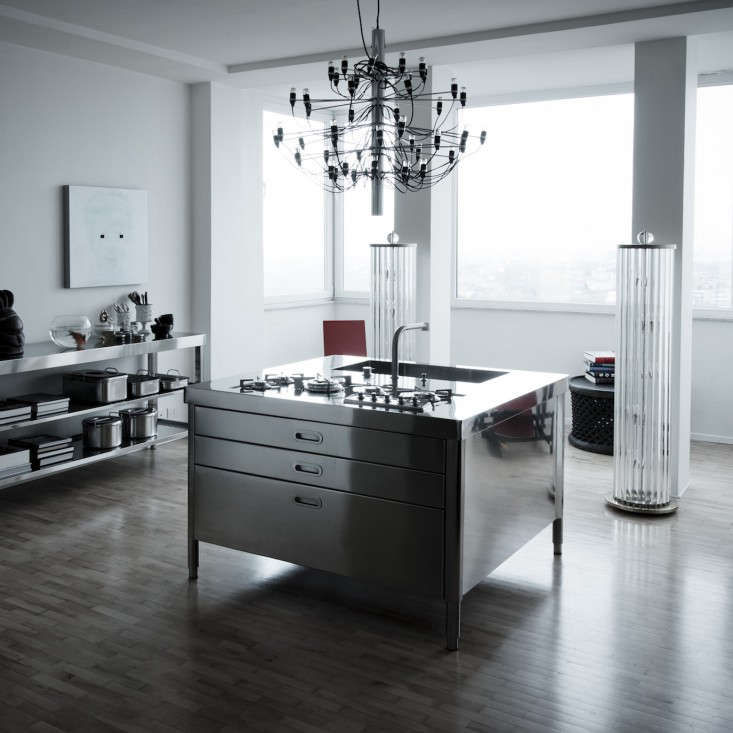 Above: The at-your-service island contains a five-burner gas cooktop, a deep sink, and drawers on two sides. 
Above: The top drawer is kitted out with wooden dividers for flatware, serving utensils, placemats, a cutting board, and knives.
Above: A rolling electric oven with its own shelving unit and utensils drawer.
Living with a tiny kitchen? See our photo gallery of Small-Space Kitchens and our roundup Radical Downsizing, High/Low Mini Kitchens. On Gardenista, have a look at the 186-Square-Foot Guest Cottage, postage-stamp Ikea kitchen included.
N.B.: This post is an update; the original story ran on September 25, 2013, as part of our issue The Nonchalant Kitchen.
Don't forget to vote for the finalists in the Remodelista and Gardenista Considered Design Awards. Until August 8, you can vote once a day in all categories. We're announcing the winners August 9. 
(Visited 249 times, 12 visits today)