An unstocked summer house kitchen awaits. What would you bring to it? We've been happily picturing this scenario for weeks now and here are our answers.
For the Outdoor Table
Above: All of us would like a set of Enameled Plates and Bowls in summery pastels from Variopinte of Barcelona. They're available by the piece starting at €12 ($13.20) from the company's online shop; go to Variopinte for a global store locator.
Above: Alexa recently purchased a set of Pulled Napkins handmade in Ethiopia by Creative Women, a Vermont company that works with women's collectives around the world. The 20-by-20-inch napkins come in four colors and are $20 each at March.
Above: I have my eye on an old-fashioned Net and Iron Outdoor Food Cover; $18 from Connected Artisans. (For another bug deterrent, see Domestic Science: A Magic Glass Fly Repeller.)
Above: Julie's pick: a set of Cafeteria Trays; $24 each from Schoolhouse Electric.
Above: Our global shopper Izabella (who grew up in Sweden) selects Nel Lusso's Scandi-style Salad Servers from Father Rabbit in Auckland, New Zealand; $16 NZD ($10.91 USD) for the pair. Take a look around Father Rabbit in our Shopper's Diary post.
Above: My summer gift (from me to myself)? A Wind and Willow Home Dipped Cherry Wood Bowl for $85 ($101 with a beeswax finish) from Food52. For traditional wooden salad bowls, Christine stocks up on the Vermont Bowl Company's Colonial Hardwood Bowls, which start at $68.
Kitchen Prep
Above: This French Oyster Shucking Set, a leather hand shield and steel knife made in Thiers, France, is Julie's latest fixation. It's $98 from March in SF.
Above: Several of us grew up in New England, where grocery stores in the summer stock classic graniteware lobster pots for steaming shellfish and corn. This deluxe version has a spigot (for draining cooking liquid, which can be used to make chowder, among other things). The Granite Ware Lobster Pot with Faucet is $460 from Williams-Sonoma.
Above: We considered a slew of coffee makers, including Yield's fetching Ceramic French Press (currently back ordered). But for summer ease, the all-glass version of our trusty Chemex won out. We like the fact that it works equally well as a water (or wine) pitcher, and, as Alexa commented, "We've seen it in the kitchen of Dosa's Christina Kim and Donald Judd's restored kitchen at 101 Spring Street in SoHo. Enough said."
Above: During her family's recent extended stay in Berlin, Sarah picked up a Zena Star Vegetable Peeler, having read about it in Gardenista's 10 Easy Pieces: Best Vegetable Peelers. It's available for $4.95 from Simply Good Stuff and is "super useful not just for peeling squash and cucumbers, et cetera, but for making them into slivers for summer salads," according to Sarah.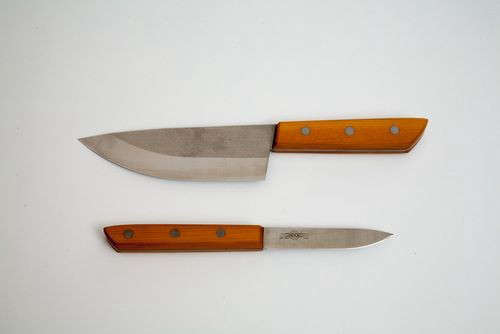 Above: Jessica, who manages the Remodelista and Gardenista Markets (so she knows her kitchenwares), says her summer kitchen would be nearly set with a pair of Limited-Edition Yew-Handled Knives from Million and Clark. A five-inch chef's knife and a four-inch paring knife, with extra-sharp blades of 01 high carbon steel, are $295 for the two.
Above: Several of us swear by our Oxo salad spinners, but are ready to upgrade to this version. Instead of the standard plastic, it has stainless steel bowl that can be used for serving (and the inset basket comes in handy as a colander for washing berries). The Salad Spinner is $49.99 from Oxo.
Above: Meredith reports, "I often rent a beach house or cabin in the woods with a big group of friends on summer weekends. We're all foodies, and since we design the days around our meals, I've learned about a few essentials that will make or break the party: An essential, bring a cheap wine key (or better yet several); you'd be surprised by how many rental homes lack one. I like the Pulltex Waiter's Corkscrew; it's inexpensive and made in Spain, and the red makes it easy to spot (and to find when it's time to take it home with you); $7.99 (reduced from $9.95) at Williams-Sonoma.
Above: "I keep a pair of these Mini Herb Snips on the windowsill by the kitchen sink," says Gardenista editor Michelle. "When I cook, I use them to snip leaves from the herbs I've already picked (which are in a jar of water next to the sink). They're also handy for running out to the garden for some parsley, chives, or thyme at the last minute." The palm-size shears are $4.95 from Gardener's Supply Company.
Above: Justine has the summer kitchen that's the Remodelista standard bearer–see The Soulful Side of Old Cape Cod. One of her favorite things in it: her wall-hung Shaker Onion Basket; $45 from the Cooper Hewitt Shop.
Call us tableware obsessed. For more ideas, take a look at:

(Visited 233 times, 1 visits today)