The hardworking daybed stands ready to serve as sofa, bench, and crash pad for afternoon naps and overnight guests. It comes in a range of clean-lined guises that we'd gladly invite in. Here are 10 current favorites from high to low. 
Above: Designed by Mermelada Estudio of Barcelona, CB2's Boho Daybed is made of whitewashed rubberwood inset with wicker panels; $1,299 with the pewter-fabric-covered mattress included, and $829 for the frame alone.
Above: Mies van der Rohe's Barcelona Couch is one of the all-time most referenced pieces of furniture. A recent version we like: LA designer Michael Felix's Goddard Daybed, made to order with leather or fabric upholstery; $2,600. See his line in Born to the Trade: Michael Felix's Handmade Furniture.
Above: West Elm's Mid-Century Daybed is made of eucalyptus and comes in white or natural; $899. It fits a twin mattress, sold separately.
Above: Gesa Hansen's oak Remix Nightcouch becomes a single bed with the removal of the back cushion. It's available in a range of fabrics; Velito gray wool is shown here; €2,690 from Connox. The design is also sold in the US by Matter for $5,195. Read about Hansen's family furniture company and see how she herself uses the Remix couch in A Scandi Furniture Designer at Home in Paris.
Above: Day Bed One by UK furniture company Another Country is made of solid European oak and has a coir- and wool-wrapped latex Naturalmat mattress; £2,585 ($4,025.88). It's shown in Workstead architects' Stefanie Brechbuehler and Robert Highsmith's Brooklyn apartment. See more of our favorite designs by Another Country and take a look at the workshop's London shop. Photograph by Matthew Williams.
Above: A Danish classic by Poul Kjaerholm, the 1957 PK80 Daybed from Fritz Hansen is $20,770 in satin-brushed stainless steel and leather from The Line. Read about hidden boutique in A Soho Dream Loft (Where Everything Is for Sale).
Above: Ilse Crawford's Sinnerlig collection for Ikea–making its debut in Ikea shops in the UK this month and in October in the US–includes this steel and acacia wood daybed with jute webbing; $350. Go to Currently Coveting to see more of Crawford's new Ikea designs.
Above: Daniel Heer's Keil Daybed has an oak frame (smoked oak and walnut also available) and a hand-stuffed/hand-stitched horsehair and wool mattress. Fabricated without any metal parts or glue, it has a base of leather strapping; $11,700 from Matter. Learn about fourth-generation mattress maker Daniel Heer in our post Berlin's Secret to a Good Night's Sleep.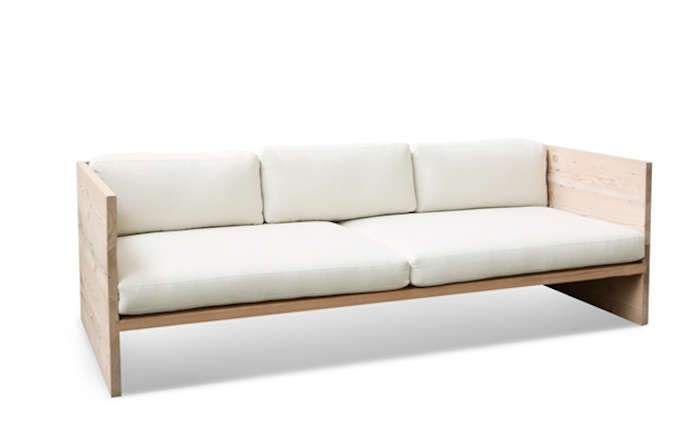 Above: The Box Daybed by Melbourne, Australia, furniture designer Mark Tuckey is available in oak or a wood that Tuckey calls Oregon, and your choice of upholstery fabric; $6,100 AUD ($4,454 USD). See the design in Tuckey's beach house in Steal This Look: A Laid-Back Living Room with Spirit.
Above: Newly available in black via Goods We Love, Danish engineer Ole Gjerlov Knudsen's 1962 OGK Safari Daybed has a beech frame, linen cover, and black-dyed sisal roping; inquire about retailers. And see more at Goods We Love: New York's Secret Scandinavian Design Source. 
Still in need of extra beds? Take a look at:
(Visited 689 times, 4 visits today)