Gesa Hansen grew up in a Scandinavian family of carpenters, designers, and architects. The daughter of a German mother and Danish father (both of them furniture designers), she studied graphics at the Bauhaus University in Weimar, Germany, and worked in design studios in Tokyo (NDC) and Paris (Jean Nouvel) before heeding the family calling and starting her own furniture line, The Hansen Family. The company's workshop in Germany produces handcrafted furniture made from oak harvested in the forests of Gesa's childhood home. "As a young girl, I spent most of my time in my grandfather's workshop," she says. "He always took the time to build little boats and dollhouses with me. Wood became the material that allowed me to create my dreams."
Join us on a tour of her Parisian apartment in the Place de la République (N.B. she recently moved to a new place in the 2nd arrondissement; you can see photos at fvf).
Photography by Nathalie Mohadjer. 
Above: Hansen furnishes her living room with key pieces from the Hansen Family Remix Collection: a pair of Night Couches and a Coffee Table. A Bubble Lamp by George Nelson hangs above a bold black-and-white carpet by Suki Cheema, a former pattern designer who worked for Diane von Furstenberg. "Like most cities, space is at a premium in Paris, so people tend to have too much piled up in their apartments,"says Gisa. "I think you need a lot less than you think you need; getting rid of stuff is the most important step in setting up a home." Need help throwing things away? See Happier at Home: 6 Tips For the Ultimate Spring Cleaning. 
Above: Before focusing on design, Hansen contemplated a career as a singer. On the fireplace mantel she displays a cover sheet from Beck's album Song Reader. "The album exists as twenty songs on sheet music never before released or recorded," she says. "You have to play it yourself to appreciate it. I love this idea."
Above: In the kitchen, Hansen built a backsplash of black slate that carries over onto a section of the floor. "The slate comes from the same region as the wood we use for our furniture," she says. "It has a beautiful texture." A Two Spheres Pendant by Atelier Areti, two sisters who Hansen counts among her favorite designers, hangs above the Hansen Family's Remix Dining Table.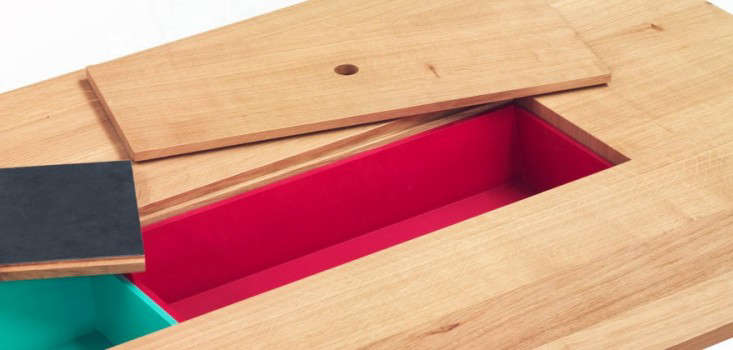 Above: Hansen supplied the Remix Table with built-in boxes that can be used to either display or store things out of sight. The box lid is reversible and one side works as a hot plate. 
Above: Hansen's award-winning Remix Desk is an updated version of a classic Davenport. The compartments are removable for flexible storage. 
Above: The Tivoli Remix Sideboard incorporates the Tivoli Radio Combo System; Hansen created it for the audio brand. The two drawers are designed to hold additional pieces of audio-visual equipment.
Above: A set of simple white shelves display favorite everyday objects, including Hansen's Rooibos tea, a vase from her friend Milia Seyppel, Mast Brother's chocolate (she's an admirer of the company's packaging), and a copy of the Rose Bakery cookbook. "In my opinion, it's the best cookbook for amateurs," she says.
Above: Hansen brings greenery into the master bedroom with wallpaper by Arte-International that hangs over a Hansen wooden headboard with geometric shapes in relief. The pendant lights came from an auction: "I like low lights in the bedroom because they're cosy," says Hansen. "These have a gold lining that creates a beautiful glow." 
Above: In her daughter's bedroom, Hansen introduces a sophisticated whimsy with a Ball Clock by George Nelson, a Pendant Light by Danish designer (and friend) Tom Rossau, and cushions from Danish housewares company Ferm Living. 
Above: The living room doubles as a guest room, thanks to two Remix Night Couches, each of which is a sofa bed.
Above: "I wanted to design a sleeping couch that was comfortable without losing sight of its overall aesthetic integrity," says Hansen of the Remix Night Couch.
Above: The couch extends simply by pulling out the base.  
Above: The Remix Coffee Table, a Hansen Family classic, comes in three sizes. 
Above: Woodworking tools and carvings from The Hansen Family studio workshop in Möhnesee, Germany, where Hansen grew up.
Above: Gesa Hansen at home. Curious to see her new place? Have a look at it on Freunde von Freunden.
Go to the Remodelista Gallery to browse inspired examples of Scandi design the world over. Scandi in New York? See Aamans Copenhagen Arrives in NYC and A Scandi Kitchen in Brooklyn. And over on Gardenista, see Castor Design Creates a Sauna in a Shipping Container. 
(Visited 488 times, 1 visits today)